Articles
Football in Los Angeles: Do Professional Sports Benefit Cities?
AEG envisions a world class event center and football stadium (and NFL team) in downtown L.A. But will it benefit the city?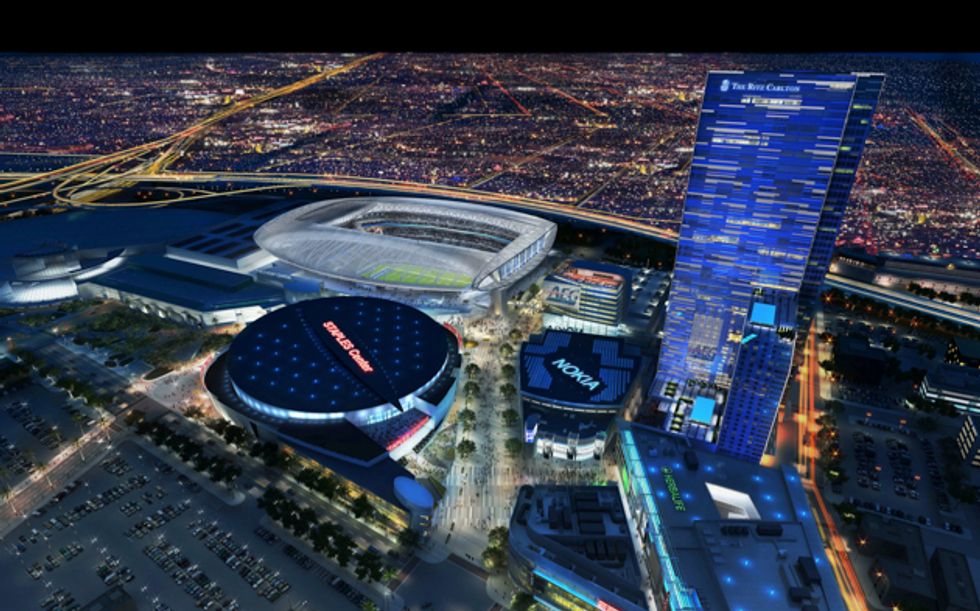 The
Los Angeles Times
reports
that L.A. is one step closer to getting a shiny new football stadium—and one step closer to welcoming a permanent NFL team to the city. After a proposal from the sports and entertainment mogul
AEG
(not to be confused with AIG) at a city council meeting Wednesday, "
city leaders embraced the idea and moved to fast-track the project
."
The company envisions a "world-class events center"—a 64,000-seat stadium with a retractable roof could fit up to 78,000 fans for a Super Bowl or Final Four—that will "further revitalize the economy, bring world-class events to Los Angeles, and most importantly give people continued reason to cheer."
---
Angelenos, of course, have varying opinions about what "revitalization" means. There are those who view the L.A. Live and Club Nokia area surrounding Staples Center (where the Lakers and Clippers play) as the wrong kind of development.
In a county that reported 13-percent unemployment in November, it's tough to argue against adding 30,000 downtown jobs. But, as Greg Nelson writes in an opinion piece arguing against construction, "stadium proponents will overstate the project's economic benefits and understate its costs to the public."
I'm still looking for an answer to one big question: Do professional sports teams benefit their cities?
Stadium rendering by Gensler