Articles
Google Puts $15 Million Toward Predicting and Preventing Emerging Threats
On the Official google.org Blog yesterday, the search engine's philanthropic arm revealed the initial partners of its global health...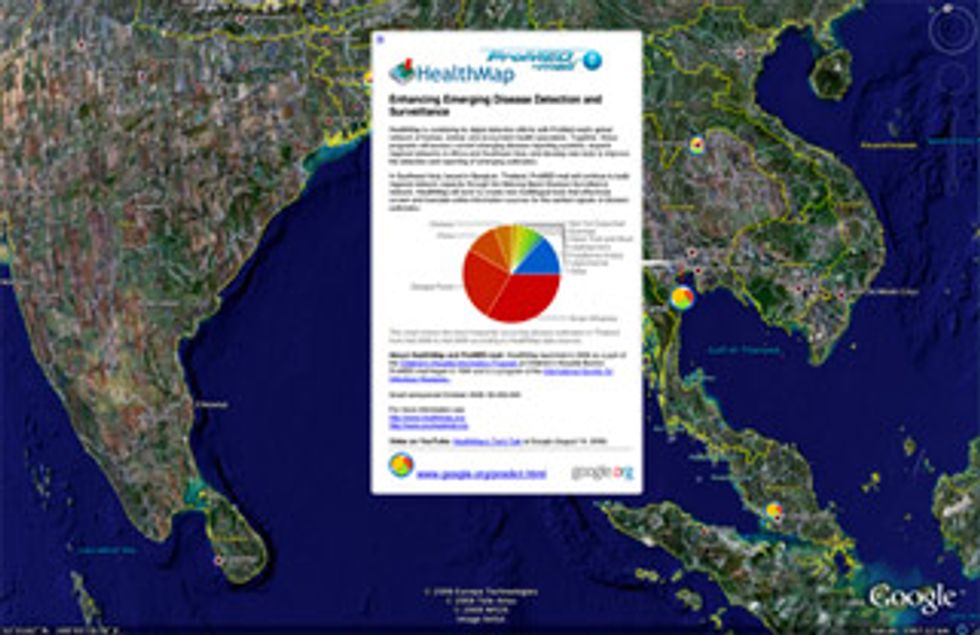 ---
On the
Official google.org Blog
yesterday, the search engine's
philanthropic arm
revealed the initial partners of its global health initiative. Known as
Predict and Prevent
, the goal of the program is to get a few steps ahead of emerging threats--from infectious diseases to environmental calamities. All told,
Google meted out
nearly $15 million to six projects going on worldwide.Among the recipients was the
Global Viral Forecasting Initiative
, which received $5.5 million to help in its tracking of
so-called zoonoses
, viruses that jump from animals to humans--such as avian flu and HIV. Other recipients included Columbia University's Mailman School of Public Health (for its work to identify and respond to new pathogens in Asia and Africa) and Woods Hole Research Center in Massachusetts (for satellite work linking environmental changes to the spread of disease). Google, naturally, is offering
a small application
that contains overlays on
Google Earth
to show what each of its new partners are up to around the globe.For more information of Predict and Prevent, check out the YouTube video below:[youtube]http://www.youtube.com/watch?v=7XxrZAgIgMMHat tip to
The Guardian
.