Articles
House of the Rising Sun: In New Orleans, Solar Power Gives Poor Families a Boost
"It's expensive to be poor, and nowhere is that truer than in energy."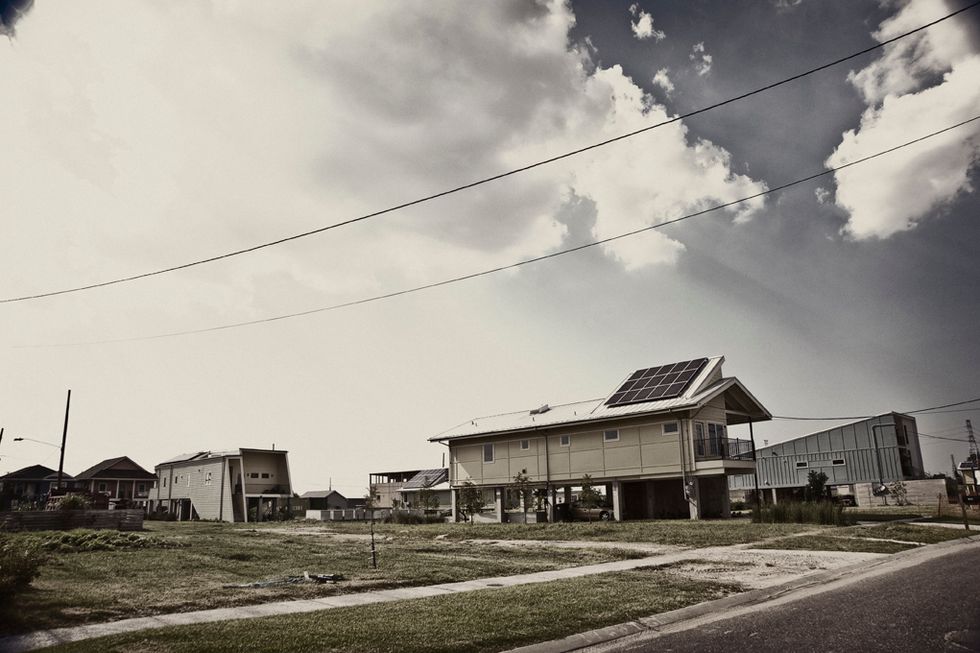 The headquarters of the solar-energy company
Sustainable Environmental Enterprises
is a green oddity in this rough part of New Orleans' Central City neighborhood. The butterfly-winged roof and lopsided, Lego building design, complete with a
money green paint job
, fits anything but neatly in this residential neighborhood where run-down shotgun-style houses are strewn amidst blighted properties.
Economic development and political power may have overlooked this community in favor of tourist magnets like the French Quarter, but SEE CEO Lea Keal, 32, and board chairman Stacey Danner, 37, see only opportunity in helping develop this community and others like it by providing access to solar power.
---
SEE provides financing to low-income residents to lease and eventually purchase solar energy equipment that is otherwise cost-prohibitive. Though they're getting cheaper, solar panels and mounts can still cost as much as $25,000, and that's before you get to installation and maintenance. For that price, you're not going to find too many solar customers in a city like New Orleans, where there are almost as many households with incomes below $75,000 (76 percent, according to 2010 Census figures) as homes that were submerged below floodlines after Katrina (80 percent).
Only a small percentage of wealthy families can afford to buy or get a loan for solar. "Before this, people needed either equity in their homes or sparkling credit to get solar," says Darren Davis, 53, SEE's executive director of business development. Thanks in part to a $1 million loan from California-based Adam Capital this past fall, SEE is changing that equation.
Homeowners using solar power reap huge savings from cheap, clean energy—savings that poor families desperately need. "It's expensive to be poor, and nowhere is that truer than in energy," says John Moore, a former energy policy analyst under Mayor Ray Nagin who now does consulting work for SEE. "[If you are poor], you likely live in an energy-inefficient home, and your energy bills are higher than normal."
Keal's enterprise has found a way to get solar tech into residents' hands for as low as $43 a month. Producing power from the sun and not the fossil fuel-sourced local power utility, Entergy, SEE can now replace light bills that often run $100-$200 a month with a lease payment that's less than $50. Solar customers only pay for Entergy's power if they use more energy than is absorbed from the sun through the panels—providing they use less energy than is produced, most customers pay only the leasing fee for the panels. And since they don't rely on the grid, a solar-powered house will keep the lights on during a neighborhood blackout—an event not uncommon in New Orleans, especially after Katrina.
Another $5 affords customers maintenance service for the life of the system, typically 25 years. At the end of their lease agreements, anywhere from five to 15 years, they can purchase the solar panels outright for $1. It's accepted across the solar industry that panels will last at least 25 years, but if the panels were damaged in, say, a hurricane, SEE technicians will repair not only the panels, but any damage to the roof as well.
SEE isn't the only player in town for solar energy. It isn't even the only company offering a lease program—Brad Pitt's Make it Right does, too—but SEE might be the only one that views "communities of color" as its target market and has the audacity to express that explicitly in a press release.
The company works with owners and renters (through their landlords), and offer leases regardless of customers' credit scores. SEE even guarantees that its interest rate, a low 2.85 percent, won't change, even if a customer's pays late or misses payments five months in a row. Few companies will take on this kind of risk in any industry, except predatory subprime mortgage lenders or payday loan centers.
"They say it's a risk," says Danner, explaining why he's taking a chance on this market, "but these are the people with some of the best payback records in America, because they have the most to lose!" Families need to keep the power on in their homes, so he figures they're going to pay for energy—whether from the sun or not. And for the most part, he's right: Even those who have their power cut off have chances to get reconnected through government low-income housing energy assistance programs. Given SEE's leniency—they'll only act after someone's skipped six monthly payments—it's tough to default.
How does SEE get away with shouldering all that risk? Tax credits. Solar energy in Louisiana is perhaps the sunniest investment in the nation; SEE benefits from a federal tax credit that returns 30 percent of every dollar spent toward renewable energy, and Louisiana adds an additional 50 percent tax credit for solar.
With government subsidies so high, the only reason for a Louisianan not to slap solar panels on her roof is if she can't afford the thousands of dollars in up-front costs to reap the subsidies later. SEE fronts that money for low-income clients: The average customer pays roughly one-fifth of the cost of the equipment, while SEE collects its money back through subsidies and the interest paid by the customer.
Keal, Danner and Davis, and Moore are all black, and back at the office, Chinese-American staff member Alice Lai, 21, trains recruits from the neighborhood to become sales agents, including a 70-year-old man she is teaching to open a Gmail account. This kind of diversity is, unfortunately, not normal, not even in the do-gooder clean energy industry. SEE also offers workforce training—technical, entrepreneurial, financial—to anyone who wants to learn how to build their own solar enterprise.
"It's what we call our own stimulus program for the 'hood," Davis says. "A lot of stuff we do is for goodwill. We are a for-profit, but there's not much profit in this. We're providing a service to the community."
Photo by Shawn Escoffery