Articles
How do you write an X? Twitter is having a major fight over a controversial handwriting diagram.
There are eight ways to do it ​(some argue nine).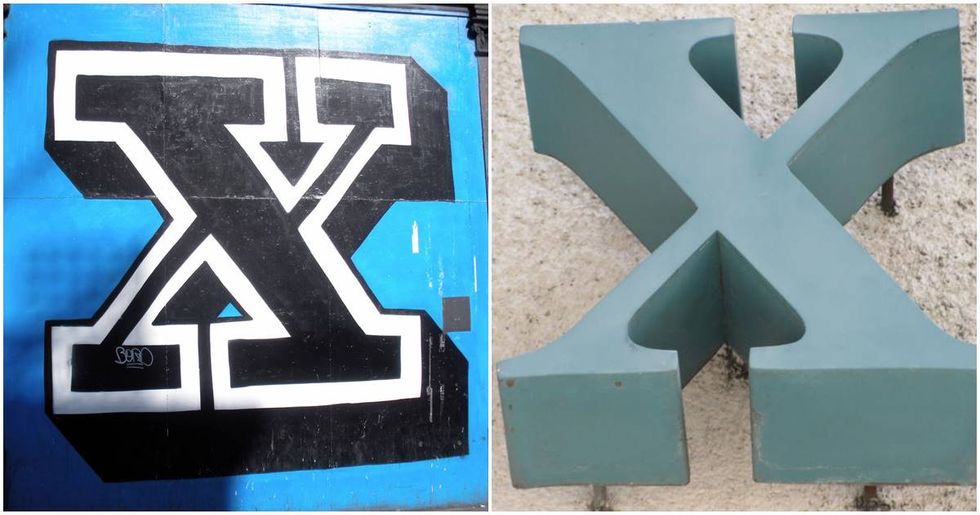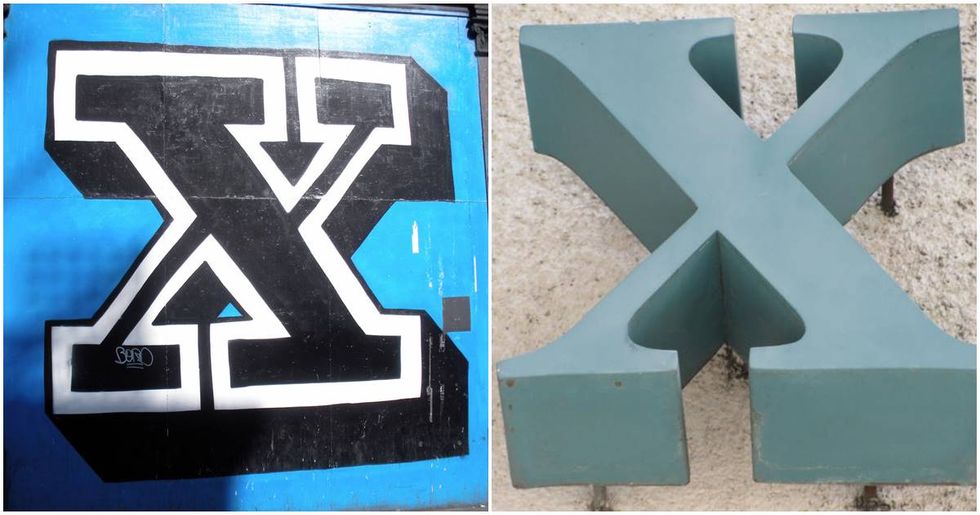 Photo via Duncan C / Flickr and Steve Damnon / Flickr
Over the years, there have been some memorable social media fights that have divided friends, families, and nations.
---
Yanni or Laurel was huge.
What do you hear?! Yanny or Laurel pic.twitter.com/jvHhCbMc8I

— Cloe Feldman (@CloeCouture) May 15, 2018\n
\n
So was "What color is the dress?"
What color is the dress?
Blue/Black or White/Gold pic.twitter.com/fw2XN8qOkb


— Anaglogs Daughter (@AnaglogsDaughtr) December 6, 2018\n
\n
People are still fighting over whether it's acceptable to put pineapple on a pizza and how to hang a roll of toilet paper.
And I don't need pineapple on my pizza pic.twitter.com/C5gB7E07ng

— Stressed Gay#No_1 (@WendellRxs) January 23, 2019\n
\n
#ItsLikeYouDontEvenKnow how to properly place the toilet paper roll on the toilet paper roll holder. pic.twitter.com/tHYNjImPJG

— Katie Parker (@_RealBlondeGirl) June 29, 2016\n
\n
Now, Twitter user @SMASEY has stirred the pot with a controversial question about handwriting. According to @SMASEY, there are eight (some would argue 9) ways to draw the letter X, but which one is correct?
Also this is so interesting to me - which way do you draw an X? Colored line being the first stroke pic.twitter.com/a0WTl8WT7P

— sixers smasey (@SMASEY) January 20, 2019\n
\n
The only correct way pic.twitter.com/ZPPv5jsv6E

— KAYCEEE | FC2019 (@zigstripes) January 20, 2019\n
\n
January 20, 2019\n
\n
Exactly. pic.twitter.com/H9PsGT5qzU

— CJ Moose (@cjmoose) January 21, 2019\n
\n
Yep, I'm totally a sixer. Couldn't imagine doing it any other way.

— Roto-N (@nataliereed84) January 20, 2019\n
\n
Lefties seem to prefer 8.
I was wondering if there would be a consistent difference for lefties. Hard for me to judge, since I am in all ways "normal" - RH, American, not a monster. I do 8. Naturally.

— John Sheridan (@JohnSheridan12) January 21, 2019\n
\n
i'm a lefty that does 8

— kay (@kaylaidc) January 21, 2019\n
\n
I'm a lefty that does 8

— ChiefCo1 (@ChiefCo1) January 21, 2019\n
\n
Number 8 but the plot twist is that I mostly write my Xs like this: pic.twitter.com/Gk8dP2Tvq2

— Nightskin - Melanin in the creases of my palms (@MizzayTee) January 20, 2019\n
\n
Because it's Twitter, someone had to get political.
I draw an x like this pic.twitter.com/3bafBD0KLe

— malcolm sadwell (@Tor_H) January 20, 2019\n
\n
8 pride is strong.
January 20, 2019\n
\n
8 is the only acceptable answer. Also, all of the others are acceptable. But, yes, 8.

— Ryan Winters (@RyanWinters2343) January 21, 2019\n
\n
The British seem to prefer 5.
5!

There are other ways? https://t.co/2P1ibE2tLZ



— Hannah Wilks (@newballsplease) January 20, 2019\n
\n
5>
Why would I finish opposite to where my pen needs to go next? https://t.co/FRFdAmnBYy


— Steve Curtis (@curtisteve) January 20, 2019\n
\n
For some, the tweet was the first time they had reflected on their handwriting in years.
Saw this. Immediately forgot how I have been drawing x's my entire lift. Had to write each one down. None felt right. Taking all words with x's out of my vocabulary until further notice.

— Kelsey Campbell (@KCampbellyeg) January 21, 2019\n
\n
These nonconformists created their own 9 techniques.
I do cursive, so I tend to do them in one stroke. tho, probably 7 if printing. pic.twitter.com/AnATTFe4R9

— (@Keroffin) January 20, 2019\n
\n
This is the only correct way to write an X

(stolen btw) pic.twitter.com/4fS00bKWQ3



— Cynosure (@CIiffire) January 22, 2019\n
\n
After countless replies rolled in, @SMASEY reached a consensus:
General consensus is that Americans do 7 & 8 while UK does 5 & 6. Probably how we were taught. Not sure about other countries

— sixers smasey (@SMASEY) January 20, 2019\n
\n