Articles
How Prepared Are California's Schools for an Earthquake?
When the "Big One" hits, what happened in Japan could happen in the Golden State. The Great California ShakeOut is helping schools prepare.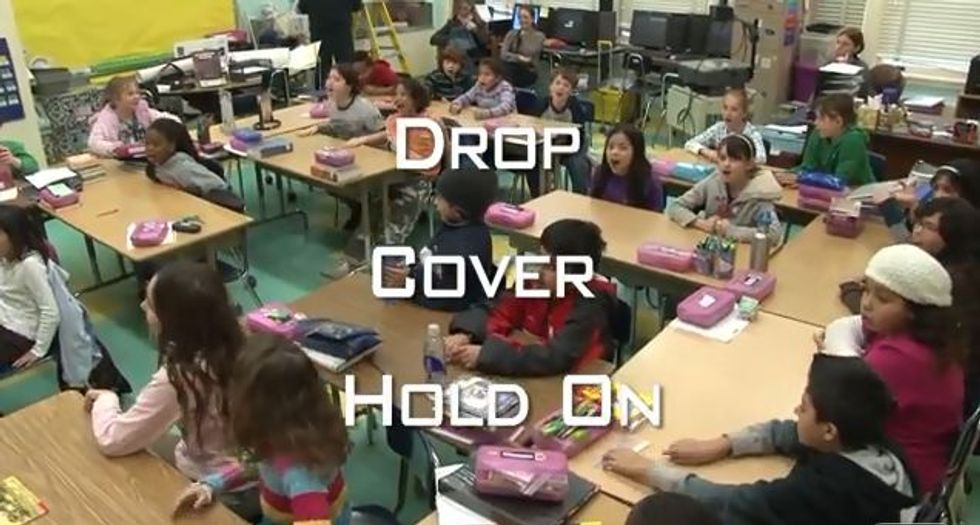 Japan's devastating 8.9 earthquake and subsequent tsunami has many people wondering if such a disaster could happen in quake-prone California. The short answer? Yes—and that's why since 2008, the state has been educating residents, particularly school children, through a program called
The Great California ShakeOut
. The program helps Californians prepare for and practice how to respond in the event of an earthquake. So, just how ready are the state's schools for the "Big One?"
Mark Benthien, the Director for Outreach at the Southern California Earthquake Center at the University of Southern California, is one of the driving forces behind the ShakeOut. He says California's schools, like Japanese buildings, are pretty structurally sound. That's thanks to the 1933 Long Beach Earthquake, which resulted in the Field Act being passed, requiring "schools to be built to higher inspection standards and construction standards."
---
The ShakeOut facilitates yearly statewide earthquake drills—in 2010, over 7.9 million Californians participated—but, when it comes to the actual nuts and bolts of every student knowing that "drop, cover, and hold on" is the appropriate action to reduce injury and death during earthquakes, there's still room for improvement. Benthien said the problem is that although all California schools are required to run drills, there's a lot of variance between how individual districts—and individual schools within districts—do so. Because of that, the ShakeOut's been working hard to improve the information they provide.
The ShakeOut's also working on ways to incorporate a tsunami drill into their trainings. A tsunami drill is important even for people who don't live right along the coast because many people go to the beach and could be there when an offshore earthquake generates one. "You need to know the natural signs of a tsunami and how important it is to move inland and move upwards as quickly as you can," said Benthien. A drill was scheduled to take place along California's northern coast in just a couple of weeks, "But we'll see if that happens now that they've had the real thing."
Unfortunately, budget cuts are affecting school preparedness. Districts have laid off not just teachers but administrative workers who were trained to deal with an earthquake. And, although the ShakeOut's set up so that running it "doesn't require a lot of money," funding from FEMA and from the State of California is at risk. In the meantime, the next statewide ShakeOut drill is scheduled for October 20, 2011.