Articles
Hustlin': Inside the Podcast Renaissance
The podcast market may be oversaturated, but done right, podcasting can seriously jumpstart a creative career.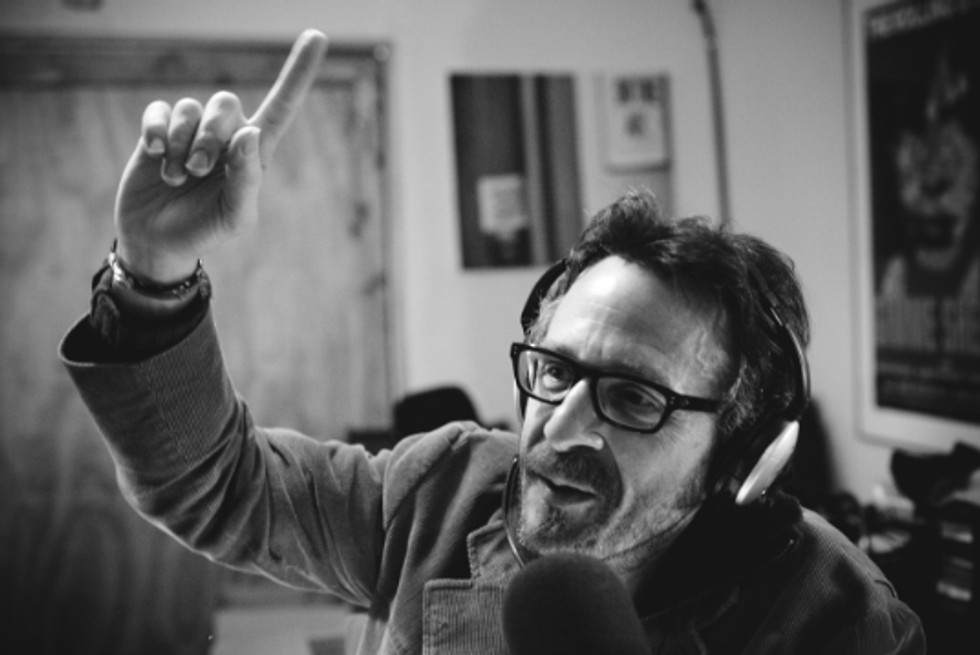 Marc Maron, mid-podcast
In our weekly Hustlin' series, we go beyond the pitying articles about recession-era youth and illuminate ways our generation is coping. The last few years may have been a rude awakening, but we're surviving. Here's how.
---
"It's official," baseball journalist Aaron Gleeman said in a post on NBCSports.com six months ago. "Everyone has a podcast now." Then, he introduced his new sports podcast, "Gleeman and The Geek."
If you're attempting to break into a remotely creative field, the thing to do now is have a podcast. The Apple music store stocks more than 35,000 podcasts on all sorts of topics —movies, technology, baking, cartoon art, comedy. To some, the podcast is a relic of the dot-com era, now rendered useless due to its ubiquity. "I hope this era of podcasts is like when CDs were sold in big cardboard boxes: We'll all realize it's silly soon," comedian and improviser Kurt Braunholer tweeted last month. They're so omnipresent that my fellow stand-up comic friend and I have a longrunning joke about it. Every time we have a vaguely amusing conversation, we lament not having our own podcast. We even exchange emails mapping out ideas for segments and guests. Mostly, we're mocking the medium's inundation.
But secretly, we're wondering if our lack of a podcast is holding us back. Is it really a prerequisite for a fledgling performer?
Possibly. Every recent college grad knows the job market is oversaturated these days. The outlook is especially bleak for those in creative fields. Many of my comedian friends go the performance route—taking improv classes at Upright Citizen's Brigade or doing open mics at the People's Improv Theater—because they're bored by unemployment. They want a job, but they also want to create in the meantime. And in any artsy field, there's no better way to stand out amid the barrage of resumes than to brand yourself. The podcast has become part and parcel of that process.
To investigate the podcast's potential, I emailed Marc Maron, comedian and proprietor of the wildly successful "WTF with Marc Maron." I asked if it's a mistake young artists make, thinking they can succeed with a podcast the way he has. He chastised me for phrasing the question so pessimistically. Podcasting, he said, is too easy, autonomous and cheap for a successful one to be a fluke. Some podcasters use tabletop microphones that cost around 100 dollars, some use headset microphones that run anywhere from 15 to 75 dollars depending on quality and some just record using the free built-in microphone on a Macbook. It's that simple to create—so if yours gets noticed, there's a reason for it.
"We live in a culture being drowned by too much of everything, but usually great things find their way to the surface if they are consistent," he wrote.
If anyone's an expert on how podcasting can change your career, it's Maron. When he first recorded a podcast in September 2009 and presented it to his old management, they didn't get the point. Maron was already a well-regarded comedian, after all. But after officially launching "WTF," he's selling out live shows, has a TV pilot in the works and receives gifts from fans all over the world.
"I don't think it's mandatory or a mistake," Maron added. "If someone wants to try it and see what happens they should go for it."
If you decide to take Maron's words to heart, here's how to make sure your podcast doesn't get lost in the crowd:
Establish a rapport. Molly Knefel, 25, and her older brother John started their podcast "Radio Dispatch" a year ago, after Breakthru Radio's political podcast team had just jumped ship and John and Molly were approached to replace it. Initially, they were concerned about sounding like every other political podcast, but eventually, they found their voice via the Occupy Wall Street movement.
When John was arrested during a protest on Dec. 13, the podcast became a forum to vent about and analyze the experience. They discussed John's treatment by the police, the legality of the protesters' actions, and everything that had happened to them during those tense 36 hours. Knefel said their podcast, which, like many political podcasts, is left-leaning, works because of the unique dynamic between the siblings.
"You just have to hope that people find you and like your voices enough to keep seeking you out," Knefel says. "Just be sure to unapologetically be yourself. And after that, just Tweet the hell out of it and hope that people latch on."
Get a gimmick, quirk, or hook. Matt Ruby, who's in his early thirties and co-hosts two interview-style podcasts, says a branded point of view isn't enough. You need to be uncovering fresh angles and stories. Ruby, for one, has the quirk factor down to an art. One of his podcasts, "We're All Friends Here," is taped in front of a live audience and features guests spilling intimate secrets. His other, "Sandpaper Suit," is always recorded on the go—in a bar, in a car or on a train. Many episodes of "Suit," Ruby says, are done drunk.
"If it's just one more interview show with the same people making the rounds, there's no real reason for people to tune in," he says.
Make sure your podcast is sustainable. It's hard to continue baking, writing, painting or doing comedy while also spending a ton of time making a podcast about the same topic.
"If it's just a few [episodes] and then you give up, there's not much of a point," Ruby says. He admits he's given up on at least one podcast that he quickly tired of producing.
Comedian Pete Holmes, 32, warns against sticking too close to a theme and feeling trapped.
"[I] would become resentful of that premise. So, keep it open, but also engaging," Holmes says. "You don't want to find yourself hosting "First Kiss ep #201" and forcing yourself to say 'Summer camp, huh? Interesting' and wanting to die."
Be consistent, says Holmes, who hosts a Nerdist Industries-sponsored podcast that explores the uncomfortable and awkward, called "You Made It Weird." He says his podcast has given him a way to connect with fans of his comedy, but that other creatives could accomplish the same with a Youtube channel or weekly live show.
"Like in any good relationship, if you are...giving and sharing in a dependable way, the relationship thrives," adds Holmes.
Don't rush into it. Today's supercrowded marketplace makes it important for a new podcast to be well thought-out, says Cole Stratton, who co-hosts a "water cooler news," gossip and pop culture podcast called "Pop My Culture."
Stratton, 35, started broadcasting with co-host Vanessa Ragland in March of 2010. "There's lots of sloppily produced shows out there with a handful of dudes just shooting the shit," he tells me. "I think it's important to figure out what your strengths are and tailor your show around it, and work hard to brand your show in a way that it will be interesting to a casual listener, especially when they aren't already familiar with you."
Make a podcast part of your persona—on and off the Internet. An artist needs to be active online in a way "that cuts through the glut of content that is out there," says David Jelenko, senior talent manager for Next Round Entertainment. "A good podcast is a great way to do just that, but so is posting on Facebook, or tweeting, or maintaining a quality blog…A podcast, if done right, can go a long way toward doing accomplishing that goal."
But it's not just about becoming Internet-famous. It's also about offering a glimpse into your actual personality. Gleeman, who's been blogging for 10 years, says he's seen a big difference in the bond created between loyal readers and his new "Gleeman and the Geek" listeners. Nowadays, fans feel like they're a part of the conversation. Podcasting, he says, has helped him show a looser, less analytical side of himself as a sports writer.
"[P]eople seem to like that, particularly once they've gotten to know you a little bit as a writer," he tells me.
Los Angeles-based artist Raul Aguirre Jr. says his podcast "Man vs. Art" has let both fans and potential employers "see the real me." It's a space not only to increase sales and attract clients, but to share his thoughts on art; inspire, help, connect with and entertain fellow artists; and keep his fans up to date on his work.
"I see the Man vs. Art Podcast as an extension of my art and approach the production of it with the same passion I use when creating a painting or an animated short," he says. "Artists that don't podcast are totally missing out."
Photo by Dmitri Von Klein, courtesy of WTF With Marc Maron.