Articles
Inside Barack Obama's Top Secret Tent
The US Government has released this rare photo of Barack Obama inside his windowless, soundproof, mobile secure tent.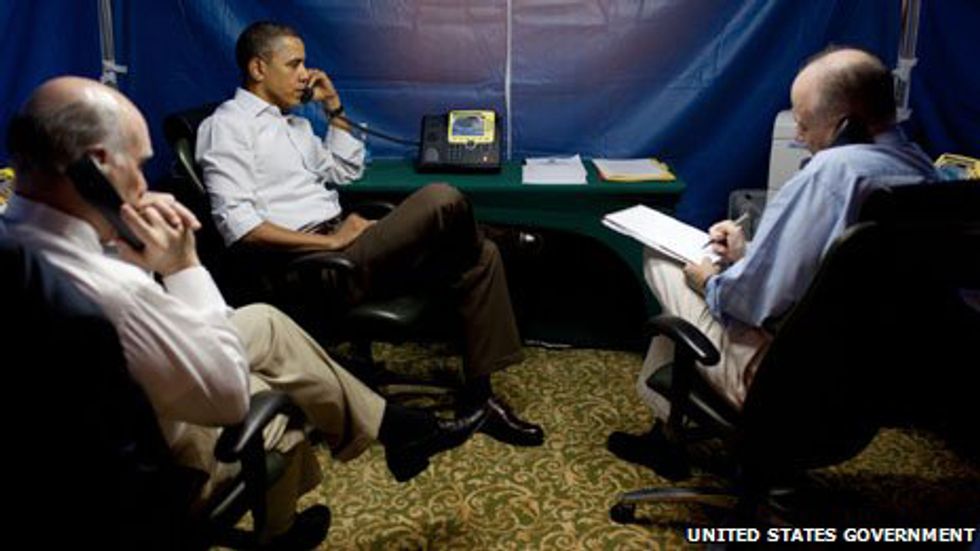 The photo above is,
according to the BBC
, an extremely rare photo of Barack Obama inside his top secret tent. The tent is an example of a mobile secure area also known as a Sensitive Compartmented Information Facility, or SCIF, "designed to allow officials to have top secret discussions on the move." In fact, the
BBC
reports, "they are one of the safest places in the world to have a conversation."
This particular SCIF has been set up in the middle of a hotel room in Brazil—you can see the carpet pattern on the floor. Obama was on a pre-arranged trip to Brazil when airstrikes in Libya began on Saturday, and needed a secure facility from which to talk to his Secretaries of State and Defense, as well as fellow coalition leaders.
---
While the tent material looks like fairly standard blue tarpaulin, it is actually completely soundproof, windowless, and "made from a secret material which is designed to keep emissions in and listening devices out." The BBC quotes Phil Lago, whose company, Command Consulting Group, regularly supplies SCIFs to government agencies, who explains that a "ring of electronic waves" ensures that only signals from an encrypted satellite phone can get in and out.
Apparently, the President never travels without his SCIF, which is surprisingly portable. According to Lago, "You can usually fit them into two large foot lockers and that's most of the equipment you need."
The exact specifications of these mobile security pods are top secret, and for most of us, this photo will be the closest we ever get to a SCIF. James Bond, eat your heart out!
Image: Barack Obama and advisers inside his SCIF, via the BBC; story via @bldgblog