Articles
The Colorado River: Demand Has Now Outstripped Supply Colorado River Water Shortages: Present Concerns and Future Fears
The Colorado River has been a water source to 30 million people in seven states and Mexico. But it might not be for long. Alarming chart inside.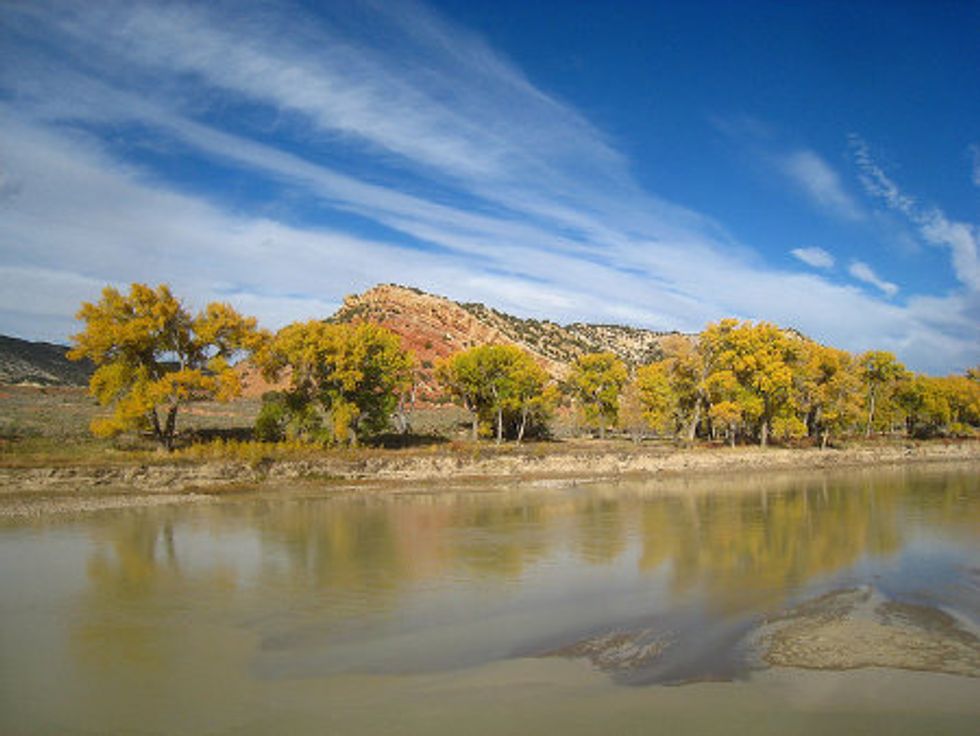 The Colorado River, a water source to at least 30 million people in seven states and Mexico, is drying up. It hasn't reached the sea in ages, and in 2002, for the first time, total demand for the river's water climbed higher than the total river's supply.
Last fall, to complement a Grist piece on the health of the Colorado River, we worked with the New Belgian Brewery to produce an infographic: "The Colorado River is Drying Up."
---
This week, Climate Central is running an absolute must read two-part feature for anyone with any stake or interest in the long term sustainability of the American Southwest. In "Running Toward Empty," Brendon Bosworth and Tom Yulsman, co-director of of CU-Boulder's Center for Environmental Journalism, explore the dangerous intersection of ever-increasing demand for the river's waters and the long term drought that's plaguing the region, which most experts anticipate will only worsen in years and decades ahead.
Part One looks at the current state of crisis (not an overstatement) in the Colorado River Basin, and how it got to this point: politics, personal use, and climate driven elements like drought and dust.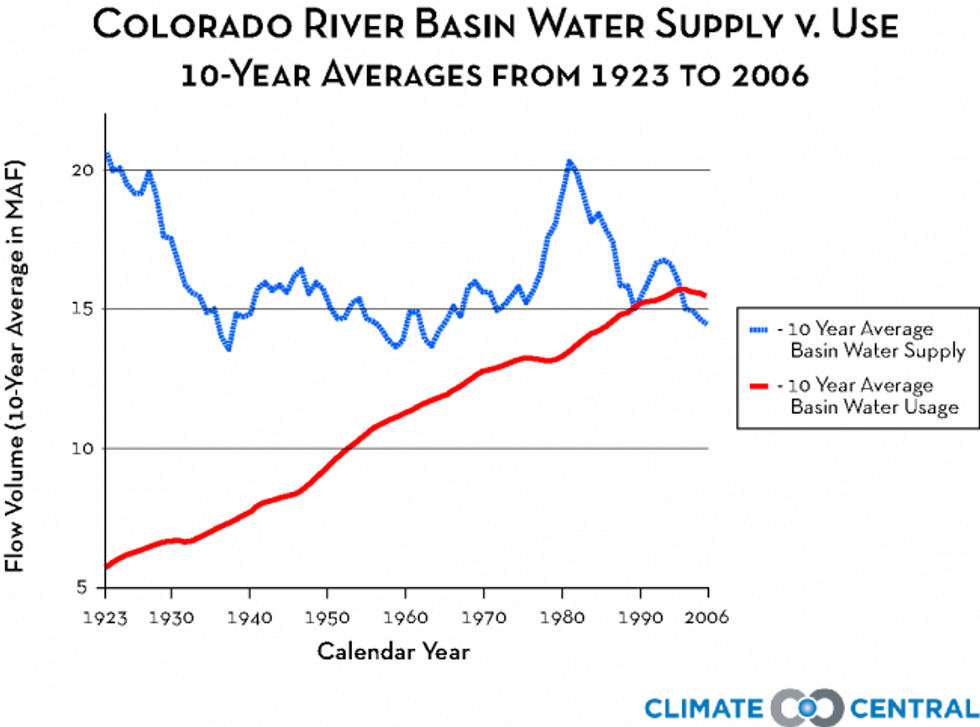 As the Climate Central chart shows, supply no longer meets demand:
"During this drought the curves have finally crossed," says Terrance Fulp, deputy regional director of the Bureau of Reclamation's Lower Colorado Region. "Obviously, no matter how much storage you have in the system, you're not overly confident in your sustainability if demand continually outstrips supply."

\n
Part Two looks forward to future prospects for the region.
The researchers found that if climate change reduces runoff by just 10 percent, scheduled deliveries of water to users will be missed almost 60 percent of the time by the year 2050. If runoff should drop by 20 percent, those deliveries will be missed 88 percent of the time...

\n
This sounds worrisome enough. But these estimates are based on the long-term average flows experienced through most of the 20th century. And the record of climate over a longer time span reveals that period to have been unusually wet.

\n
There's some small solace to be taken:
In the next 20 years, the risk that lakes Mead and Powell would become depleted is actually relatively low—providing time for policy makers to devise new management strategies.

\n
I could excerpt the whole thing if I let myself get carried away. Overall, it's a heroic work of long form, in-depth, expository reporting on a subject that means everything to a huge swath of our nation. Do yourself a favor and read it.
Photo (cc) by Flickr user cm195902
Chart credit: Russell Freedman for Climate Central. Data: Bureau of Reclamation.