Articles
Make a Student Lunch Contest: More Submissions!
More lunches. Behold the second batch. We asked you to create an ideal student lunch, photograph it, and submit it. Below are the second set of...
More lunches. Behold the second batch.
We asked you to create an ideal student lunch, photograph it, and submit it. Below are the second set of submissions we received. We'll be announcing the winner next week, when a $50 gift card from Whole Foods Market will be awarded for the five best entries. But until then, we're hoping you'll weigh in about which lunch whets your appetite. Please let us know in the comments section, and a big thanks again to everyone who participated.

From Jenny: I have one preschooler, and a set of two-year-old twins, one of which who is severely disabled. Time is of the essence in our house, and so is our budget, since we fund a lot of alternative therapies for our daughter. Here is a sample of a lunch for my preschooler: There's some celery, with a container of ranch dressing, cut up cheese, dried cranberries and other fruit, sliced apples (with fruit fresh/lemon juice so they don't brown), and a container of black beans and ditalini pasta (his request) with parmesan cheese on top. And three mini cookies. And, as a bonus, these types of lunchboxes don't have any waste! He also gets juice or milk, and I have yet to find a container that will work with this type of lunchbox, so it's Horizon Organic milk for now.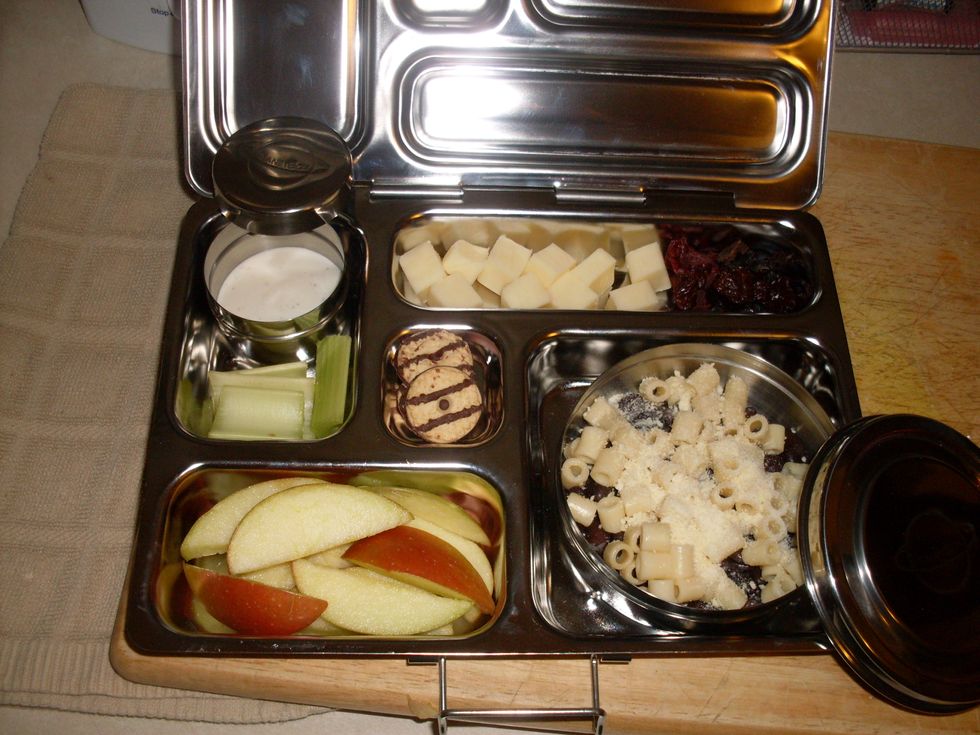 ---
From Michelle:
Grape and strawberry skewer, ladybug babybel cheese (decorated with nori), air popped popcorn with Stretch Island Fruit Co fruit leather cutouts, whole wheat bagel sandwich with all natural turkey and organic spinach topped with cheese hearts.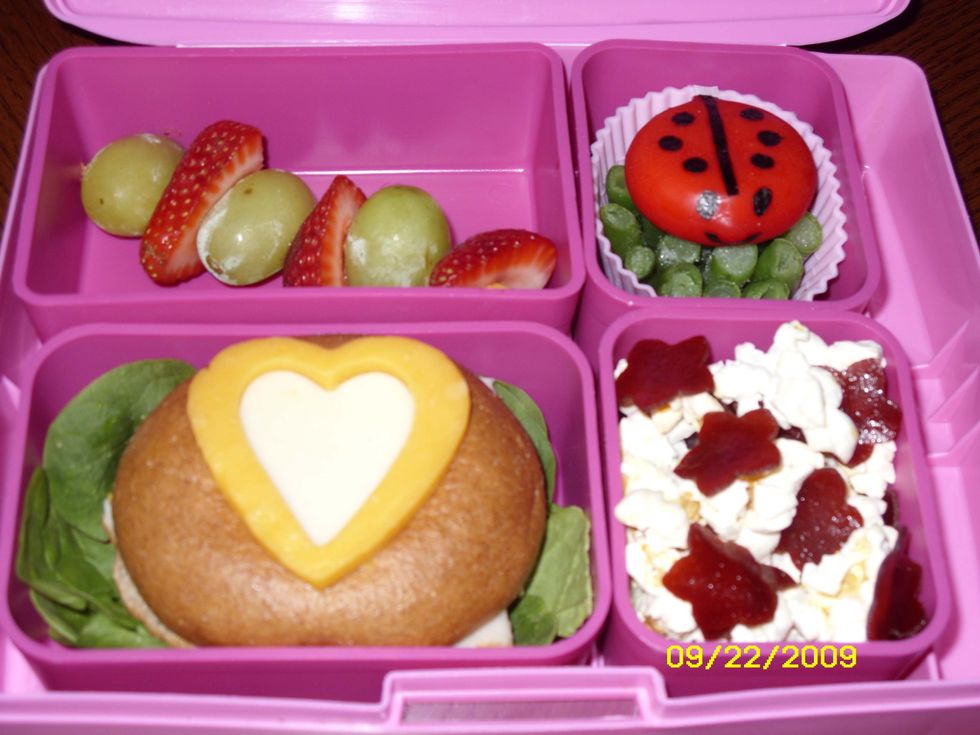 From Bernard:
I'm submitting peanut butter and jelly boy girl cutouts with carrot sticks (2 small carrots worth) and a glass of soymilk.The peanut butter is creamy; the jelly is apple preserves. Even with organic and boutique ingredients (organic whole wheat sandwich bread, organic carrots, organic peanut butter, organic soy milk, conventional but boutique apple preserves) this came in at under two dollars, total. The preparation also yields the outlines, which make for a perfect mom or dad lunch. A PB&J is a great way to eat a low-on-the-food-chain lunch, saving a few pounds of GHG emissions and over 130 gallons of water compared to the average American lunch, not to mention using less land and producing less of other types of agricultural pollution. And what kid doesn't like playing with his or her food, in particular biting its head off?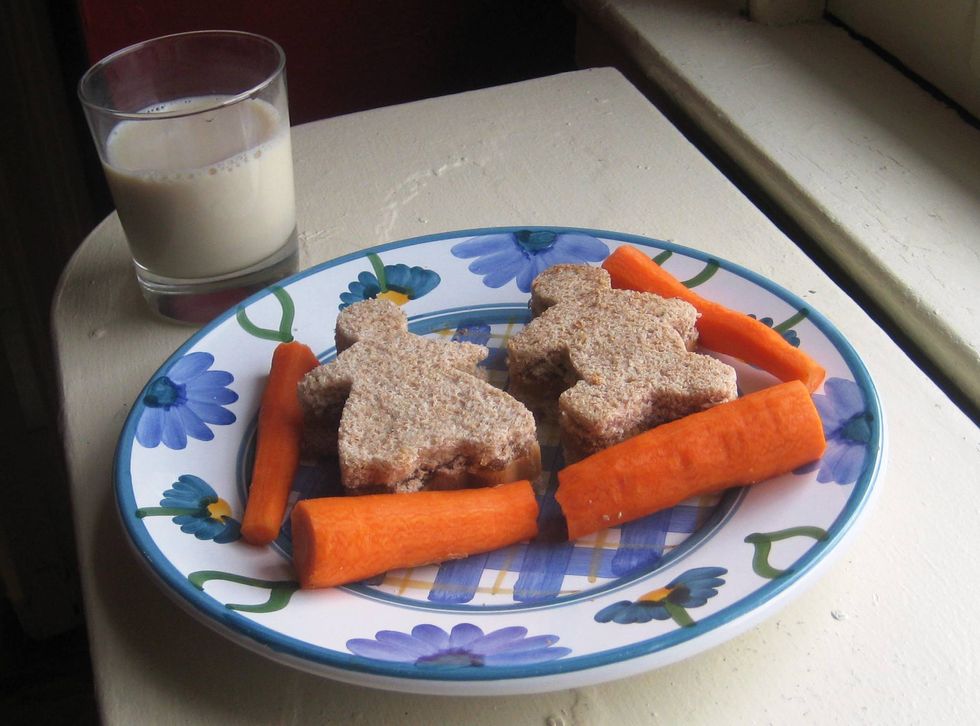 From Miranda:
The sandwich "sushi" (flattened whole grain bread, cream cheese, free-range deli chicken breast, organic greens, and organic carrot sticks) is rolled and cut into sushi-like finger food. The blood oranges are delicious and different (and were on sale!). The ants on logs (organic celery topped with sunflower butter and raisins) and Annie's brand Cheddar Bunnies crackers are fun and add a contrasting crunch to the "sushi." Finally, the lunch is washed down with organic milk served in a stainless, reusable container.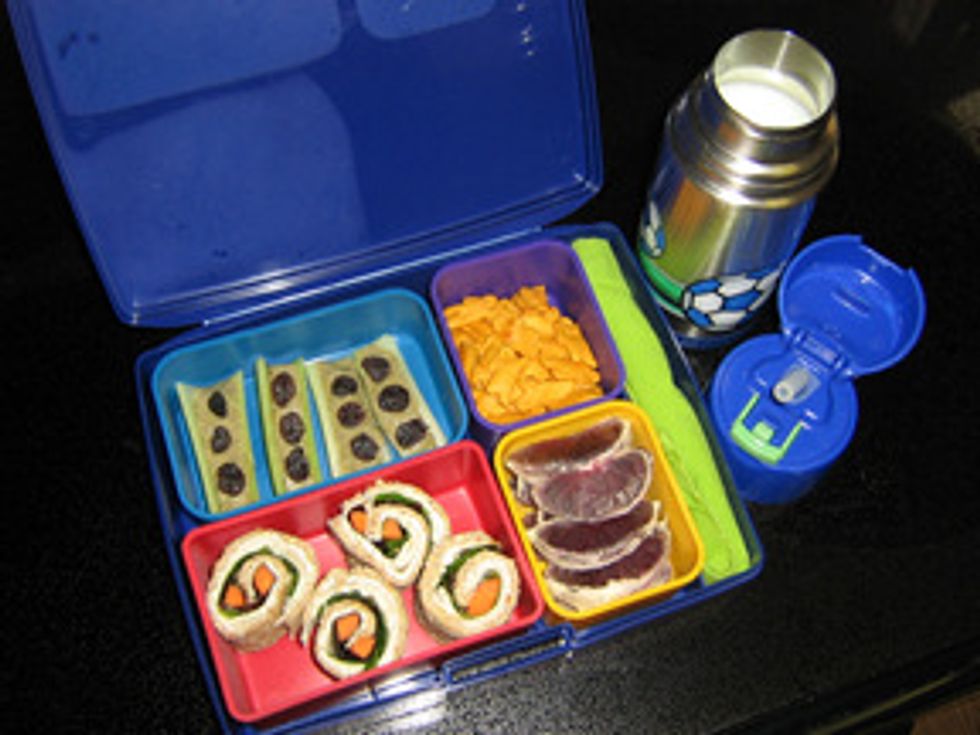 From Naomi:
Whole wheat tortilla roll up made with tortilla (grain), refried beans or mashed beans (protein), organic spinach (vegetable), and organic cheddar cheese (dairy). Spread the beans on the tortilla, top it with spinach and cheese, and stick it in the toaster oven or conventional oven for a minute or so, just until the cheese melts. Roll it up gently. Organic carrots, organic fruit juice, and of course you can add some grapes or strawberries for extra fruits.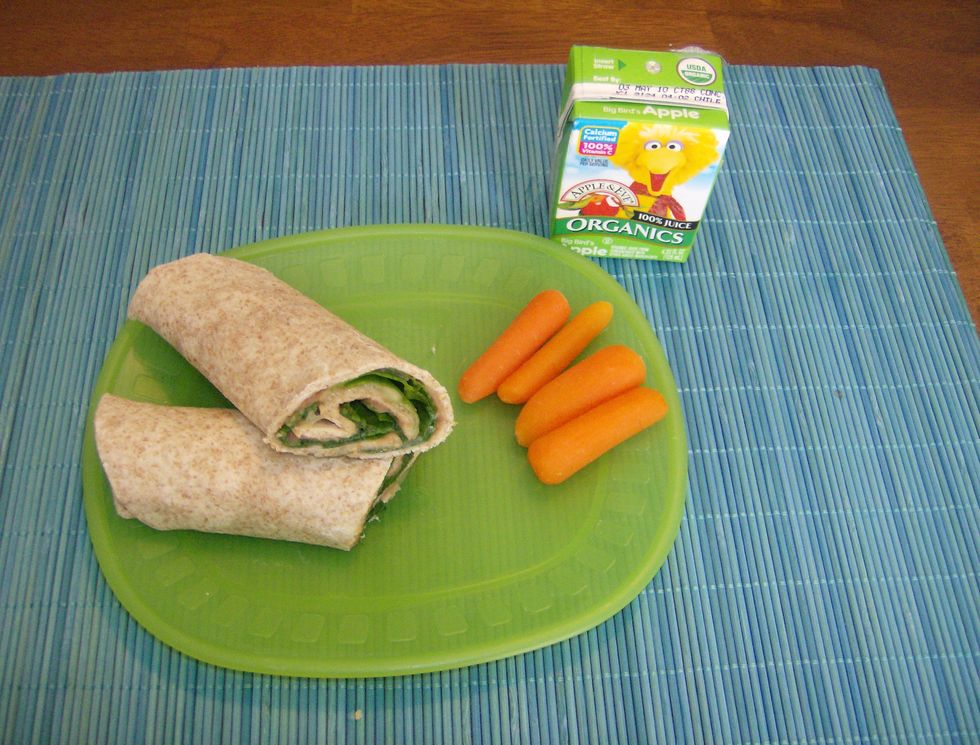 From Kimberly:
Kids love to slurp pasta and this pasta sauce is homemade with just plain crushed tomatoes (from a carton, not a can) cooked with olive oil, garlic and chopped onion. The celery sticks are for crunch and the soy cheese is a good protein alternative to cow's milk. Fresh fruits are always healthier than cookies and I chose unsweetened iced tea because of the anti-oxidant.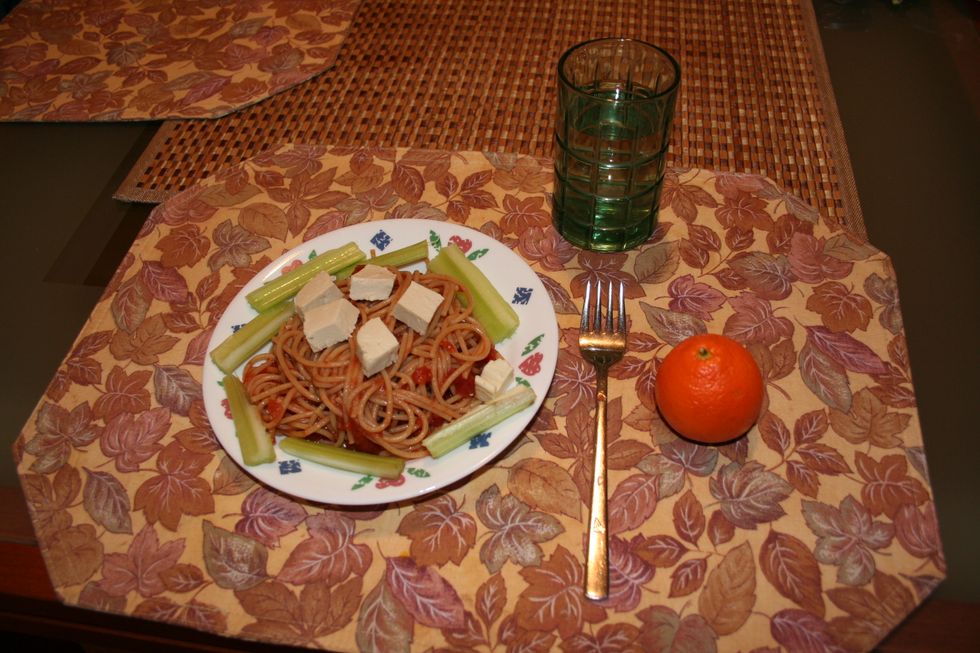 From Laura:
This nutritious delicious and realistic meal is not only something a student would love to eat, but also something anyone would love to eat. The turkey chili is easy to make, very low in fat and very high in fiber and protein. I make it all the time and my roommates gobble it right up. The chili contains 99% lean ground turkey, Amy's Organic Medium Chili, canned black beans, red beans, stewed diced tomatoes, yellow corn, diced jalapeños, and is seasoned with onion, black pepper, season salt and cumin. A "Jiffy" homemade corn muffin complements the turkey chili. A snack-sized Dannon Light & Fit nonfat vanilla yogurt cools and refreshes the palate while also fortifying the immune system, and it goes great with the five fresh strawberries that are currently in season in southern California. As a thirst quencher, a carton of "No Pulp Healthy Kids" Tropicana orange juice provides calcium and vitamins A, D, and E. Four Hershey's Kisses brand Special Dark chocolate pieces top off the meal as a tasty dessert with the added health benefits of antioxidants and lower blood pressure and cholesterol. This meal costs under $5 to prepare and can satisfy and nourish the pickiest of eaters.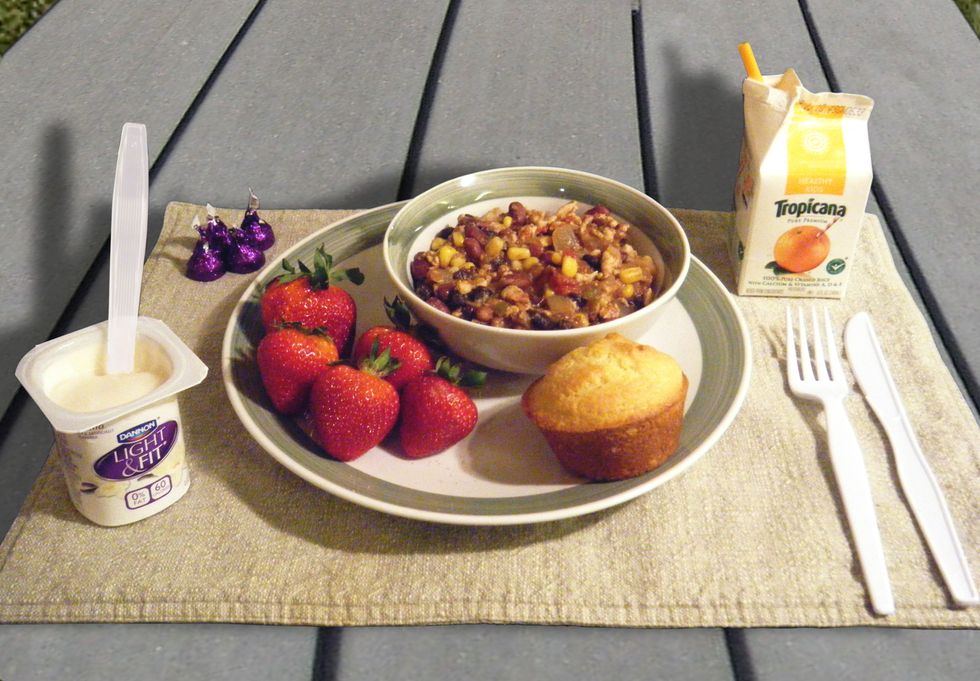 From Rick:
The lunch features a hummus and organic baby carrot sandwhich on a multigrain (sunflower) bread, with red grapes, cheese stick, and blueberry applesauce (with milk or unsweetened juice not shown). Substitutes can be organic broccoli for the carrots for a broccoli sandwich (or roll up), fruit cup for the applesauce, and organic Stoneyfield yogurt squirt for the cheese stick. The packing and eating of the sandwhich can be a challenge, but she manages. We feel this is a a well balanced healthy lunch, and one she eats!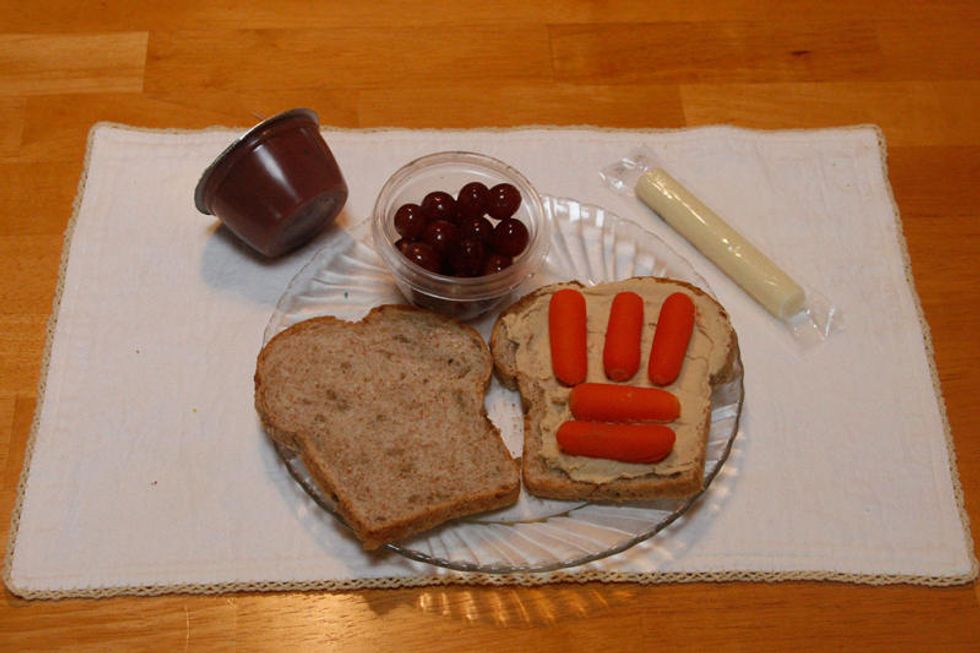 From Malini:
A nutritious, protein-packed, enjoyable lunch. Children will love the new take on an old favorite, "ants on a log," and have fun eating the bunny grahams. Parents will be amazed at how many organic and wholesome foods they can sneak into their children's lunches without scaring the kids away from being too healthy.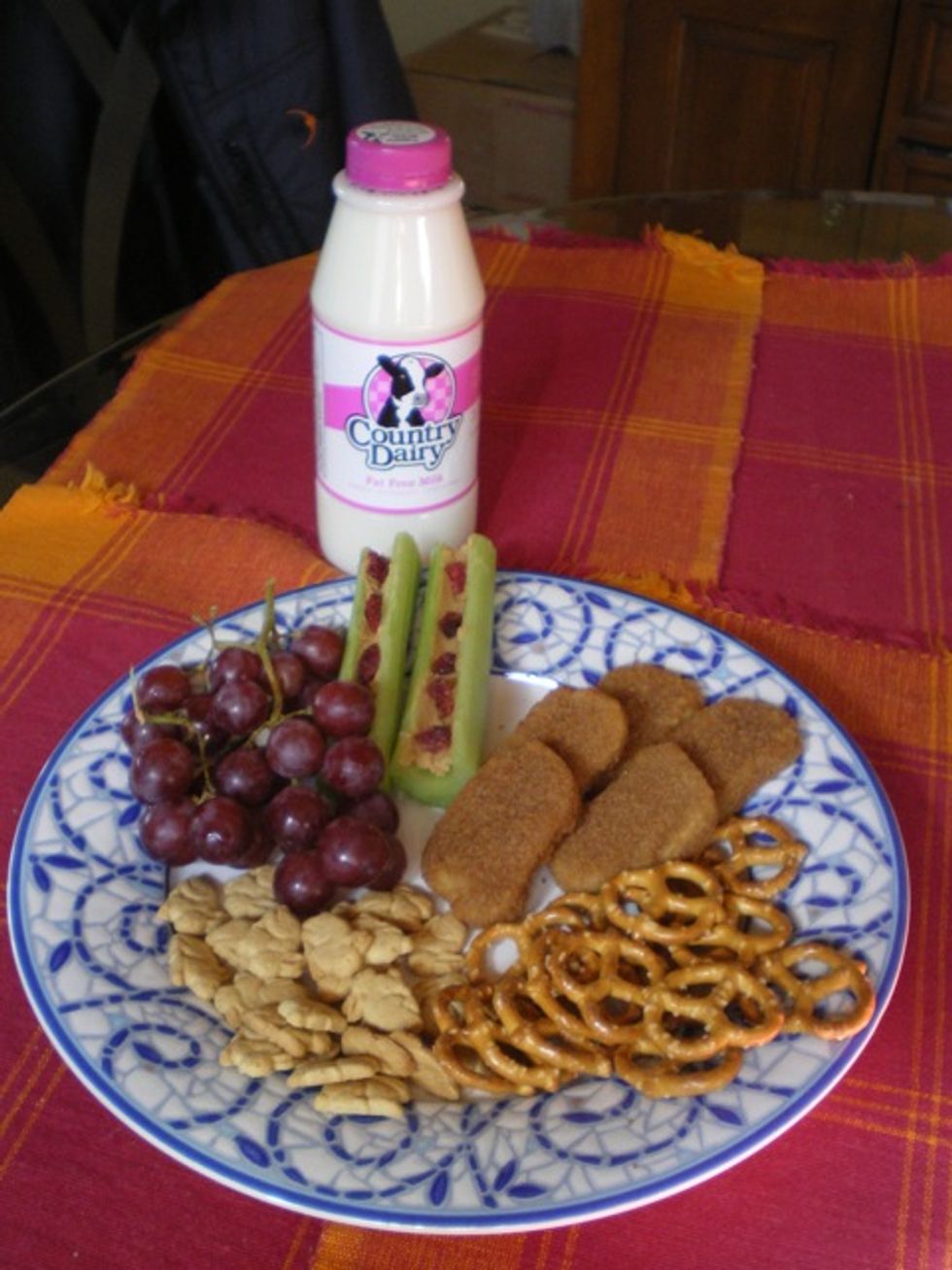 From Scott:
Kids will love the fact that they are enjoying a great-tasting meal, while not getting fat in the process. Taking a page from Elvis, Scott has even included an open-face peanut butter and banana whole wheat sandwich, but with a delicious new twist: strawberries! Yummy! This meal is packed with protein, whole grains and fruits & veges to not only keep your child regular, but to sustain energy to last the day.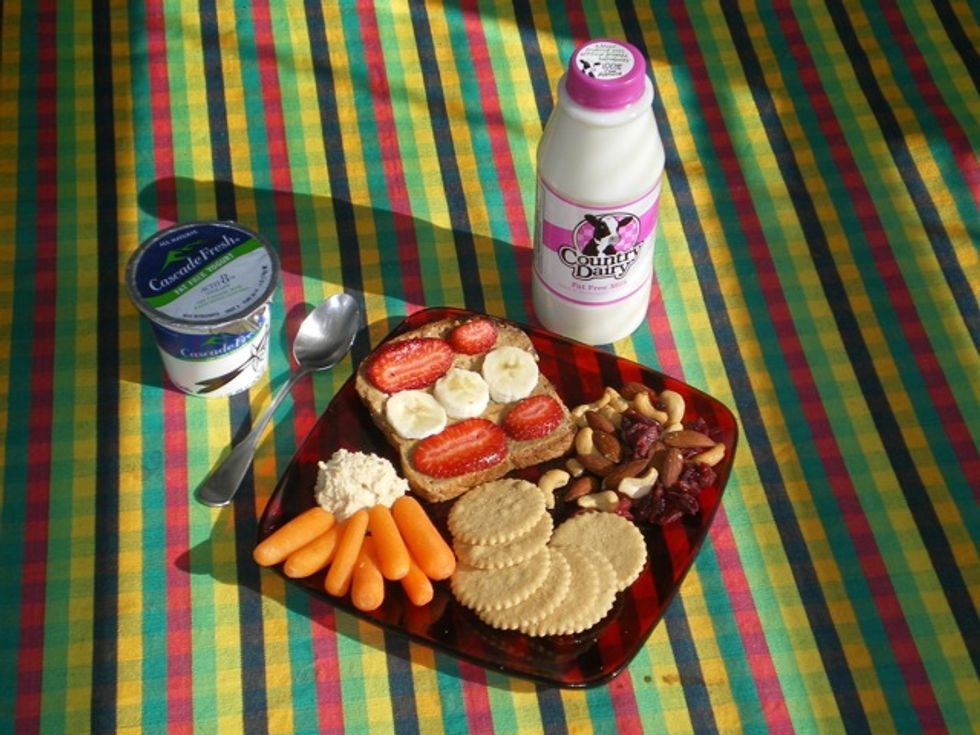 From Sandra:

Fresh organic peanut butter* with sliced organic fuji apples and local, organic honey on local whole grain bread; organic baby carrots; homemade organic oatmeal raisin and dark chocolate chunk cookie made with whole wheat flour; organic skim milk. *Peanut butter can be swapped out for other nut or seed butters depending on allergies or preferences. Suggestions include almond butter or sunflower seed butter.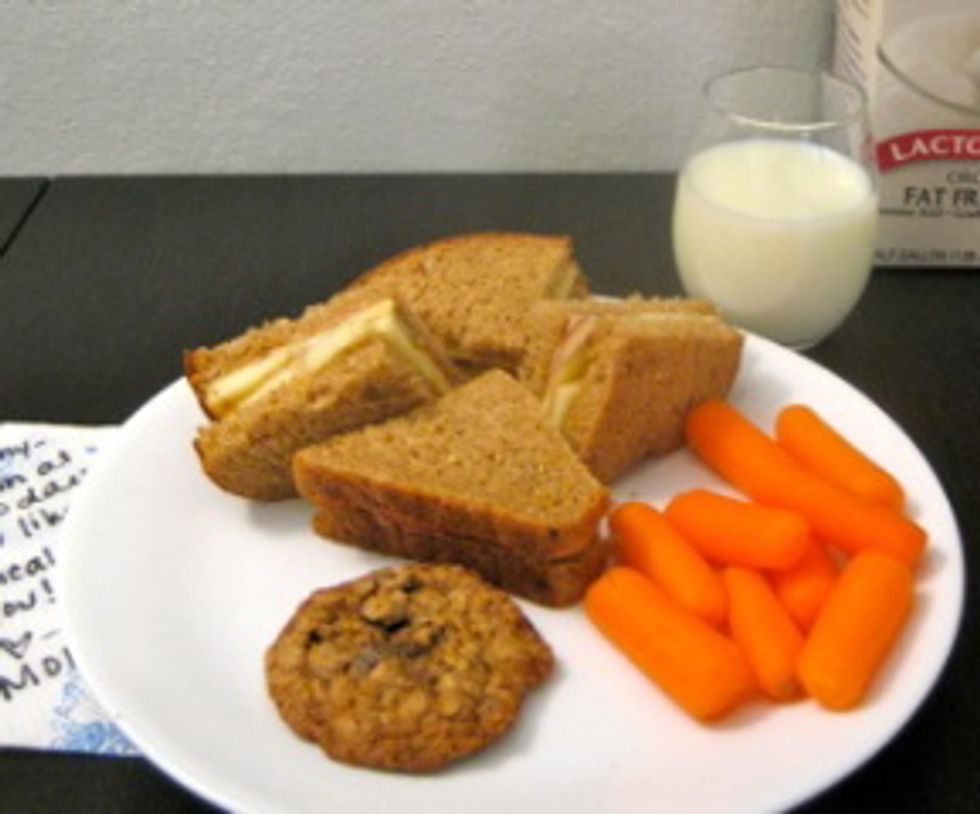 From Anna:
Raw cauliflower, home-made plain yogurt with sprinkles and organic strawberries, 100% whole wheat sandwich things, organic honey-banana slices, bunch of raisins, chocolate candy.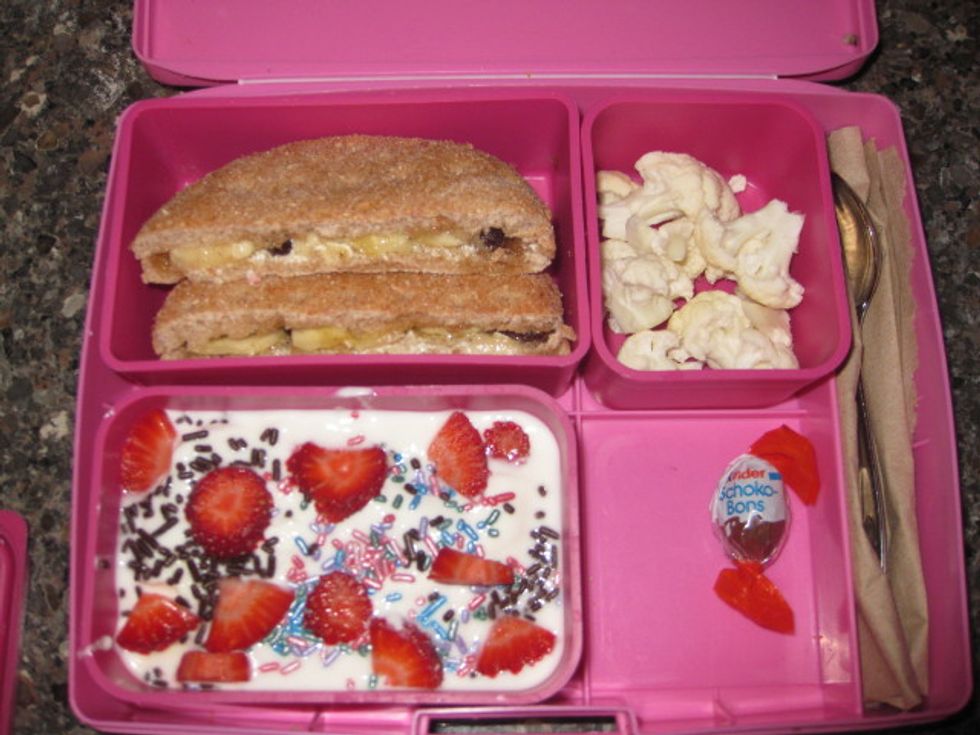 From Carmen:
So, for my proposed school lunch option, I have taken one of kids' favorite meals--the hamburger-and-fries "happy" meal--and made it something that their whole body will truly enjoy: Black bean burgers, whole-wheat buns, sweet potato fries baked in the oven, cottage cheese.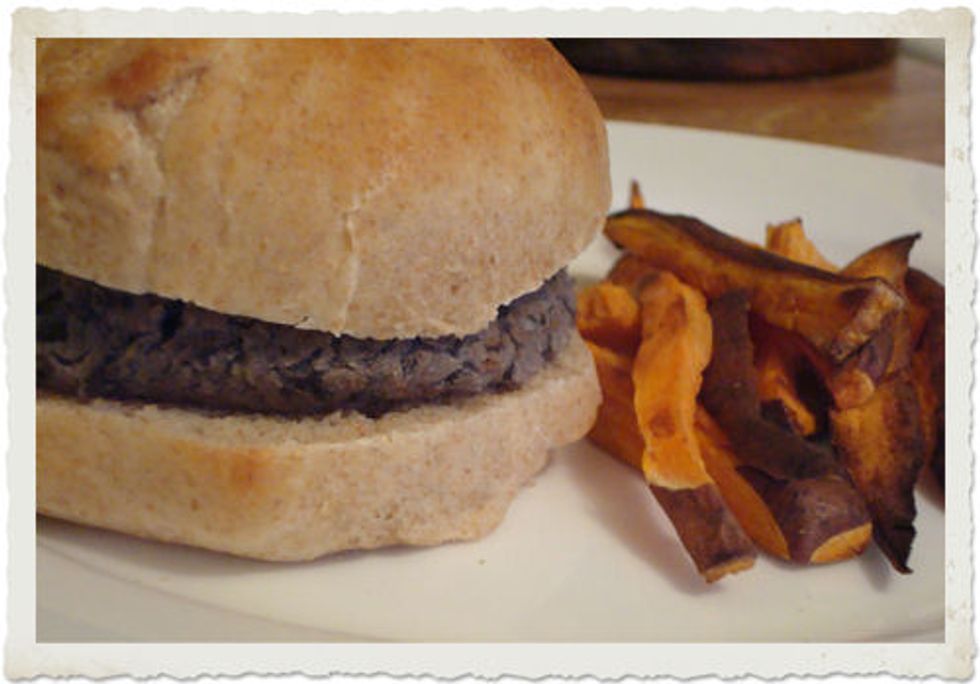 From Sherry:
The sandwich is made of: whole grain bread, crunchy peanut butter, honey, jumbo raisin medley, sunflower seeds, shredded carrots and broccoli sprouts. The raisins and broccoli sprouts could be replaced with dried blueberries or cranberries and alfalfa sprouts or microgreens, respectively. The honey and raisin medley together give a "jelly" flavor without all of the artificial sugars. To follow, is a parfait made of Fage greek yogurt, sliced local strawberries, and cranberry maple nut gluten-free granola. I chose an organic 100% grape juice to finish off the lunch.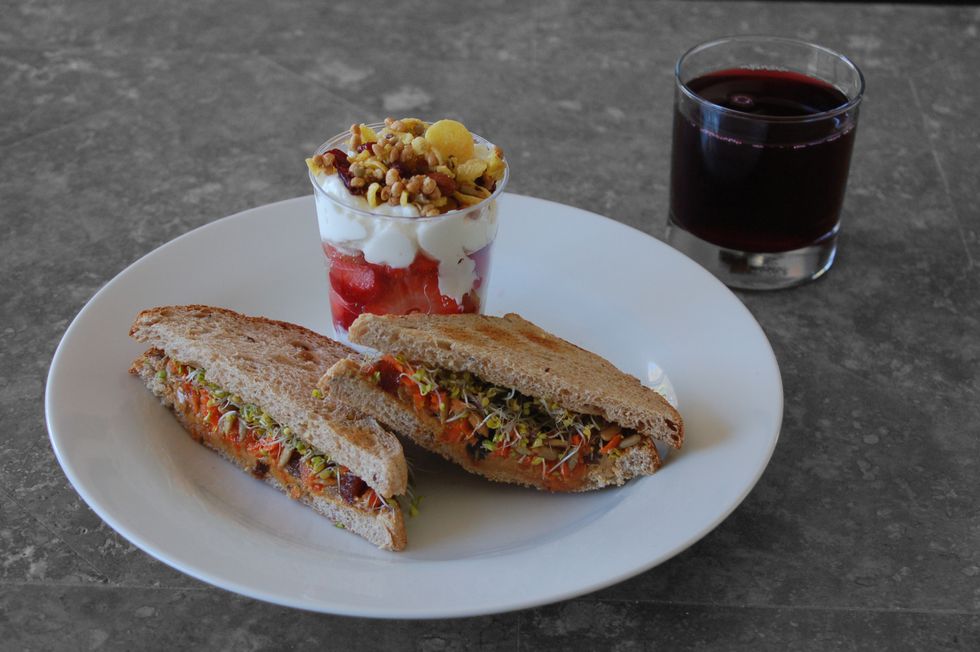 From Adrienne:
My lunch is for elementary school kids, kindergarten and up. These kids love to dip things and play with their food. Dips are also great, because you can sneak vegetables in without the kids noticing. For example, the cilantro avocado dip contains spinach. I designed a meal that was colorful, vegetarian, easy to eat and make. Each dish contains only a few simple, organic ingredients that together creates a balanced meal.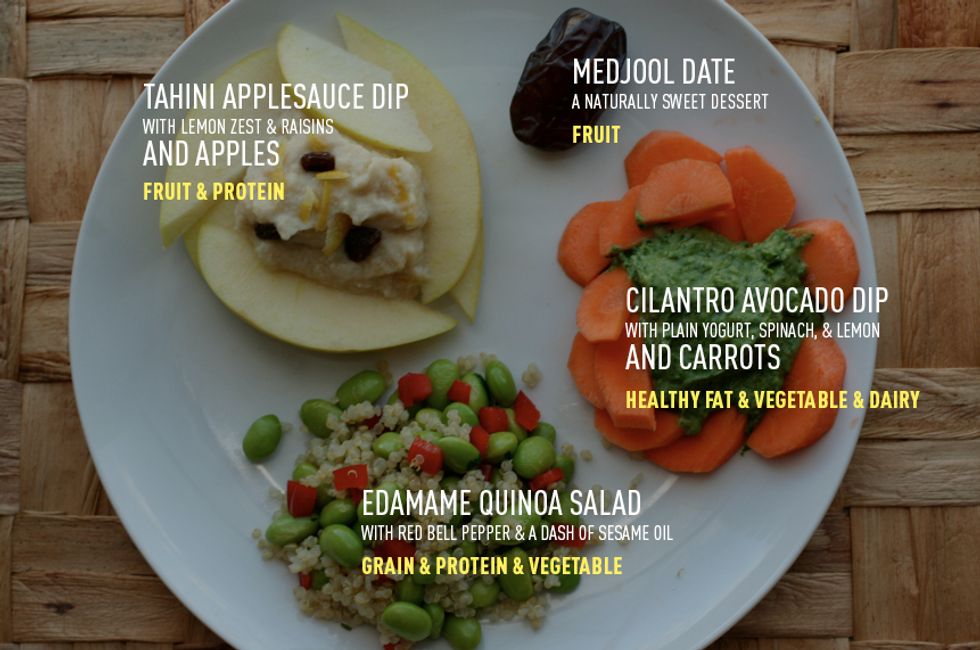 From Toni:
Cheesy 8-grain rotini, pan-seared chicken, spinach salad with sweet red pepper, orange slices, and citrus dressing, two homemade peanut butter-raisin cookies, fruitables (fruit and vegetable juice box).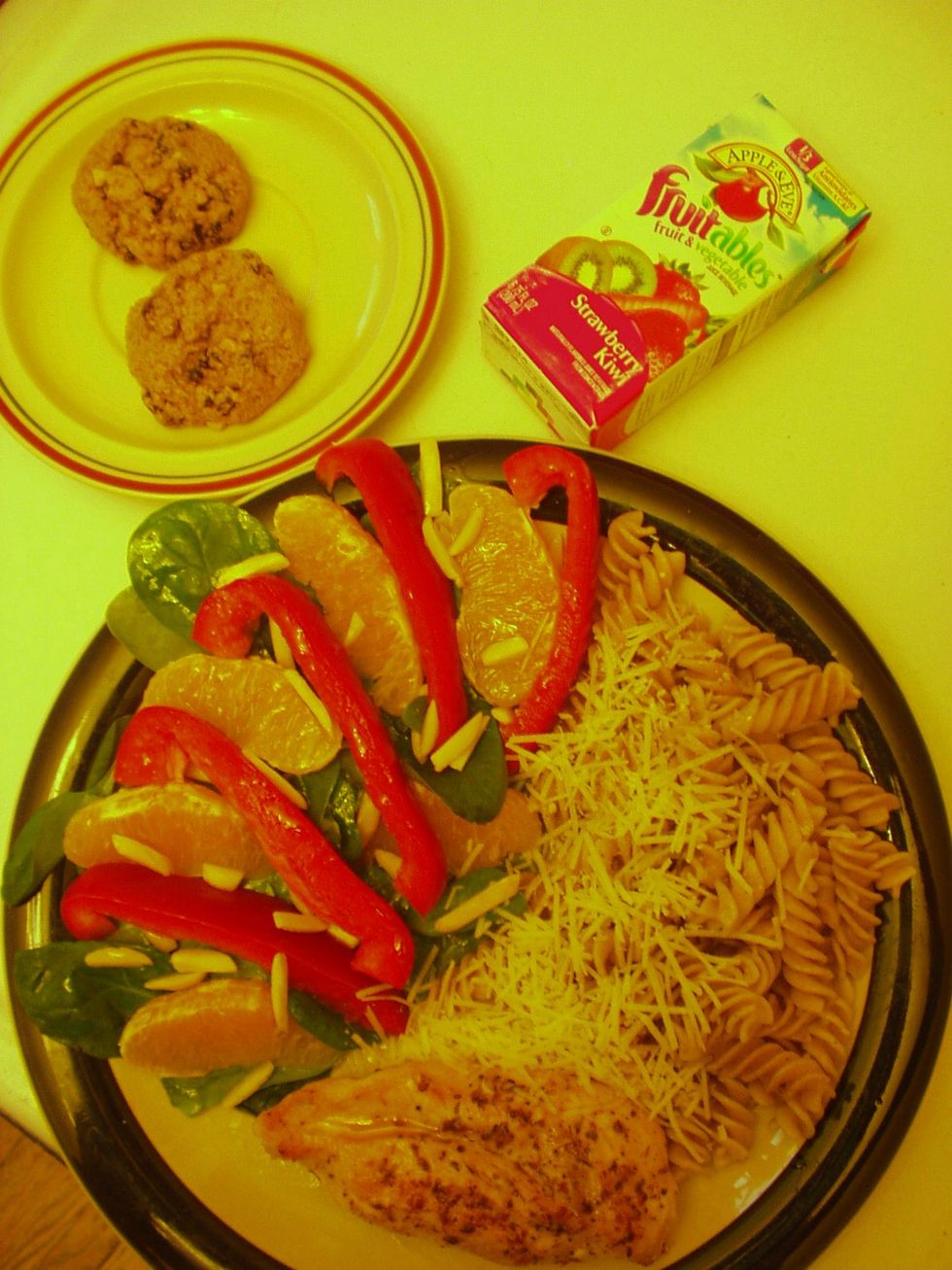 From Laura:
This lunch banks on the fact that kids adore Lunchables. Something about the endless stacking, the creative mix&match they totally dig. So, why not take out all the unhealthy ham and dairy product and substitute something more ethnic and more healthy? If kids like tacos and spaghetti, they'll love similarly-foreign foods, but many of them probably haven't tried falafel, which is silly, since its a very un-messy, kid-friendly food! The lunch comes with a refreshing side of oranges (matches ethnically with the Israeli/Mediterranean main) and finished off with a choice of Organic Cinnamon Sugar or Chocolate Mint Cookies, great for dunking in the organic milk/soymilk. A very well-balanced, educational, and fun meal!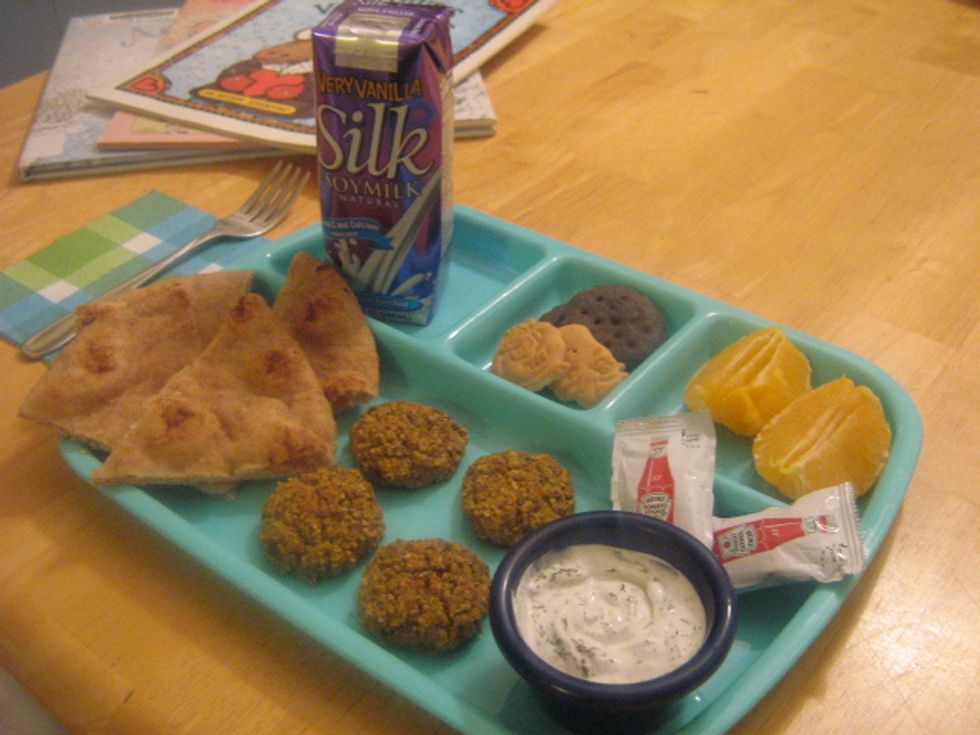 From Erin:
This lunch is meant to be served in a kid-friendly bento box and is targeted at elementary school children who like to eat with their fingers. The lunch consists of a single quesadilla, homemade hummus and veggie sticks, yogurt with cinnamon, and a Tazo berry herbal infusion drink that contains natural cane sugar. Everything is designed to be served cold. The hummus is equally good with the veggies and the quesadilla slices. The meal is based on the way I cook and shop; I try to buy locally and organically when possible and prepare foods myself rather than buying already prepared items.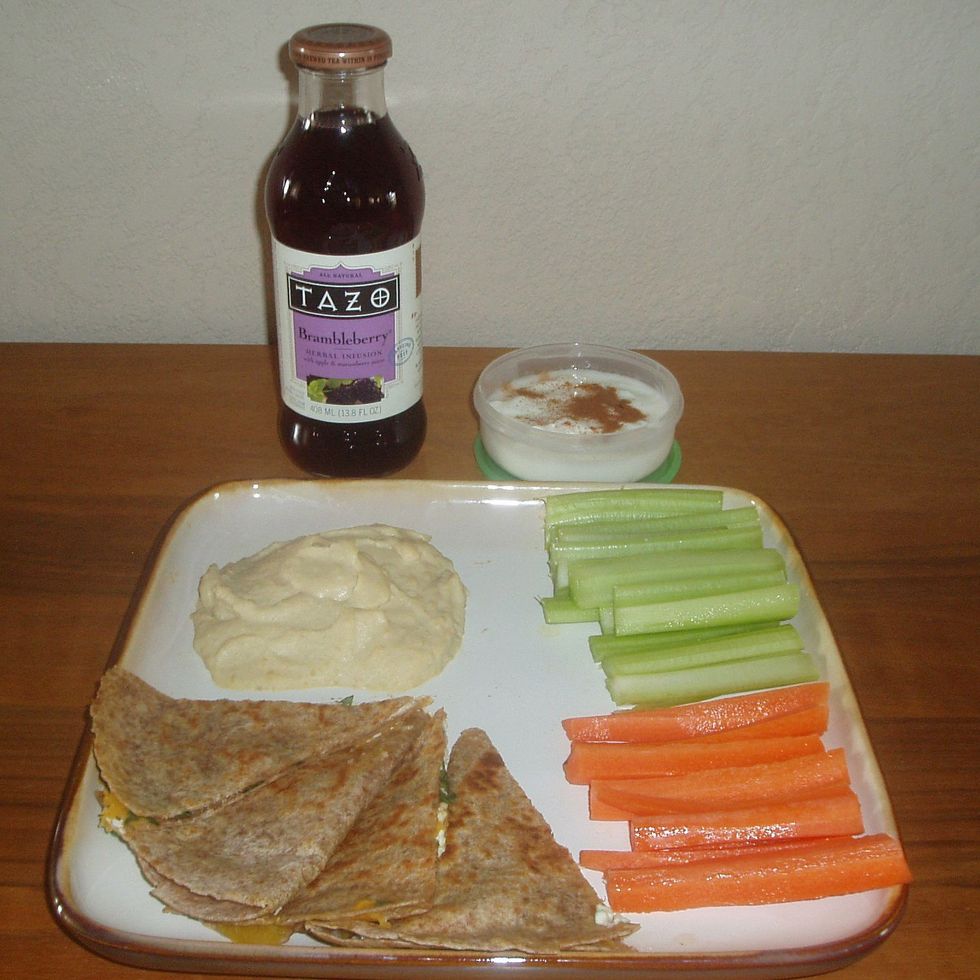 From DeeAnna:
I have two boys, the 16 year old has the metabolism of a hummingbird, and the 14 year old that of a tree sloth. This discrepancy makes for challenging lunch preparations! I pack lunches for both of them every day. The thought of them eating the "junk" that the school district claims is food makes my stomach turn, especially at the upper level. My menu consists of mini bison sliders on a whole grain roll with cheese (with shredded cabbage that they think is lettuce and an organic tomato) sweet potato fries, and veggies with a greek yogurt dipping sauce (that they think is ranch dressing out of a bottle). I would throw in a homemade cookie, or a Rice Krispie treat made with Erewhon Brown Rice Cereal. I did this by using cheese on the sliders, and using Greek Yogurt as the dipping sauce. They pack a water bottle every day as well.
Check back next week for the winners. And remember: We want to know which ones you'd chow down on, too, so let us know.
Note: While the contest is now over, you can still check out our five winners here.