Articles
Make a Student Lunch Contest: Submissions!
The lunches are in. Behold the first batch. We asked you to create an ideal student lunch, photograph it, and submit it. Below are the first nine...
The lunches are in. Behold the first batch.
We asked you to create an ideal student lunch, photograph it, and submit it. Below are the first nine submissions we received, with a second batch coming your way tomorrow. We'll be announcing the winner next week, when a $50 gift card from Whole Foods Market will be awarded for the five best entries. But until then, we're hoping you'll weigh in about which lunch whets your appetite. Please let us know in the comments section, and a big thanks to everyone who participated.

From Katie: A Margherita pizza (with homemade crust made from organic flour and organic yeast, locally produced Mozzarella cheese, Campari tomatoes, and organic basil); a whole banana; homemade trail mix (organic raw almonds, flame raisins, fair trade dark chocolate, dried apricots, and roasted sunflower seeds); and a salad (made with red leaf lettuce, organic carrots, white mushrooms, organic sunflower seeds, and Campari tomato). A side of hummus was included separately and was used as a salad dressing.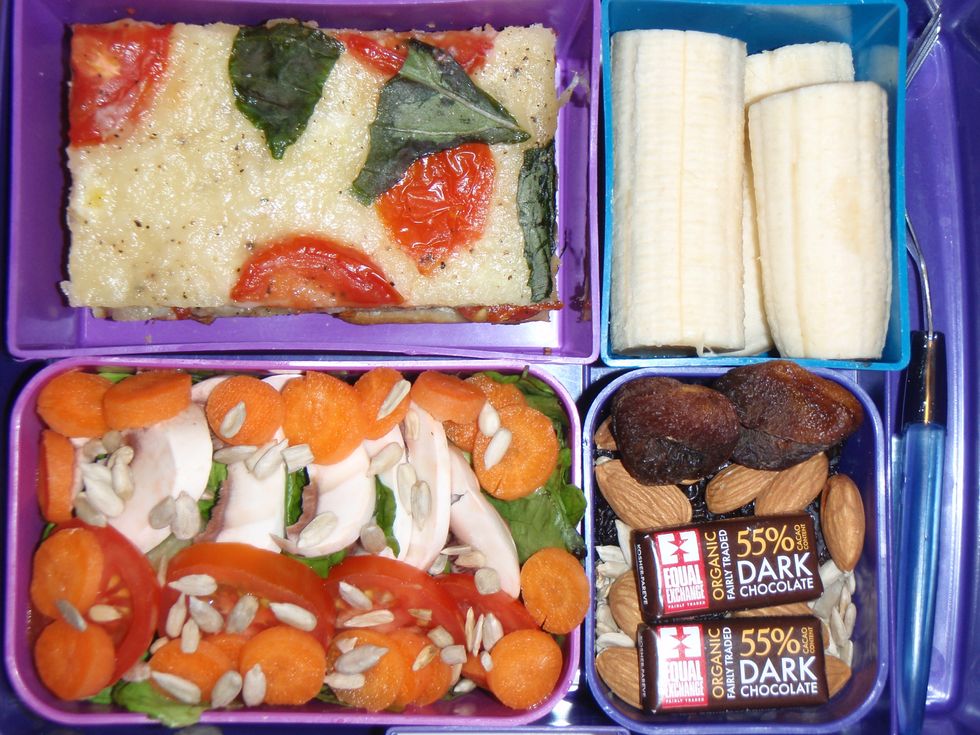 ---
From Betsy:
Quinoa salad with parsley, carrot and black beans with lemon vinaigrette (all bought in bulk and organic); red pepper slices; one golden delicious apple; Tings Crunchy Corn sticks, baked and natural; one thermos of organic soy milk.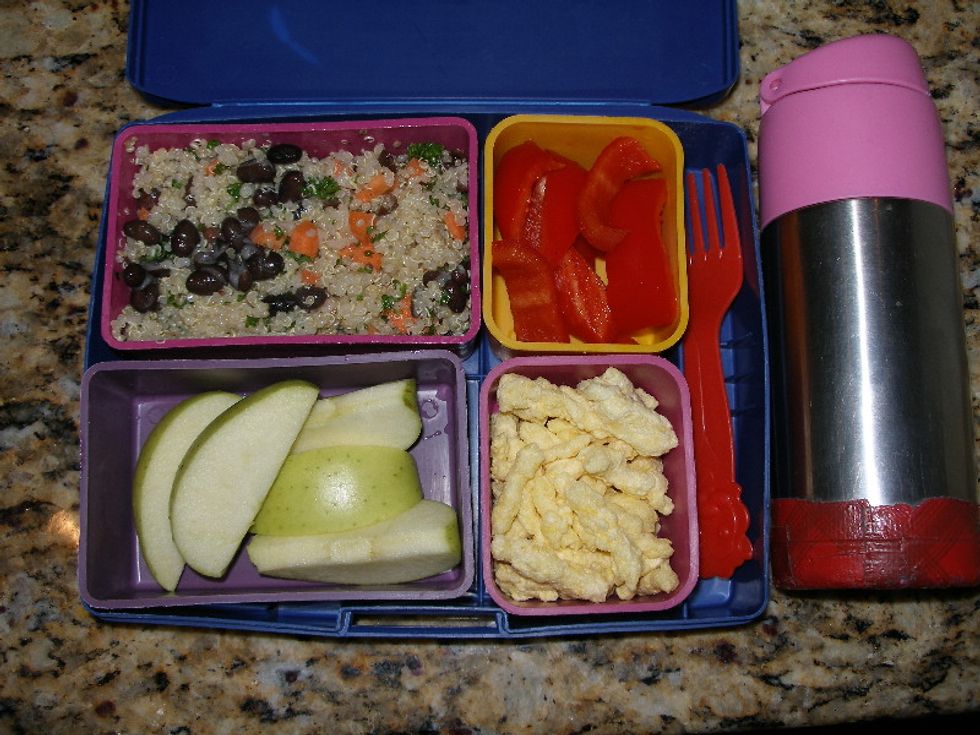 From Kate:
Inspired by Lunchables—make your own parfait! Vanilla yogurt; carob chips; a gummy bear; mixed berries; chopped almonds; plain oat granola.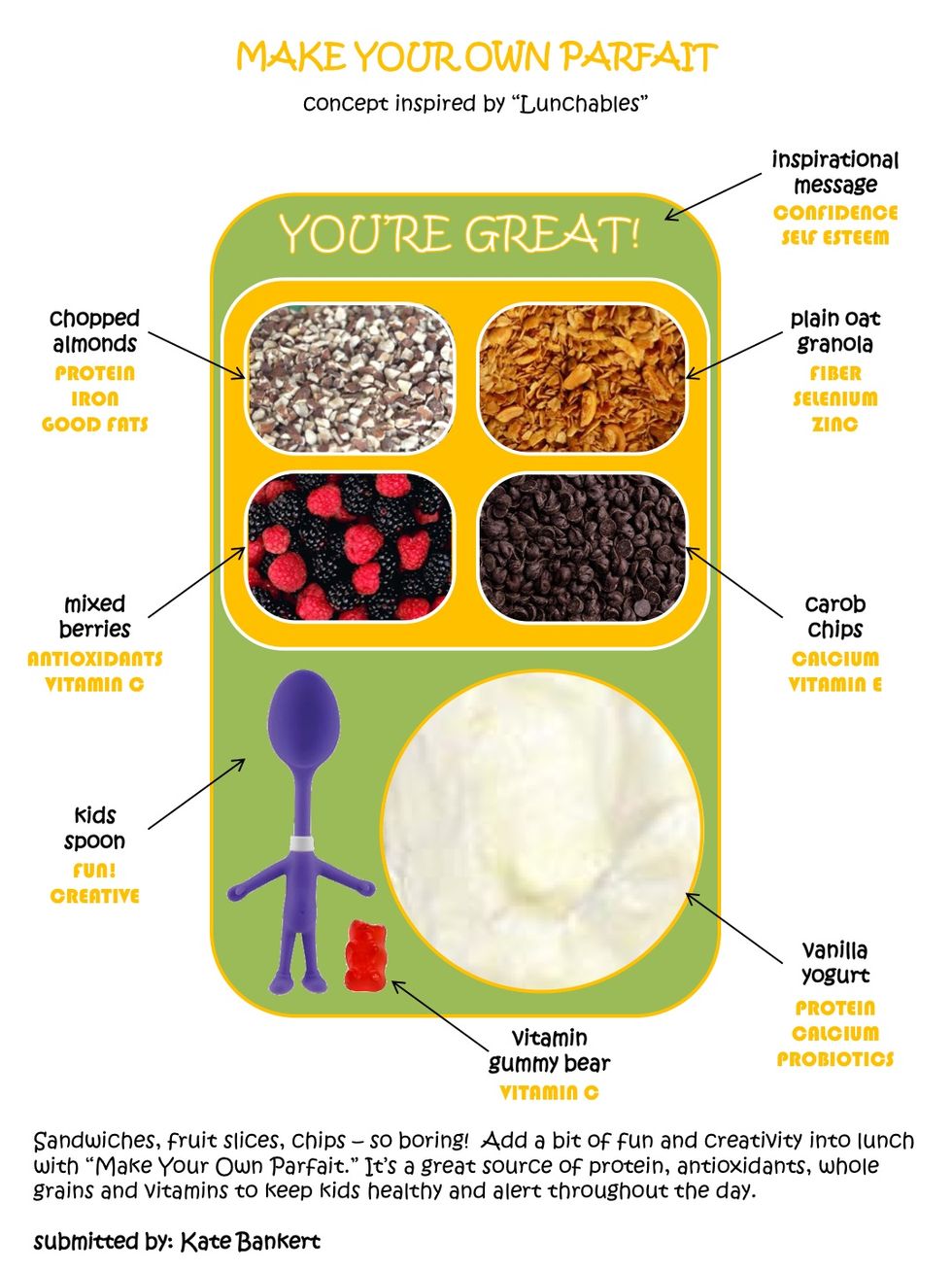 From Tanya:
Rice noodle stir-fry made of rice vermicelli, cauliflower, broccoli, carrots, zucchini, peas, and half a pound of ground turkey, cooked in a bit of soy sauce, vinegar, and Chinese cooking wine; sliced apple (pretty much the only local fruit available in Vancouver right now); a piece of banana bread (not so local, but delicious).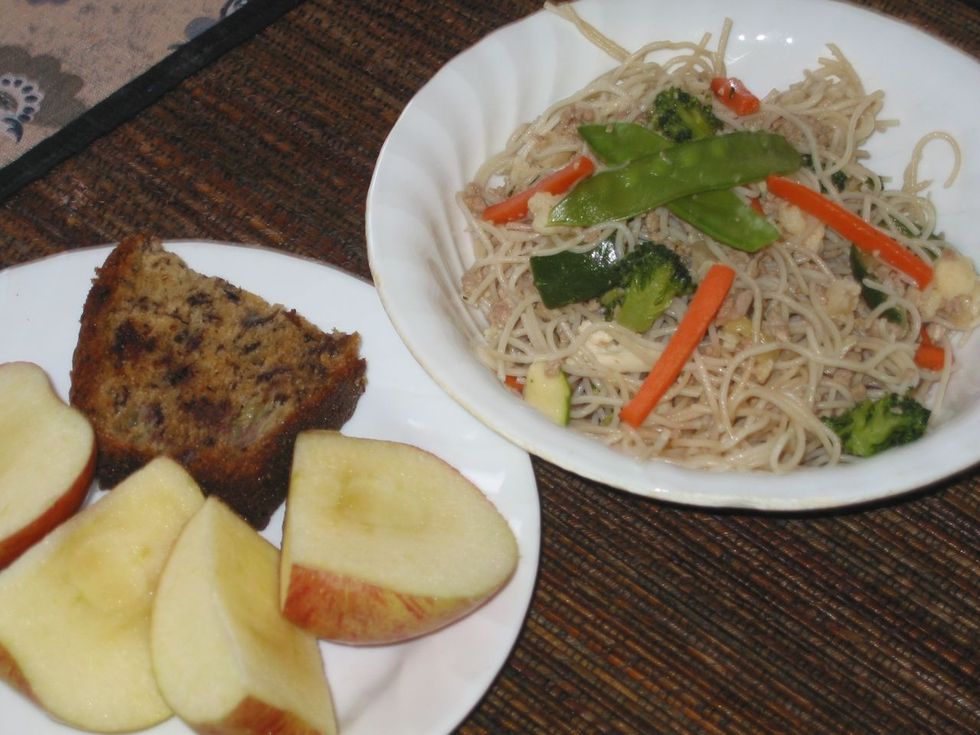 From Diane:
One individual serving hummus; two whole wheat mini-pita's cut into triangles; carrot sticks; raw broccoli florets; one string cheese; one slice reduced sodium turkey breast; one organic apple; one package of Barbara's Bakery Vanilla Snackimals cookies; spring water in Kids Basix sport cup.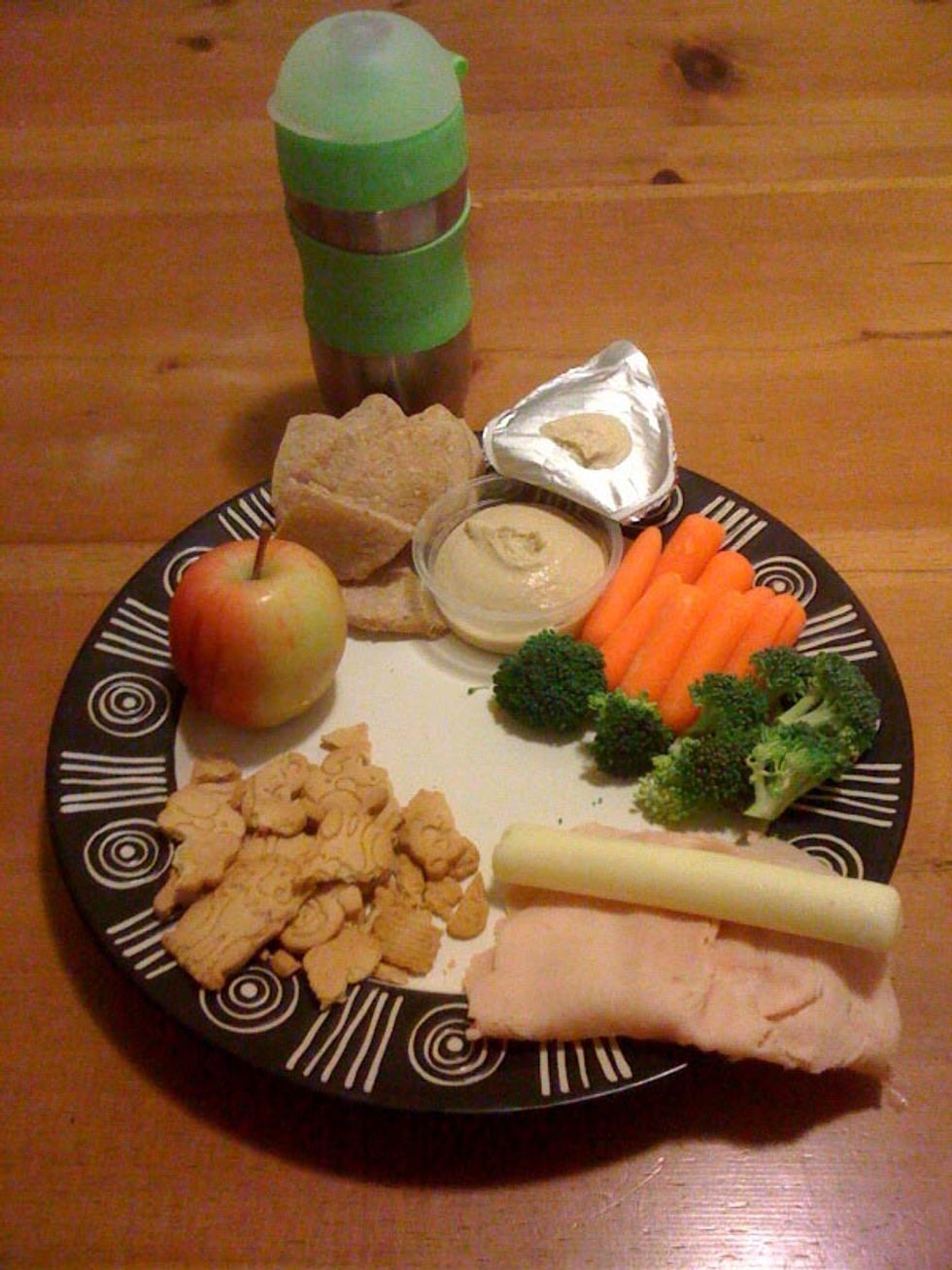 From Sorlynn:
Two whole wheat mini bagels with low-fat organic cream cheese; an organic hard-boiled egg (I put it in a bunny-shaped mold that is hard to make out); grapes and organic blackberries; organic baby carrot fingers with black olive nails; purified water in a Klean Kanteen.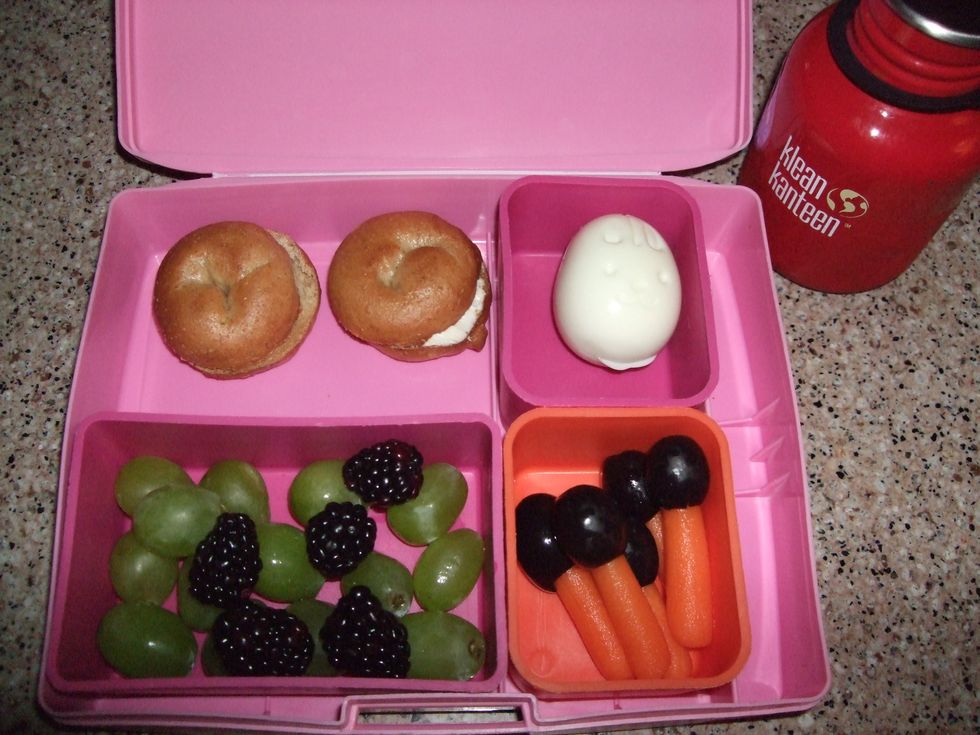 From Brendan:
One citrus herb roasted organic chicken wrap; one low-fat, low-calorie blue cheese garden variety salad with organic dried cranberries and fresh avocado; five slices of apple; one organic flax seed, quick oat cranberry "cookie"; one organic ginger ale (not pictured).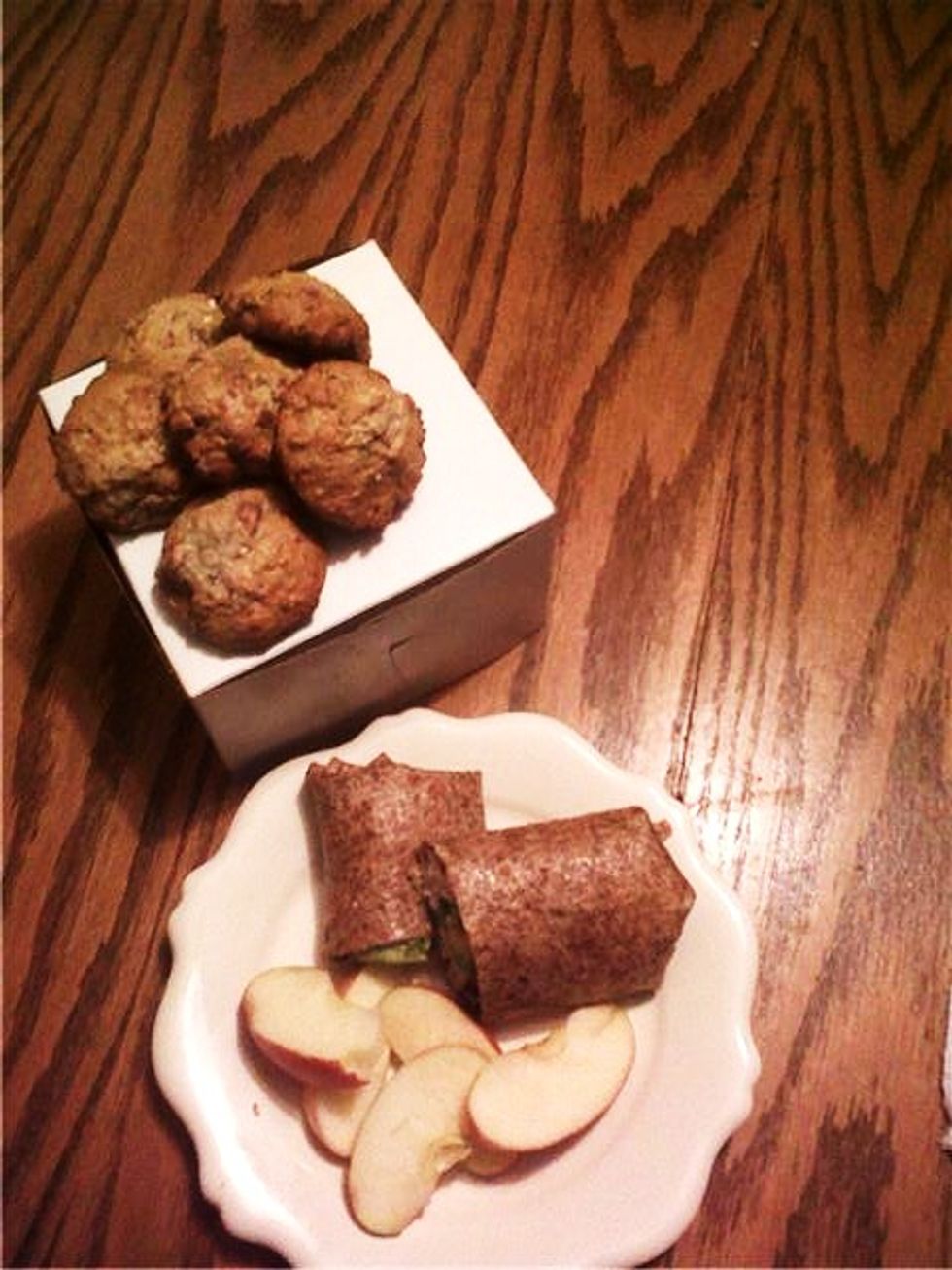 From Amy:
Home-made cod fish sticks dipped in buttermilk then in seasoned with lemon zest, spices, Panko, and breadcrumbs; one lemon wedge; mashed potatoes with butter, milk, salt and pepper; coleslaw made of fresh cabbage, carrots, olive oil and lemon juice; fortified soy milk.
Note: While the contest is now over, you can still check out our five winners here.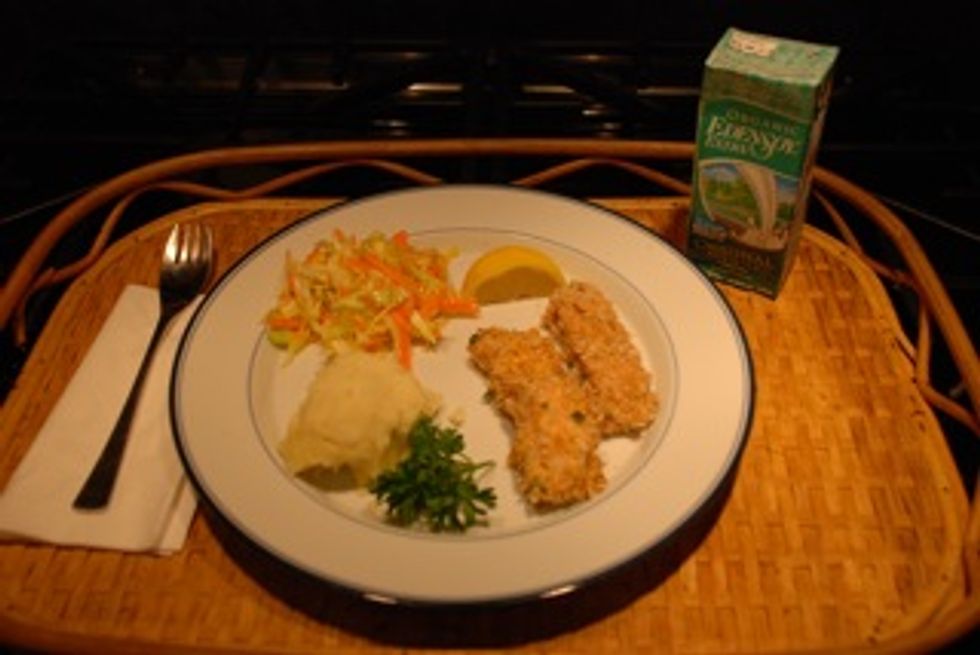 From Abigail:
Hummus with Barbara's Shredded spoonfuls; organic carrots; one organic applesauce cup; chocolate chip cookies; one chocolate milk.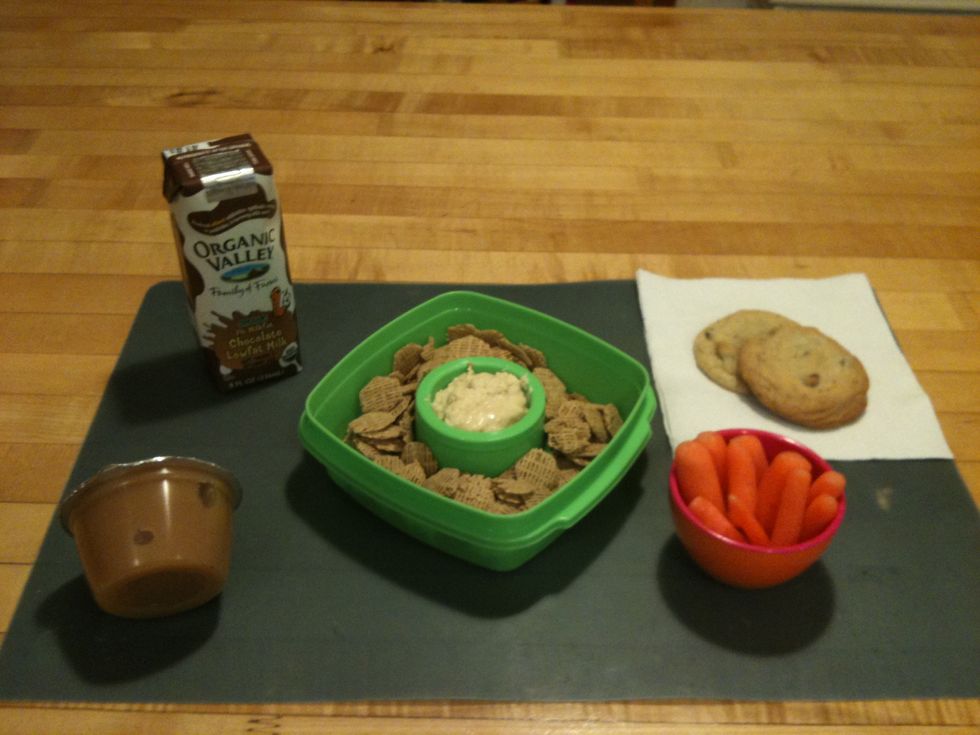 Check back tomorrow for the rest. And remember: We want to know which ones you'd chow down on, too, so let us know.