Articles
New Blood, Old Blood: Who Left and Who Stayed in New Orleans?
In the past five years, New Orleans has seen a massive demographic shuffle. Many people left, some came back, and other people arrived for the...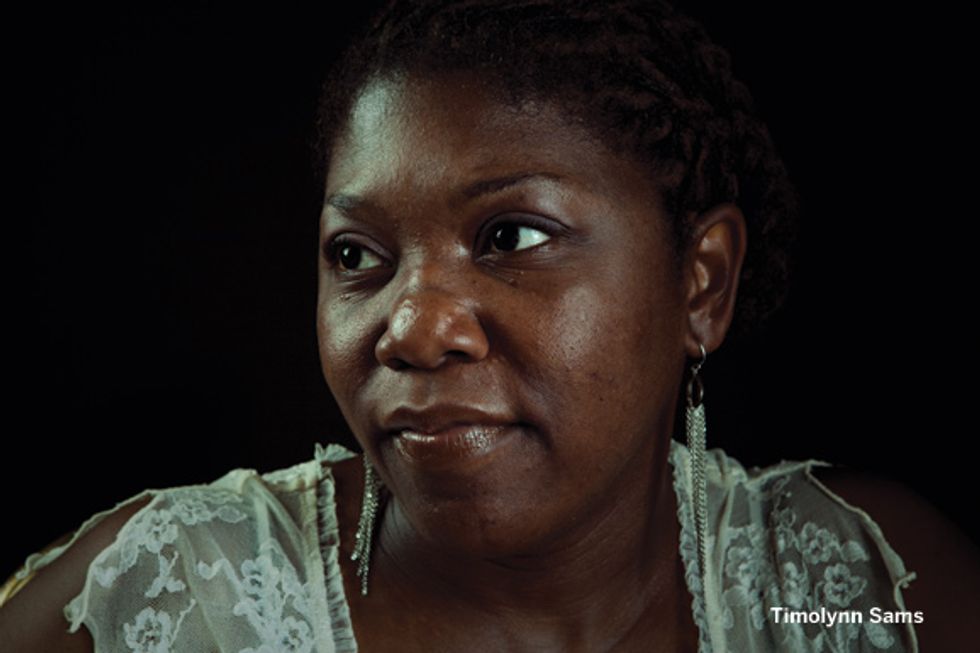 By Molly Reid.
---
Five years after Katrina, a former corporate event planner now runs a successful demolition service. A Mardi Gras Indian chief lives in Atlanta, but continues to perform with his tribe back home several times a year. A pair of first responders, neither of them from the city, found love, settled in New Orleans, and started a family.
There are countless stories of the life-altering impact that the storm continues to have on people from the Gulf Coast, and they give a human perspective to the massive, hard-to-quantify changes the storm brought to the city as a whole. How many people left after Katrina and never returned? How many rebuilt their homes and stayed? What portion of the current population is made up of people who never would have considered living in New Orleans until after the disaster?
We don't have precise answers to these questions, and there likely never will be. But here is what we do know: By July, 2006, the city's population had dropped to 46 percent of its pre-Katrina total and by December, 2009, it was back up to 78 percent. The Greater
New Orleans area, meanwhile, is already at 91 percent its pre-storm level. And as the city repopulates, it is changing.

While New Orleans is still a majority-black city, the proportion of African-Americans has dropped to 61 percent, down from almost 68 percent before Katrina. It also is a wealthier city, with fewer adults lacking a high school diploma, fewer households with children, fewer households lacking vehicles, and a larger share of the population that is foreign-born.
These glimpses of the big picture describe a New Orleans that has held onto much of its pre-storm population while attracting a better-educated, wealthier pool of newcomers. Sometimes, though, the most compelling evidence of Katrina's influence is in the individual stories of New Orleanians old and new. Here's a look at how the 2005 levee breaches changed the lives of nine people.

New Orleans Then, New Orleans Now
Timolynn Sams
Age: 36
Native of: New Orleans
Lives in: New Orleans


After settling in Charlotte for two years after Katrina to secure a good education for her son, Sams resolved to return to New Orleans while at a business conference. Having endured one too many "You're not going back there, are you?" inquiries from colleagues, she decided to return—if for no other reason, she says, than to tell the story of people who know and love New Orleans.
In June, 2007, she bought a home in the city and signed on as executive director of a new nonprofit called the Neighborhoods Partnership Network, an umbrella group for 107 community organizations that effectively "fills the void that government wasn't filling," she says.

Denise Thornton
Age: 52
Native of: Houma, LA
Lives in: New Orleans


Before Katrina, Thornton was a housewife first and businesswoman second. She ran a small business that manufactured home fragrance diffusers, while her husband, Doug, worked as the general manager of the Louisiana Superdome.
After the floodwaters destroyed her business's warehouse and her home in a well-to-do neighborhood near Lake Pontchartrain, she focused on bringing her community back to life. Seeing her neighbors' frustration as they struggled to rebuild—"They didn't know about mold remediation, how to handle contracting," she says—Thornton began dispensing advice.
By February, 2006, she had finagled the only re-started internet connection in her neighborhood and had turned her house into a makeshift resource center. Her nonprofit organization, Beacon of Hope, continues to provide neighborhoods with capacity-building assistance.

Simone Bruni
Age: 38
Native of: New Orleans
Lives in: New Orleans


When New Orleans suddenly became a not-so-great destination for conferences and private events, Bruni saw her whole industry implode. But when neighbors began coming to her for rebuilding advice—"for whatever reason, they came to me," she says—she found a new professional calling.
Bruni rented some demolition equipment and bought some Dumpsters and painted them pink. She earned the name Demo Diva, and gained instant access to an entire market of women managing the gutting of their flood-damaged homes. More than 2,000 jobs later, she has no plans to quit. "I'm a big player now," Bruni says.

New Orleans Then, Elsewhere Now
Nelson Burke
Age: 38
Native of: New Orleans
Lives in: Atlanta


Burke, Big Chief for the Red Hawk Hunters Mardi Gras Indians, stayed in a hotel on Canal Street during the storm and was bused out of the city to Texas. He and his wife chose to settle in Atlanta to be close to his ailing mother-in-law, but Burke has continued to mask with his 26-person tribe at annual Mardi Gras Indians events in New Orleans.
He's not the only Red Hawk Hunter in exile. "I have a flag boy out there in Dallas, Texas," he says. "One of my spy boys, he's in Louisiana but he's not in New Orleans. I'd love to come back home."

Lumar LeBlanc
Age: 42
Native of: New Orleans
Lives in: Houston


As snare drummer for the popular Soul Rebels Brass Band, LeBlanc spends a lot of time on the road. Though displaced to Houston since the storm, LeBlanc drives to New Orleans every week for the band's standing Thursday night gig, as well other monthly engagements and private events. Beyond New Orleans, the band tours Europe and plays shows across America.
Financially unable to return to his boarded-up home in eastern New Orleans, LeBlanc finds solace in his ambassador status. "I do feel an innate dedication to the city to always come back and perform," he says. "We carry a badge on us that holds the city on it, that shines bright."

Jeff Beninato
Age: "50s"
Native of: New Orleans
Lives in: Bloomington, IL


The musician, producer, and Ninth Ward native Beninato and his wife, Karen, switched to small-town life after Katrina to be close to Jeff's elderly father. After hearing dozens of stories about New Orleans musicians who had lost everything in the storm, the couple founded the New Orleans Musicians Relief Fund, which has passed along a half-million dollars in grants and instruments.
"It's been amazing how many people are still finding NOMRF and offering to help," Jeff says. "There's no place on earth like New Orleans for musicians. I know we'll be back full time down the road."

Elsewhere Then, New Orleans Now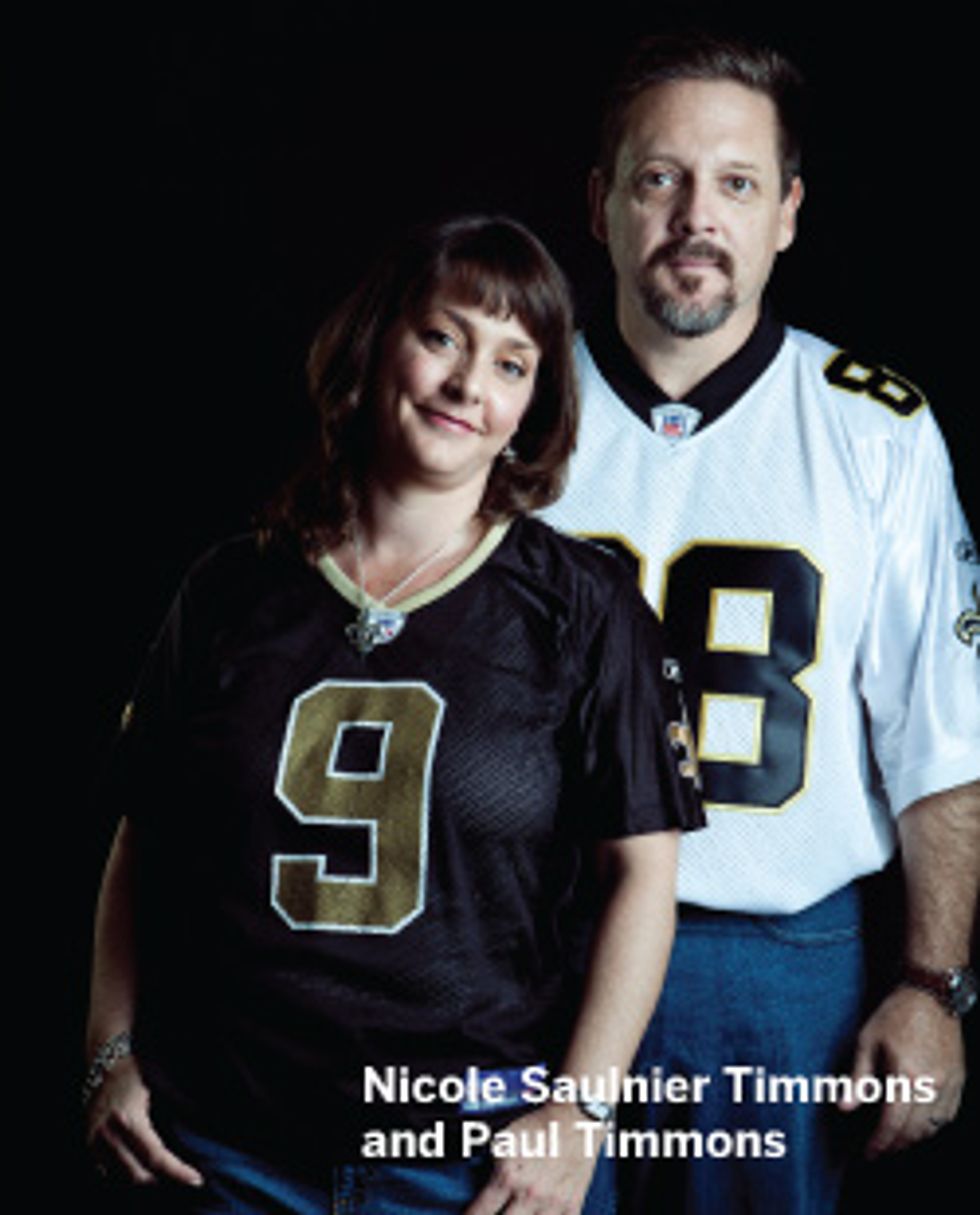 Nicole Saulnier Timmons and Paul Timmons
Age: 40 and 41
Native of: Los Angeles and Chile
Lives in: New Orleans
Nicole and Paul met as first responders for the Red Cross at a shelter in Baytown, Texas, where she was a volunteer and he was a case manager. Nicole eventually returned to her home in Ohio, and Paul was redeployed to New Orleans, but they called or e-mailed each other every day—"as friends."
On New Year's Eve 2005, however, Paul texted Nicole an endearingly simple message: "Do you want to come share your life with me?"
Today, Nicole and Paul Timmons are married with two children, Connor, 3, and Austin, 9 months. Nicole is a disaster recovery director with United Way for the Greater New Orleans Area and Paul is the executive director of Greater New Orleans Disaster Recovery Partnership.
"New Orleans is now our home" Nicole says. "We have lived in a lot of places in this country and abroad, and there is nowhere like New Orleans."

Robert Fogarty
Age: 27
Native of: Omaha, NE
Lives in: New Orleans


Fogarty arrived in New Orleans in 2007, fresh-faced and ready to serve as an AmeriCorps-sponsored City Hall aide. Over his two years in the post, Fogarty found a mentor in Colonel Jerry Sneed, director of the city's Office of Homeland Security. Soon he came up with the idea for Evacuteer.org, a network of volunteers to ferry carless residents out of New Orleans during emergencies.
His second brainchild is Dear New Orleans, a for-profit photography service that works an irresistible gimmick: Write a love note to New Orleans on your hand (or face or neck) and have your portrait taken. Since debuting in fall 2009, the company has scored portraits of Dr. John, Mos Def, Susan Sarandon, and hundreds of other New Orleans lovers.
"At the end of the day, I want to have this portfolio of everyone from the mayor to everyday New Orleans citizens, where we're all in it together," Fogarty says.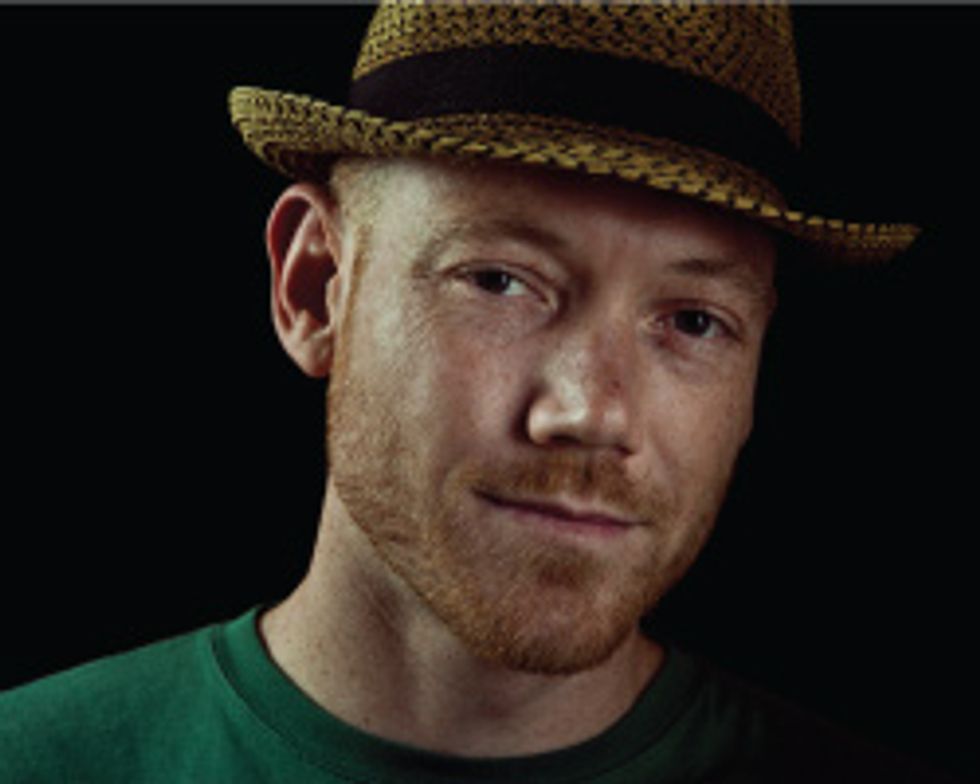 Dan Favre
Age: 28
Native of: Joshua Tree, CA
Lives in: New Orleans
One of hundreds of college graduates who found opportunity and purpose in post-Katrina New Orleans, Favre is putting down roots. Favre, who runs the Gulf Restoration Network's campaign to stop deforestation of native cypress trees, is in the process of buying his first house and "plans to be here for the long run," he says.
"From the joy of the long nights on the town drinking cocktails and listening to live music to the satisfaction of being a 20-something who can truly play a meaningful role in the rebuilding a great American city, there's no place like New Orleans," Favre says.

Photos by Daymon Gardner.
This article originally appeared in GOOD Magazine Issue 020: The New Orleans Issue. Read more.