Articles
Nine Los Angeles Restaurants Where It's Easy to Go Meatless
We partnered with our friends at Yelp.com to find 10 L.A. restaurants with vegetarian options so exciting you won't ask, "Where's the beef?"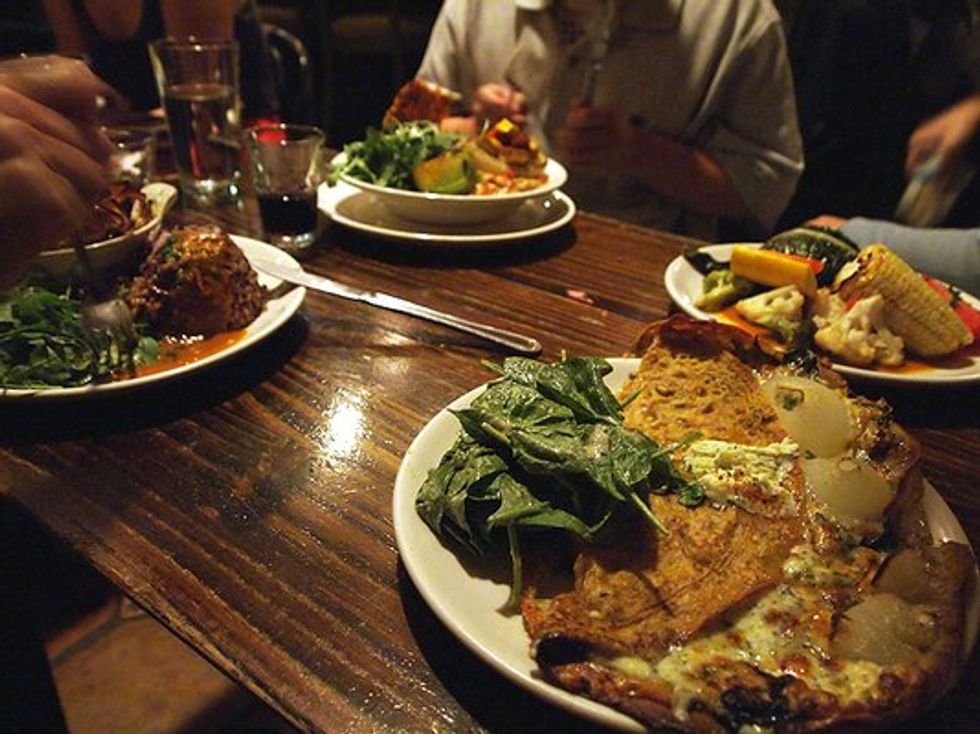 Remember last month's challenge to
drive less
? This month's 30 Days of GOOD Challenge is to
eat less meat
. It's no secret that curbing our meat consumption makes for a healthier body, a healthier society, and a healthier planet. Just yesterday, Mark Bittman
described our unsustainable carnivorous appetites
: "We're crack addicts with a steady supply." Ouch. While we're not all promising to banish (responsibly raised and slaughtered) steak from our dinner plates forever, we do want to see how tweaking the amount of meat in our diets might help us feel better, save money, and do good.
The issue for busy people like us, of course, is finding affordable meals that make it easy to go meatless. Here in Los Angeles, we're lucky to have plenty of restaurants where eating an all-veggie meal doesn't mean sacrificing taste. We partnered with our friends at Yelp.com to find nine local restaurants with vegetarian options so exciting you won't ask, "Where's the beef?"
---
Savyon Cafe: Refuel at this Mid-City vegan buffet on Sunday mornings.
Justin N: "$9, people, for an all-you-can-eat healthy vegan buffet. That's just crazy, I can barely get a salad for nine bucks at some spots, and as the owner said most people wouldn't even realize it was completely vegan unless it was pointed out for them."

Doomie's: Enjoy inspired veggie cuisine in a Hollywood strip mall.
Namella K: "I walked in on a Saturday evening with my girls—both are on varying level of veganism, one being raw. I had a rough couple of weeks of carb-free dieting and denying myself some simple pleasures. After this belaboured carb penance, I deserved a treat. I wanted a big pile of food. The same gross quantity that made me start dieting in the first place. So when one of them suggested vegetarian, I bemoaned, "but I want REAL food..." I reluctantly agreed after spying out their menu online. Veggie homestyle diner food just like mom made... fine. Fried chicken, chicken fried steak, pot roast, mac n cheese, jalapeno poppers, NACHOS! Yes!!!!! All vegetarian. WTF??? OK, I am sold."

Wurstkuche: Order up vegetarian sausages at this Downtown beer hall.
Amy N: "Watch out world... a vegetarian rating a sausage restaurant?! With 5 stars?! Yes, I love Wurstkuche. They have my favorite favorite beer on tap (Köstritzer Schwarzbier), and they have three really good vegetarian sausages. The best is smoked apple sage, but I really like them all."

Stuff I Eat: Taste authentic vegan soul food at this Inglewood cafe.
Emily M: "Vegan soul food? What? Everyone else enjoyed the quesadilla, mock chicken tofu salad sandwich, and Kilimanjaro quesadilla. My parents were especially impressed with the Kilimanjaro; I think they thought they'd be gnawing on a big stalk of broccoli when I told them we were going to a vegan place. Preconceptions begone! You can take part in all sorts of indulgent gluttony as a vegan! The Beet Lemonade is delicious. Go wild and add some spirulina!"

Elf Cafe: Indulge at this Echo Park vegetarian bistro.
Deirdre M: "Tonight we shared a baked sheep cheese, tomato & black olive appetizer (big enough for a meal ordinarily). My hot mint tea came with raw honey and a fresh mint stem/leaves, and his rosewater lemonade was unexpectedly refreshing. And my meal? A giant portabello mushroom stuffed with creamy perfect risotto sitting on top of delicious mashed potatoes, next to a delicious (sweet dandelion greens?) salad, with a DEEP FRIED SMOKED MOZZARELLA slice the size of a pita triangle! Can I get a HELL YEAH?"

Gr/eats: Sample pop culture and Asian fusion cuisine on Sawtelle.
Stephanie H: "The menu is pretty extensive and has loads of vegetarian and vegan options ALL PROPERLY MARKED!!! The tofu meatballs are my absolute favorite things ever, but I also enjoy their fish specials and their vegan tacos. Their green tea lemonade is refreshing."

The Pizza Cookery: Order up vegan and gluten-free pizza in Woodland Hills.
Cindy P: "For a vegan, this place is pretty close to heaven! They came to our table with cheese garlic bread and when our waitress found out that we had two vegans with us she told us to wait as she went to talk to the cook. They had especially put in a batch of vegan bread for our vegans without us even asking! How awesome is that? Oh, and they even had vegan butter for the bread! It really doesn't get better than that at a non-vegan place! Excellent pizza options for vegans and vegetarians!"

Babycakes: Treat yourself to vegan pastries from a Downtown bakery.
Ren H.: "Finding vegan pastries that are good ain't easy, but Babycakes has really nailed it. At a lot of places, vegan pastries tend to be dry and bland, but Babycakes seem to have figured it out. Their red velvet cupcakes are my favorite, though I have been meaning to try one of their donuts, which seem to be on high demand! If you go past noon, chances are that they'll only have a donut or two left."

Tanaka Farms: Pick and grill your own produce at this Irvine farm.
Lauren M: "We paid $20 for the tour and were allowed to cook as well as bring extra food for those who aren't flexitarian like us. Our tour guide's name was Grace, I think, and she was awesome! She guides us around the farm and lets us pick whatever we wanted to, to use for our lunch. At the end of the tour, we stopped at the top of a hill, and were able to grill the vegetables we picked and had a lunch with it. When the tour was over, about 3-4 hours later, we were able to pick as many strawberries as we could fit into the baskets that were given to us. These were probably the sweetest, most sun-ripened, yummy strawberries I have ever tried. My other half isn't big on fruits and vegetables, and he even loved it."

What did we miss? Tell us your favorite Los Angeles vegetarian restaurants here or pledge to go meatless and post more tips at Yelp.com.
Live in Los Angeles? Sign up for our one-good-L.A.-thing-a-day email and become a member of GOOD LA. You can also follow GOOD LA on Facebook and Twitter.
Photo of Elf Cafe by Yelp.com user cake k.