Articles
A newly published will offers a glimpse of a different side of Bin Laden—that of a loving, regretful father.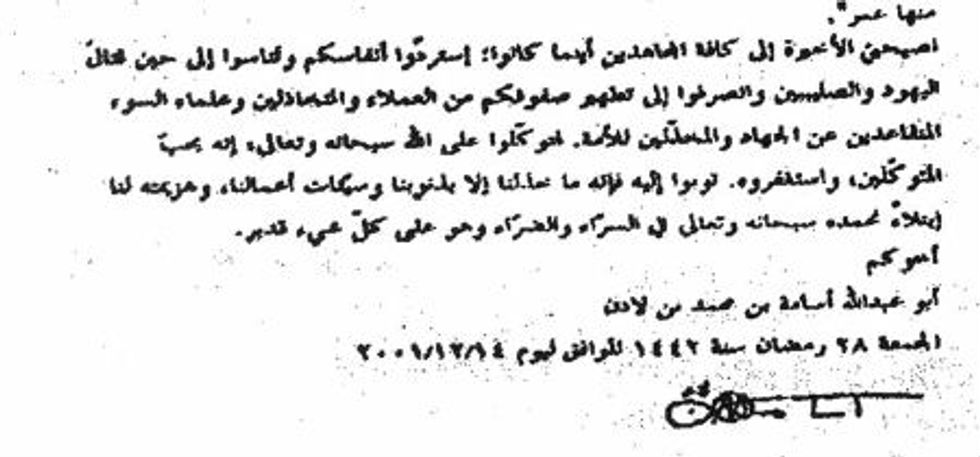 When most people think of Osama bin Laden, they think of a bloodthirsty murderer hellbent on the destruction of practically the entire world. What they don't think of is a loving father. Nevertheless, Bin Laden spawned dozens of children in 54 years of life, and, if his reported last will and testament is to be believed, he loved them dearly.
---
Kuwaiti newspaper Al-Anbaa ran Bin Laden's will yesterday. Though the publication refuses to explain how it obtained the document, or how it authenticated it, Al-Anbaa officials say it was dated December 14, 2001, just months after the 9/11 attacks sent Bin Laden into hiding.
At only four pages long, the will is tidy, and it doesn't say at all what should be done with Bin Laden's multi-million dollar inheritance. Instead, it begins by listing his most famous terror attacks before delving into what he hoped for his wives and children.
For his wives, Bin Laden hoped they would go the rest of their lives unmarried, devoting themselves to raising their children. For his kids, though he himself gave his life to his cause, Bin Laden actually implored his progeny to stay away from jihad:
[The will's] most striking feature is that he ... urges his children not to join al-Qaeda or go to "the front", citing the example of the seventh century Muslim Caliph Omar Bin Khattab to his son Abdullah.

\n
Later on in the text, Bin Laden even apologizes to his children for not having spent enough time with them due to his commitment to war. "I have chosen a path fraught with dangers and endured hardships, disappointment and betrayal," he writes. "If it wasn't for betrayal, things would be different today. As for you, my sons, forgive me, if I failed to devote more of my time to you, since I answered the call to Jihad."