Articles
Over 1,000 (and Counting) Business Owners Declare "The U.S. Chamber Doesn't Speak For Me"
Find the 1,000 businesses, large and small, who have distanced themselves from the U.S. Chamber's draconian stance on climate change.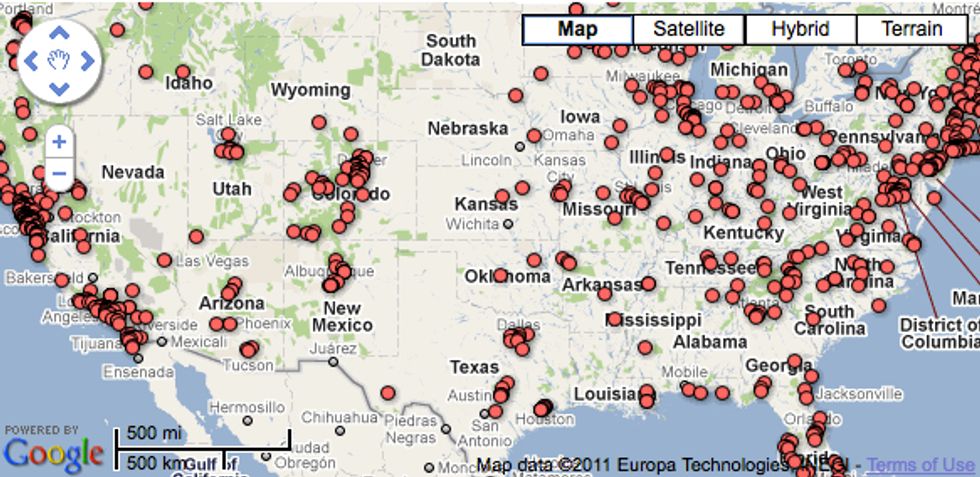 ---
Well here's some more uplifting news than
Bidder 70's conviction
. In less than a week since 350.org announced the "
U.S. Chamber Doesn't Speak for Me
" campaign (which
GOOD is partnering on
), over 1,000 businesses have signed the declaration. For some more background, read 350.org founder
Bill McKibben's op-ed
on the dangerous, reactionary climate position of the U.S. Chamber.
Who are these businesses involved? The backbone of our country's economy. The very small, local businesses that the Chamber of Commerce is purported to support.
Business like Yukon Pet Care Clinic in Yukon, Oklahoma. And Losantiville, Ltd, a design collective in Cincinnati. And Four Worlds Bakery in Philadelphia, which—I've just decided!—I'm going to patronize with my hard-earned dollars this very weekend.
As a partner on this campaign, we'll soon have more specific asks and will be rallying our community around this noble cause. For now, if you're a business owner and agree that the U.S. Chamber of Carbon Commerce doesn't reflect your concerns about climate change, go sign the declaration. Post haste!
If you're not a business owner, you could do what I'm going to be doing, and using this map as a directory for what businesses to support. And when I do, I'll be sure to mention that, like them, the U.S. Chamber doesn't speak for me.
For other small businesses that I deal with regularly, I'll be (politely, unassumingly, with no pressure), asking if they'll sign the pledge. If there are already 1,000 in under a week, imagine how many dots this map will have in a month, or a year. 10,000 seems not only possible, but likely. 100,000? Half a million? (Are there even that many registered businesses in the country?) I bet, with concerted effort, we can get over half of the registered businesses in the country to distance themselves from the U.S. Chamber's anti-scientific, dangerous stance on climate change.