Articles
Race to the Top Winners Reveal Strong East Coast Bent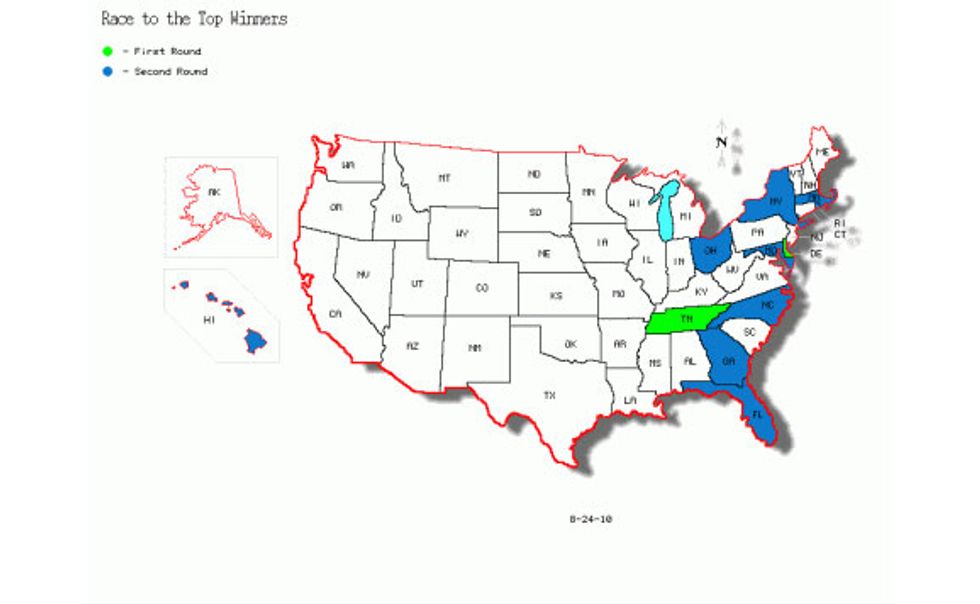 Education Secretary Arne Duncan announced that
nine states, as well as the District of Columbia, would divvy up nearly $3.4 billion
as winners in the second round of the
Race to the Top
competition. The states that are getting the much-coveted cash are: Florida, Georgia, Hawaii, Maryland, Massachusetts, New York, North Carolina, Ohio, and Rhode Island.
Sometimes looking at things visually changes your perception, and this illustration from Rob Manwaring over at the Education Sector's Quick and the Ed blog shows a striking phenomenon: Combining the second round winners with first round victors Delaware and Tennessee, there are no states west of the Mississippi (save Hawaii, the huge outlier) that have garnered any Race to the Top grants.
---
Questions regarding the distribution of the funds were posed to Duncan this afternoon during a press conference call that I listened in on. The states that won, Duncan said, were those with the highest scores on evaluations by peer reviewers. (Duncan has the authority to overrule these scores, but he did not.) When asked by a New York Times reporter why the list of winners seemed to favor more "urban" states, the secretary called out specific rural initiatives included in the applications of North Carolina, Ohio, and Florida, which he said helped them secure funds.
Ultimately, he admitted: "We had many more competitive applications than money to fund them in this round." First out of luck, by the way, was New Jersey. Duncan hopes that the program can get $1.35 billion next year to continue the program. Based on the sizes of the awards, which are as large as $700 million, that's probably only enough money to fund three or four more states.
Reporters and education experts, such as Manwaring, were shocked that Colorado was shut out, after it moved to make huge changes to its teacher evaluation policies. Also a surprise loser was Louisiana, which completely revamped many of its school districts in the aftermath of Hurricane Katrina.
One final point I thought was interesting: At the end of round one, Massachusetts had the 13th best application of the states that applied for Race to the Top. It finished this round in first place. The biggest move it made in the intervening months was to accede to the national Common Core Standards that the Obama administration supports—but that many in the state were against because it already had its own, higher standards in place.
Duncan said that Massachusetts signing onto the standards was a "small piece" of why it moved up in the rankings. And I hope this is true. Because, while national standards will raise expectations in the majority of states, it'd be unfortunate if Massachusetts was essentially being rewarded for lowering its bar.
Photo via Ron Manwaring for Education Sector.