Articles
Racist tells woman on plane 'stop speaking Spanish' so other passengers start speaking Spanish.
See you, racist!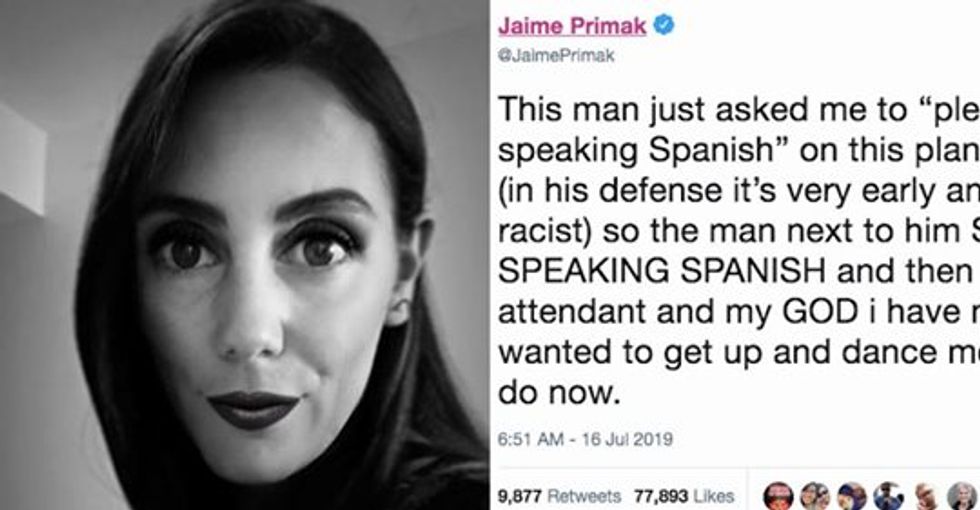 In these horrifying times, it's sadly comforting to hear a story of racism in the U.S. that ends with karmic justice being served (and that doesn't end with the President encouraging and endorsing the hateful rhetoric). Yes, that's the silver lining we have to work with in 2019.
Earlier this week, a writer named Jaime Primak was on a plane to NYC when a racist passenger, perhaps empowered by Trump's racist rhetoric, told her to "please stop speaking Spanish." Immediately, she says the man sitting next to him came to her defense by speaking in Spanish, and then the flight attendant joined in. She says the gestures made her so happy, she wanted to "get up and dance."
---
This man just asked me to "please stop speaking Spanish" on this plane to NYC (in his defense it's very early and h… https://t.co/H7ds5ctBri

— Jaime Primak (@Jaime Primak) 1563274309.0
There isn't much room on a plane for dancing, but there is always room for gifs! Primak followed up with this celebratory tweet:
Estoy tan feliz que podría bailar https://t.co/X5tSxq6gSR

— Jaime Primak (@Jaime Primak) 1563274395.0
After her tweet went viral, people started offering their support in the replies, saying they would've joined the anti-racism efforts.
@JaimePrimak @UntoNuggan I can't speak Spanish but would probably have started swearing at him in a variety of othe… https://t.co/M1CG6TRWr0

— Kirsty Farnfield ♿️ (@Kirsty Farnfield ♿️) 1563325404.0
I knew there was a reason I majored in Spanish in college. A time would come..... https://t.co/udtpfTB2cy

— Cheryl Bridges Johns (@Cheryl Bridges Johns) 1563465739.0
Even people who don't speak Spanish are saying they would've done their best to join in.
@JaimePrimak I don't even speak Spanish and I would have gone at it just to annoy this guy

— William D. Adler (@William D. Adler) 1563393021.0
@williamadler78 @JaimePrimak I don't either but I'd have made something up or started saying shit in German. Fuck i… https://t.co/YfPfYqjKyn

— Zoe Samuel (@Zoe Samuel) 1563393432.0
@zoe_samuel @JaimePrimak My Hebrew is good, that guy probably wouldn't like that much either

— William D. Adler (@William D. Adler) 1563393511.0
This person pointed out that a person who hates foreign language speakers is headed to the wrong city (although they should probably just avoid all U.S. cities, and the U.S. in general, and maybe go live alone on a deserted island somewhere and only eat wonder bread).
@JaimePrimak Hope you kept speaking Spanish. There are over 800 languages spoken in NYC. This will be him. https://t.co/f6pBWERz3S

— Darryl Wharton-Rigby (@Darryl Wharton-Rigby) 1563315232.0
@JaimePrimak I used to teach English in Spain. I had a few students who specifically studied for their trip to New… https://t.co/OFsVvtTDBq

— fightthepower (@fightthepower) 1563390101.0
Someone else pointed out that in Europe, it's actually considered shameful to only speak one language.
@JaimePrimak In his defense, that's some very polite racism when you say "please". (NOT) Seriously, what's w/ some… https://t.co/QBPS64S0PD

— toni_nh (@toni_nh) 1563364471.0
And this person shared about having a similar experience in line at Costco.
@JaimePrimak Hahaha! I did the same thing. Was on Costco line and this guy asked to me stop speaking my mother to… https://t.co/AIUw4bDGT0

— Obedient_servant (@Obedient_servant) 1563401174.0
It's pretty freaking tragic that this kind of racist behavior is still happening in 2019. But at least this story is a reminder that for every racist on a plane, there's a whole bunch of people who are vehemently opposed to everything that racist stands for. It's also a reminder to stick up for your fellow humans. If you see someone being racist, take a stand. Say something. Do something. You'll help make the world a little less crappy and you might even make someone so happy they'll want to get up and dance.
This article originally appeared on SomeeCards. You can read it here.