A woman was asked to get off a plane for wearing a shirt that says 'Hail Satan!'
12.19.19
Swati Runi Goyal, a 49-year-old woman from Key West, Florida was harassed by American Airlines staff for wearing a shirt that says "HAIL SATAN! Est. 666" with an upside-down cross beneath.

She purchased the shirt to support the Satanic Temple.
On October 30, her flight was rerouted to Miami where airline staff called Goyal up to the front of the plane. The employee told her an employee found her shirt "offensive."
---
"There was another female crew member who was behind him with her arms crossed looking very angry," Goyal told Buzzfeed.
Goyal refused to remove her shirt and a customer service agent was summoned who told her to either take off the shirt or get off the plane. Her husband had two shirts on so he gave her one and they continued to Las Vegas.
American Airlines is a private organization and can tell people what they can and cannot wear on their airplanes. However, who's to say that one person's religion is offensive and another is not?
Surely, if someone was wearing a shirt that says, "God is Great" one could deem it offensive.
Take a look at The Bible. It's filled with violence, subjugation of women, homophobia, and pro-slavery messages. Shouldn't that be deemed offensive, too?
To dig a little deeper, the Satanic Temple isn't a group that worships the devil. It's an organization that works to "preserve and advance secularism and individual liberties."
The group is officially recognized as a church and is tax exempt.
The Temple has uses satire, theatrical ploys, humor, and direct legal action in their public campaigns to "highlight religious hypocrisy and encroachment on religious freedom."
The group came to the public's attention by creating an eight-foot-tall satanic Baphomet statue to be installed alongside the Ten Commandments outside the Oklahoma State Capitol. The gesture led to a lawsuit in which the state was ordered to remove the Ten Commandments and the Satanic Temple withdrew its request to install the statue.
The point of the effort was to challenge Christian privilege. Why is it legal for the Ten Commandments to be installed on state property but another religious artifacts such as a satanic statue cannot?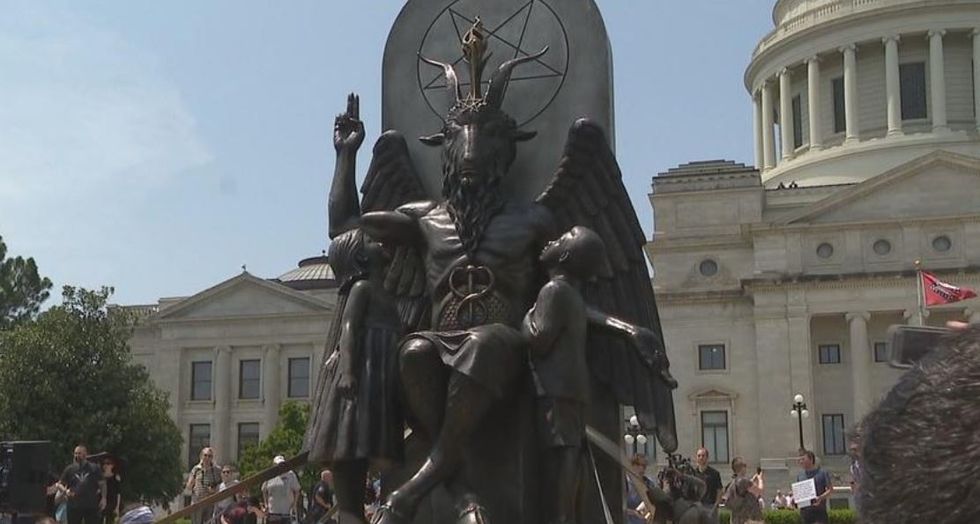 via Big Think / Twitter
Now, back to the shirt.

"It's an ironic shirt," Goyal said about her fashion statement. "People usually laugh at it, or they give me a thumbs up because they understand the meaning behind it."
"I'm just an ordinary-looking person," she continued. "I'm not goth. I don't have piercings. I wasn't wearing a shirt that had a goat being beheaded on it."
"[I was] wearing L.L.Bean hiking pants and vegan sneakers," she added. "I mean, I couldn't look like more of a nerd."
Although the company never apologized to Goyal, an American Airlines service representative emailed her saying, the company has "policies in place to ensure that no passengers are subjected to objectionable situations while on board."
"Our flight attendants have a responsibility to all passengers in our care, and we must sometimes make difficult decisions associated with the application of our policies," the rep replied.
Communities