Articles
L.A.'s most ubiquitous—and delicious—fruit is ready to be harvested. But most people don't even know it exists.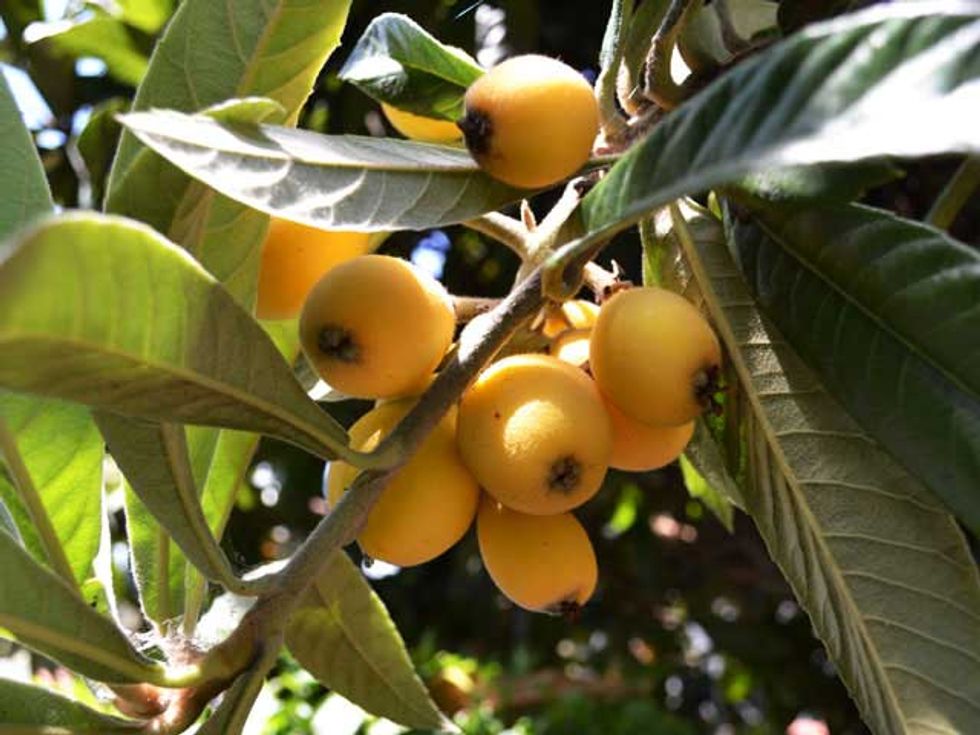 Come this time of year, it's as ubiquitous as a certain rabbit-shaped marshmallow candy. Yet the loquat—a pale orange, fuzzy fruit that grows rampant in Los Angeles—isn't showcased in pies, smothered in whipped cream, or featured in flax seed smoothies. It doesn't even show up in grocery stores, for the most part. No, the lowly loquat is largely ignored, ripening slowly to its tart-sweet finish alone on the streets of Los Angeles. Meaning that L.A.'s most plentiful produce is all yours for the taking.
---
With a flavor that's a cross between an apricot and a mango, the loquat makes a sturdy jam or jelly, and can fill in ably wherever peaches are called for (poached, fruit salsas). Writing at LAist, Heather Parlato recommends several recipes like loquat strawberry pie and loquat crumble. She also creates a recipe for loquat ginger chutney that would be divine heaped on goat cheese and crackers, and includes instructions for how to make your own loquat-infused spirits. But loquats are also great eaten all by themselves, provided you avoid the gigantic, wood-like seeds in the middle that can take up almost half the fruit.
How to find them? Familiarize yourself with the dark waxy leaves and signature fruit clusters that make loquats easy to spot. If you're lucky enough to live in a neighborhood where the fruit trees have been mapped by Fallen Fruit, loquat trees are clearly marked on their public fruit maps. Simply scour the sidewalks by your house, collect the city's bounty, and invite L.A.'s loneliest fruit to your Easter weekend celebrations.
Photo by Heather Parlato, LAist
Live in Los Angeles? Join GOOD LA and we'll introduce you to more people, projects, events and ideas that are making L.A. work. We're also on Facebook and Twitter.