Articles
Solar Power Is Coming to 120,000 Military Housing Units
SolarCity found a new path forward after the Solyndra scandal cost it a loan guarantee for putting solar panels on military housing.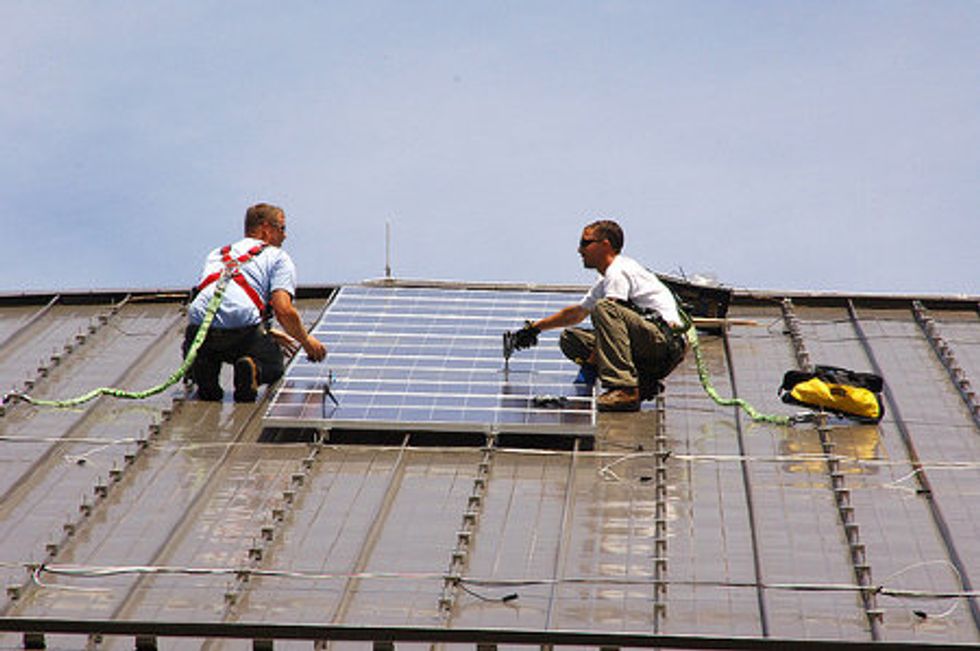 The Solyndra scandal
was a political football, but it also created real tangles for other solar companies. More than one withdrew from the Department of Energy's loan guarantee program, which had backed the failed company. At least one company, though, has bounced back. SolarCity, a leading solar leasing company,
announced today
that, even without the government's backing, it had been able to secure private financing for SolarStrong, a project which aims to power as many as 120,000 military housing units.
SolarCity had been trying since 2010 to get the government to guarantee a loan, and in September, the Department of Energy gave the company a
conditional commitment
for a loan of $344 million. Energy Secretary Steven Chu announced that the SolarStrong project would be "the largest domestic residential rooftop solar project in history." SolarCity planned to install more residential solar capacity over the course of the project than had been installed in
all of 2010
. But the DOE was dealing with the fallout from Solyndra's failure, and by the end of the month, SolarCity hadn't received final approval for its loan guarantee when the loan guarantee program ended.
"We just ran out of time," says Aaron Gillmore, vice president of development at SolarCity. "Things got pretty hectic there at the end. DOE had other things to worry about, and there were too many projects in the pipeline."
But the year the company had spent putting together a loan application paid off. Bank of America Merrill Lynch had been interested in funding the SolarStrong project. The bank has warmed distributed solar generation projects like this one, which have limited risks and use proven technology, and this year also funded a similar endeavor,
Project Amp
, which will install solar panels on distribution facilities across the country. (That project did receive a DOE loan guarantee.) When SolarCity's loan guarantee didn't come through, the bank kept talking with the company and ultimately agreed to provide financing.
This ending is happier than one in which the government underwrites SolarCity's loans. Missing out on a loan guarantee was probably "better for us and better for the industry, to be able to prove we can do the project at scale without a government loan guarantee," Gillmore says. Renewable energy needs support from both the public and the private sector right now, and both contributed here. According to Gillmore, the loan application process pushed SolarCity to do extensive due diligence and helped reassure the bank that the company's idea was a strong one. The Department of Defense's commitment to increasing its renewable energy holdings also helped move the project forward. It's becoming clear that solar projects are smart, not risky, investments—the kind the private sector should buy into without a government safety net.
Photo via (cc) Flickr user U.S. Army Environmental Command
---