Articles
Student Lunch Contest: The Winners!
Behold the five winning lunches. A few weeks ago, we asked you to make a healthy, delicious student lunch, take a picture of it,...
Behold the five winning lunches.
A few weeks ago, we asked you to make a healthy, delicious student lunch, take a picture of it, and send it to us. The response and enthusiasm was overwhelming—our inboxes were quickly flooded with dozens of variations on the theme of lunchtime reform.

Since the federal government reimburses up to $2.68 per lunch per day, we doubled it, figuring that the ingredients they buy aren't always of the highest quality and that we could do better. In came baby carrots as fingers with fingernails made of olives, raisins as ants atop logs made of celery.

We then asked you, our readers, to give us feedback in terms of who should win the contest. (Check out the first and second batch of submissions.)

Now, without further ado, are the five best school lunches (in no particular order). Each will receive a $50 gift certificate to Whole Foods Market.

And while we're on the subject of contests, any ideas for our next one? Kindly do us the favor of weighing in below.

Thanks again to all who participated.

From Katie: A Margherita pizza (with homemade crust made from organic flour and organic yeast, locally produced Mozzarella cheese, Campari tomatoes, and organic basil); a whole banana; homemade trail mix (organic raw almonds, flame raisins, fair trade dark chocolate, dried apricots, and roasted sunflower seeds); and a salad (made with red leaf lettuce, organic carrots, white mushrooms, organic sunflower seeds, and Campari tomato). A side of hummus was included separately and was used as a salad dressing.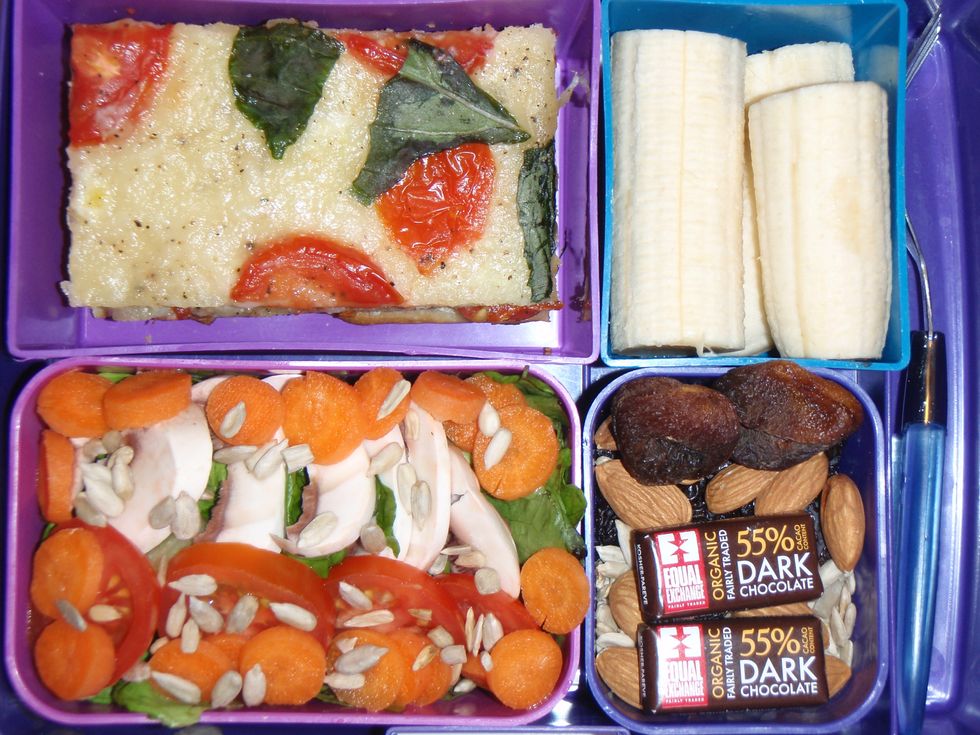 ---
From Tanya:
Rice noodle stir-fry made of rice vermicelli, cauliflower, broccoli, carrots, zucchini, peas, and half a pound of ground turkey, cooked in a bit of soy sauce, vinegar, and Chinese cooking wine; sliced apple (pretty much the only local fruit available in Vancouver right now); a piece of banana bread (not so local, but delicious).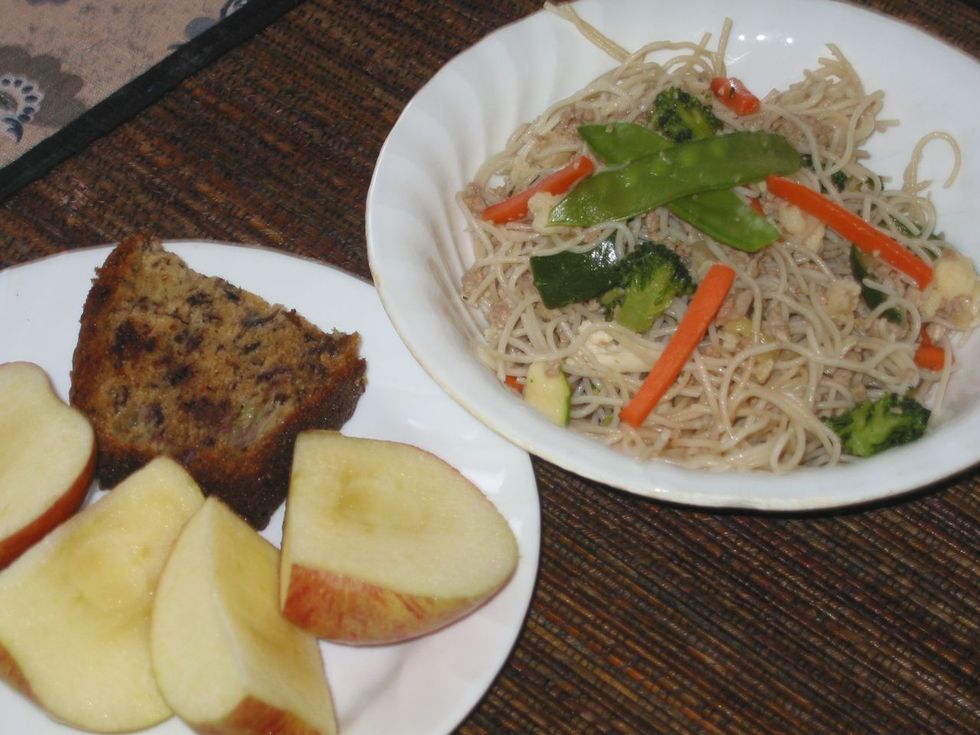 From Jenny:
I have one preschooler, and a set of two-year-old twins, one of which who is severely disabled. Time is of the essence in our house, and so is our budget, since we fund a lot of alternative therapies for our daughter. Here is a sample of a lunch for my preschooler: There's some celery, with a container of ranch dressing, cut up cheese, dried cranberries and other fruit, sliced apples (with fruit fresh/lemon juice so they don't brown), and a container of black beans and ditalini pasta (his request) with parmesan cheese on top. And three mini cookies. And, as a bonus, these types of lunchboxes don't have any waste! He also gets juice or milk, and I have yet to find a container that will work with this type of lunchbox, so it's Horizon Organic milk for now.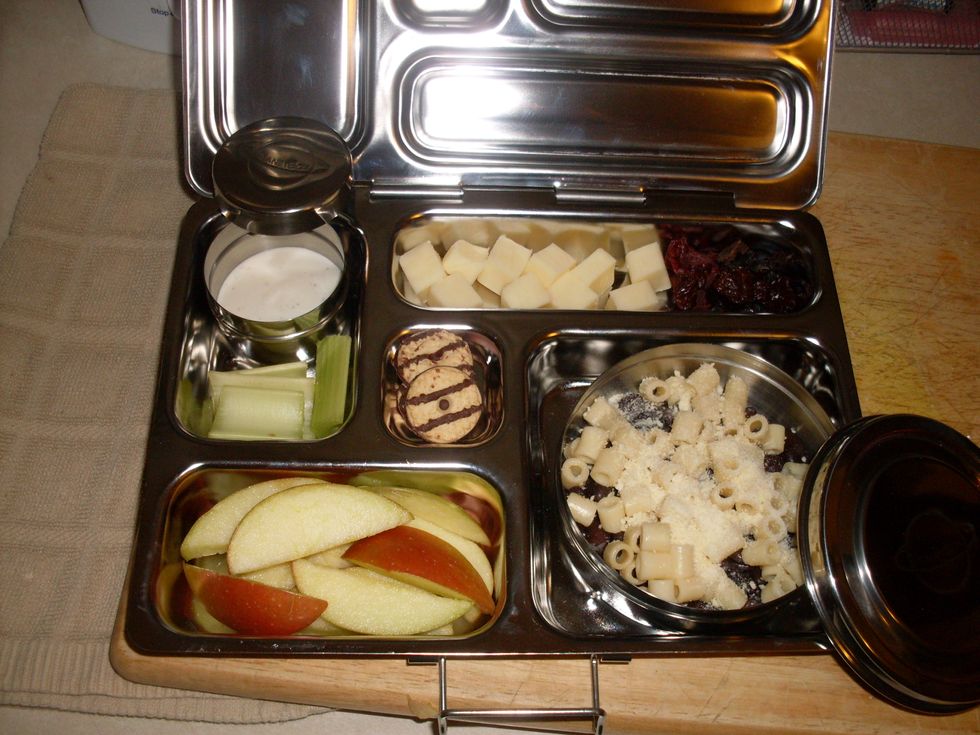 From Laura:
This nutritious delicious and realistic meal is not only something a student would love to eat, but also something anyone would love to eat. The turkey chili is easy to make, very low in fat and very high in fiber and protein. I make it all the time and my roommates gobble it right up. The chili contains 99% lean ground turkey, Amy's Organic Medium Chili, canned black beans, red beans, stewed diced tomatoes, yellow corn, diced jalapeños, and is seasoned with onion, black pepper, season salt and cumin. A "Jiffy" homemade corn muffin complements the turkey chili. A snack-sized Dannon Light & Fit nonfat vanilla yogurt cools and refreshes the palate while also fortifying the immune system, and it goes great with the five fresh strawberries that are currently in season in southern California. As a thirst quencher, a carton of "No Pulp Healthy Kids" Tropicana orange juice provides calcium and vitamins A, D, and E. Four Hershey's Kisses brand Special Dark chocolate pieces top off the meal as a tasty dessert with the added health benefits of antioxidants and lower blood pressure and cholesterol. This meal costs under $5 to prepare and can satisfy and nourish the pickiest of eaters.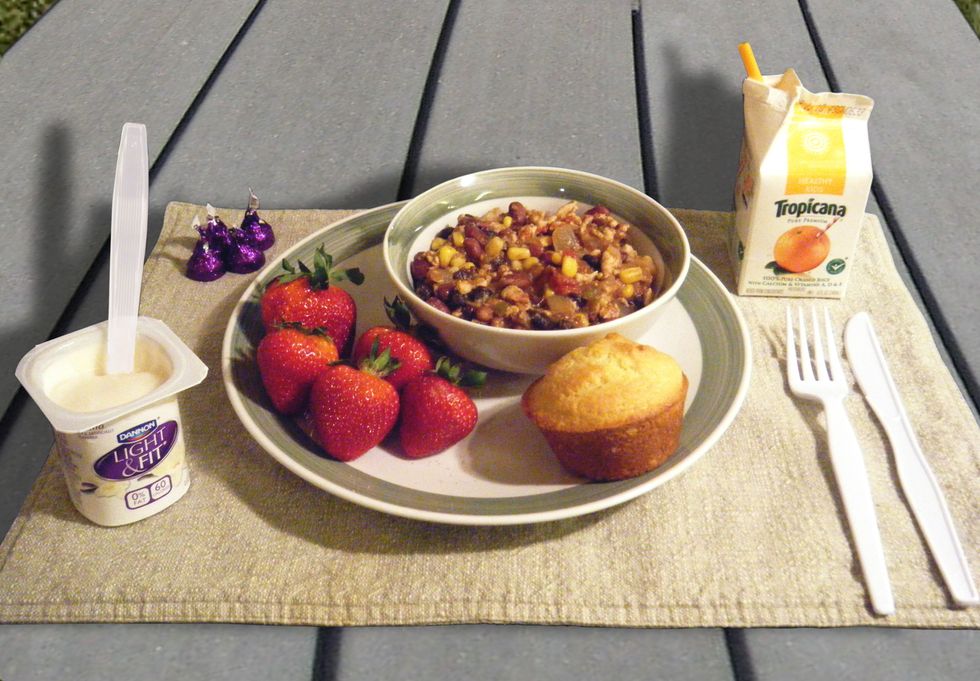 \n

From Sherry: The sandwich is made of: whole grain bread, crunchy peanut butter, honey, jumbo raisin medley, sunflower seeds, shredded carrots and broccoli sprouts. The raisins and broccoli sprouts could be replaced with dried blueberries or cranberries and alfalfa sprouts or microgreens, respectively. The honey and raisin medley together give a "jelly" flavor without all of the artificial sugars. To follow, is a parfait made of Fage greek yogurt, sliced local strawberries, and cranberry maple nut gluten-free granola. I chose an organic 100% grape juice to finish off the lunch.\n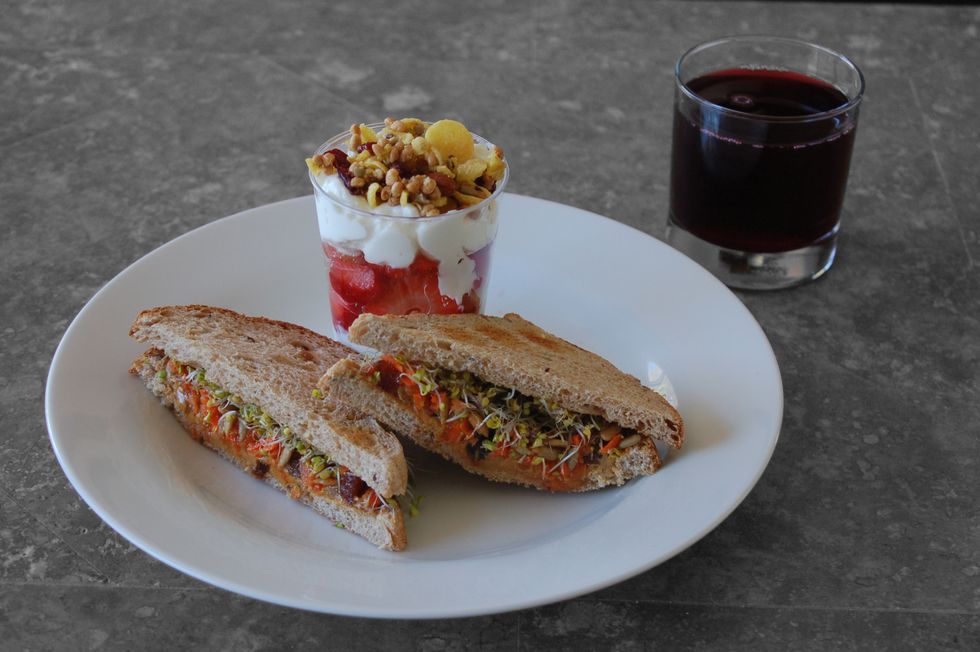 \n

\n