Articles
The GOOD Lunch: Chinese Chicken Salad
Every Tuesday and Thursday in 2011, the GOOD team has pledged to take turns to cook and share a big bowl of soup or salad.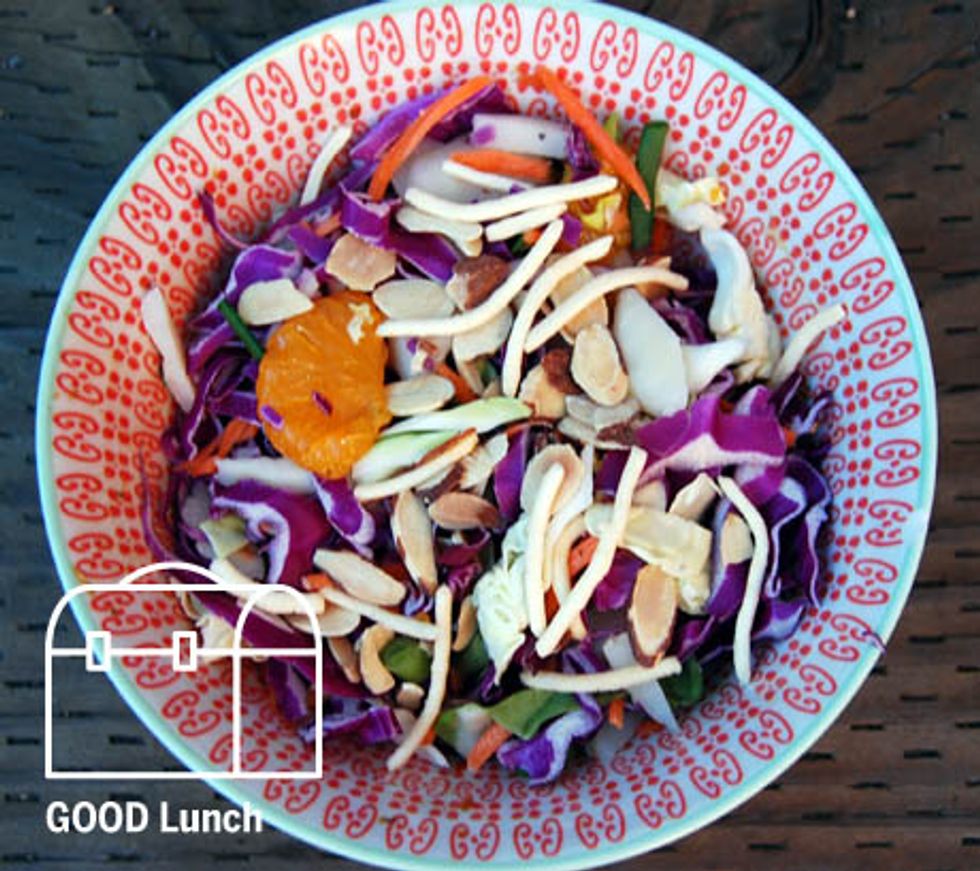 It's time for
the GOOD Lunch
! Today's salad was prepared by GOOD team chef Amanda Ehrman and was inspired by Ellie Krieger's Chinese Chicken Salad recipe as seen on
Healthy Appetite with Ellie Krieger
's "
North South East West
" episode. We left out the chicken, of course.
Chinese Chicken Salad
---
The Ingredients:

Makes 8 to 10 servings

Dressing:
6 tablespoons low-sodium soy sauce
4 teaspoons toasted sesame oil
2/3 cup rice wine vinegar
2 teaspoon minced garlic
2 teaspoon minced ginger
4 tablespoons canola oil
4 tablespoons brown sugar
3 teaspoons chili-garlic sauce or chili sauce

Salad:
1/2 head Napa cabbage, thinly shredded
1/2 head red cabbage, shredded
2 large carrots, shredded
2 small heads of romaine lettuce, chopped
6 scallions, trimmed and thinly sliced, greens included (about 1/2 cup)
1 8-ounce can sliced water chestnuts
1 11-ounce can Mandarin oranges in water, drained

Toppings (optional but recommended):
Sliced almonds
Dry crispy noodles

The Method:



























Note: This recipe is quite simple, especially if you buy the cabbage and carrots pre-shredded.
• In a large bowl, combine all salad ingredients: Napa cabbage, red cabbage, romaine lettuce, carrots, scallions, water chestnuts, and mandarin oranges.
• Make the dressing in a separate bowl by whisking together the soy sauce, vinegar, garlic, ginger, canola oil, sesame oil, brown sugar, and chili sauce.
• When ready to serve, pour dressing over salad (as much as desired; we ended up with some leftovers) and toss to combine.
• Divide among bowls and top each serving with crispy noodles and toasted almonds.

The Breakdown: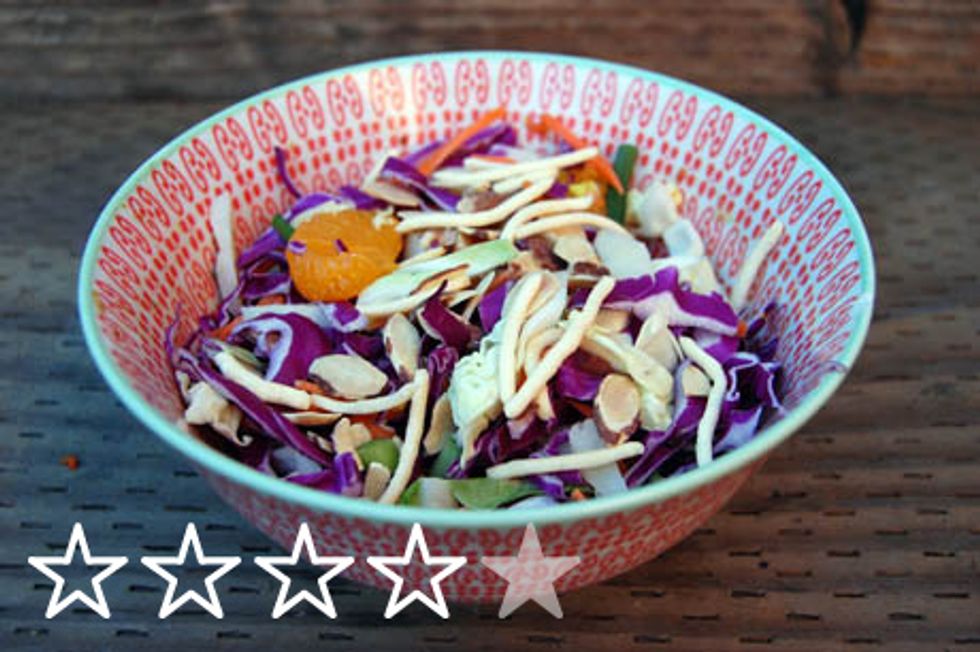 How did our salad rate in terms of taste, cost, and prep time?
Cost: $15 ($1.87 per serving)
Prep Time: 25 minutes prep
Taste: 4 stars
This salad is more commonly made with chicken, but in keeping with our vegetarian ways, that was eliminated. It might be nice to add tofu or another more substantial ingredient. Making the salad can be a bit expensive if you have to buy all new dressing ingredients (roughly $40) but the vinegar and sauces can be used in many other recipes and will last you a long time.

Every Tuesday and Thursday for the next year, the GOOD team will cook and share a big bowl of healthy, vegetarian, seasonal soup or salad. This time last week we were enjoying Golden Cauliflower Couscous. The GOOD Lunch will explore new recipes that are easy to bring, serve and share in the workplace. We hope this will inspire you to make your office lunch a GOOD Lunch.