Articles
The GOOD Lunch: Sesame Soba Noodle Salad
Every Tuesday and Thursday for the next year, the GOOD team has pledged to take it in turns to cook and share a big bowl of soup or salad.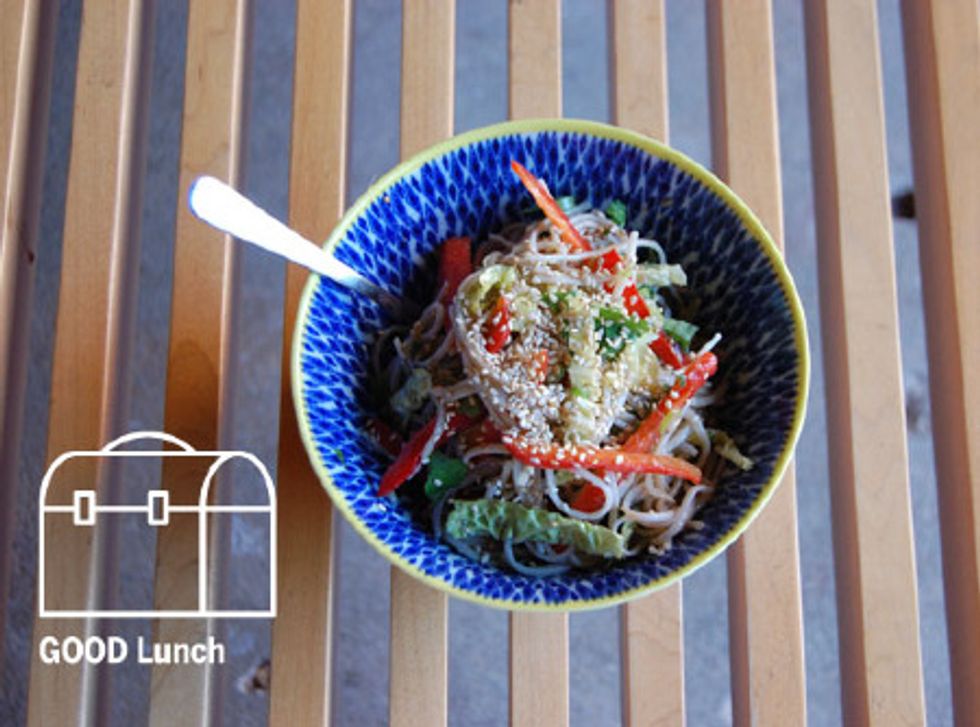 It's time for our next
GOOD Lunch
! Today's recipe was inspired by a salad at
M Cafe
.
Sesame Soba Noodle Salad

The Ingredients:
Makes 12-15 servings



---
5 2 oz. bundles of buckwheat soba noodles
5 bell peppers (red looks pretty against the noodles)
1/2 bunch green onions
1 small head savoy cabbage
For the dressing:
1/3 cup sesame oil
3 tbsp light soy sauce
3 tbsp brown rice syrup (or honey)
2 tsp chopped ginger
2 tsp chopped garlic
2 tsp chopped green onions
1/2 cup canola oil (must be light oil, not olive oil)
For the garnish:
4 tbsp sesame seeds

The Method:
• Bring a large pot of salted water to a boil and add soba noodles. Cook according to package instructions. Run noodles under cold water to stop cooking.
• Cut bell peppers and cabbage in 2 inch slivers, as thin as possible.
• Chop green onions as thin as possible.
• To make dressing, combine first 7 ingredients (everything but oil) in a blender or food processor till smooth. While the blender is running, pour in olive oil till emulsified.
• Toss soba noodles, vegetables, and dressing half cup at a time till all ingredients are coated lightly. Taste as you go till the salad has desired amount of dressing. There will be a decent amount leftover. Garnish with sesame seeds.
• Serve cold.

The Breakdown:
How did our salad rate in terms of taste and cost—and how easy or hard was it to prepare?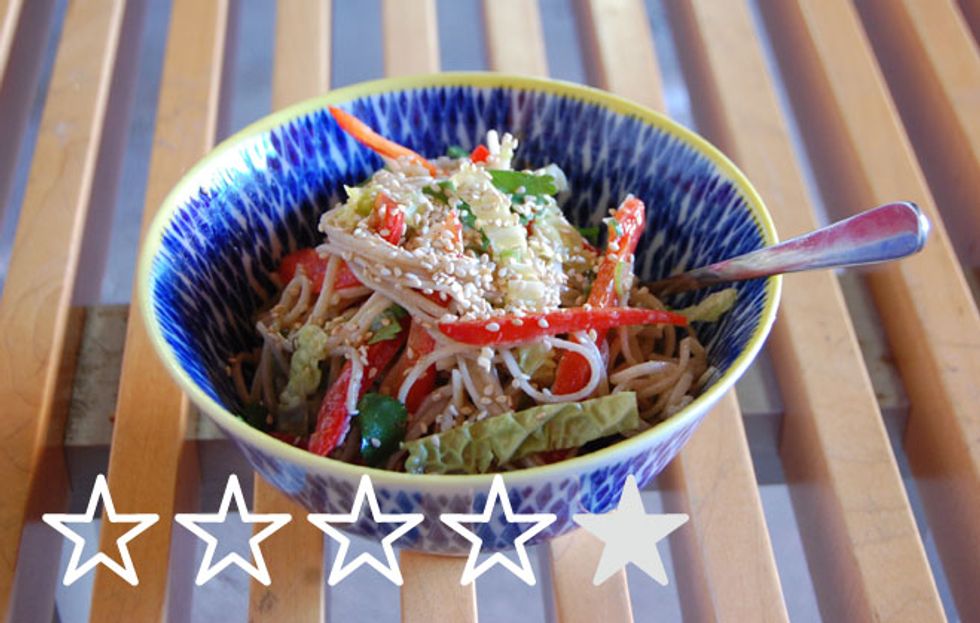 Cost
: $30 ($2 per serving, at 12-15 servings)
Prep Time
: 45-60 minutes
Taste
: 4 stars