Articles
The GOOD Lunch: Slow Cooked Potato Vegetable Soup
Every Tuesday and Thursday for the next year, the GOOD team has pledged to take it in turns to cook and share a big bowl of soup or salad.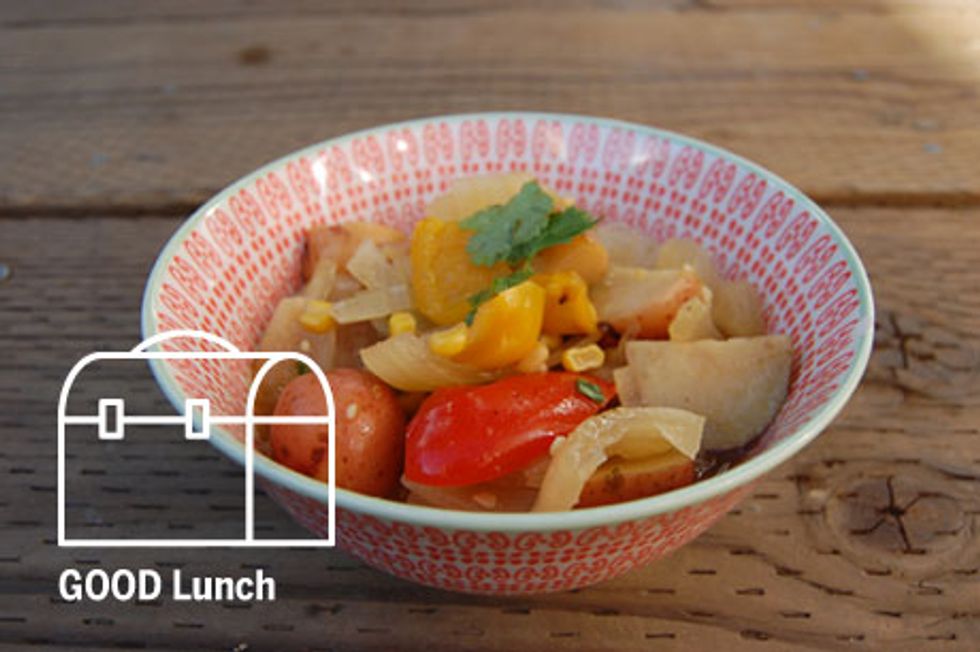 Welcome back to
the GOOD Lunch
. Today's recipe was cooked by Chelsea Spann, and was adapted from
Better Homes and Gardens
"Essential Slow Cooker" issue.
Slow Cooked Potato Vegetable Soup

The Ingredients:
Makes 6-8 servings

1 lb red new potatoes cut into quarters
1 large onion, chopped in ½ inch pieces
½ 10-ounce package of frozen whole kernel corn
2 fresh bell peppers, cut into 1/2 inch pieces
4 minced cloves of garlic
1 teaspoon of salt
½ teaspoon of dried oregano
24 ounces vegetable broth
2 zucchini, chopped into 1/2 inch pieces
1/3 cup of chopped cilantro

The Method:
• In a 3.5 quart slow cooker, place potatoes, onions, frozen corn, bell peppers, garlic, salt and oregano. All cut vegetables should be similar in size to cook evenly.
• Cover and cook on low-heat for 7.5 hours or on high-heat for 3.5 hours.
• Steam zucchini and put it after the soup has cooked for 15 minutes on high heat.
• Stir in cilantro.
• If no slow-cooker is available, simmer vegetables on the stove until tender, between 30-45 minutes.

The Breakdown:
How did our salad rate in terms of taste and cost—and how easy or hard was it to prepare?

























---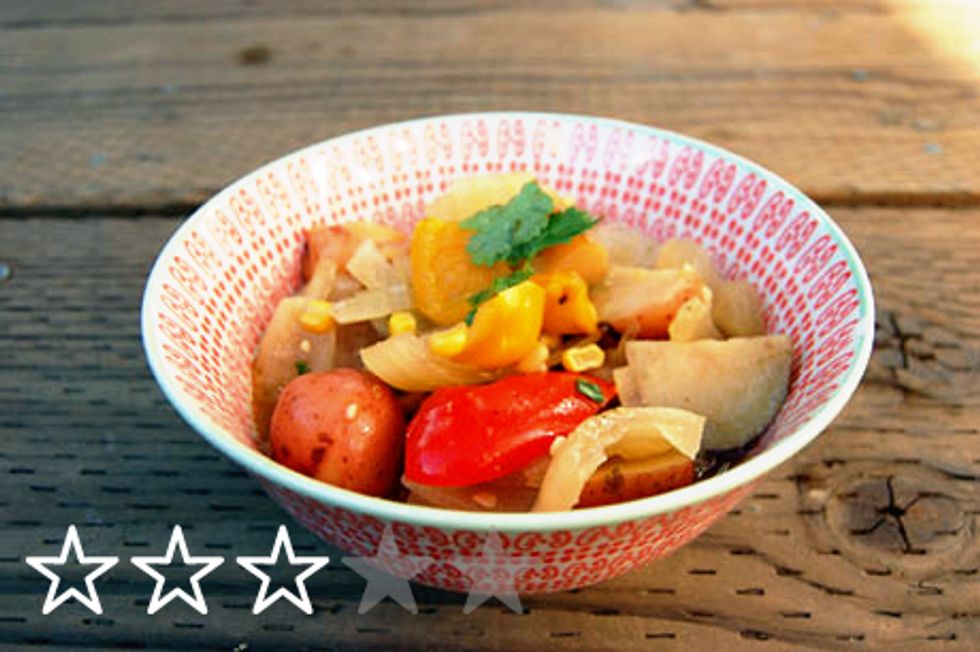 Cost
: $20 ($2.50 per serving, at 8 servings)
Prep Time
: 35 minutes prep, plus slow cooker time
Taste
: 3 stars. This soup was chock full of delicious vegetables, but cutting them smaller might be easier to get all the flavors in one bite of soup. Would be great with some extra broth and the addition of noodles, for a rendition on vegetable noodle soup.
Every Tuesday and Thursday for the next year, the GOOD team will cook and share a big bowl of healthy, vegetarian, seasonal soup or salad. The GOOD Lunch will explore new recipes that are easy to bring, serve and share in the workplace. We hope this will inspire you to make your office lunch a GOOD Lunch.