Articles
The GOOD Lunch: Potato Leek Soup
Every Tuesday and Thursday in 2011, the GOOD team has pledged to take turns to cook and share a big bowl of soup or salad.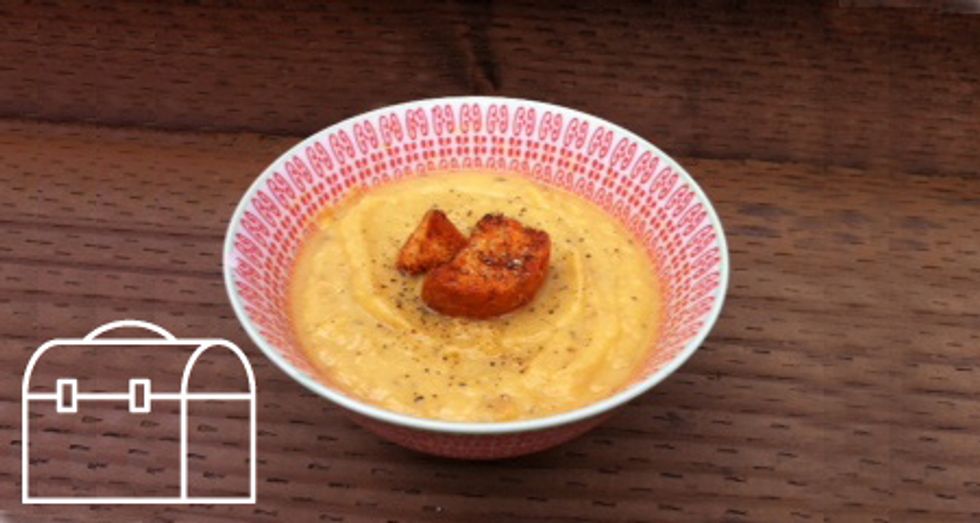 It's time for
the GOOD Lunch
! Today's soup was prepared by GOOD team chef Isis Krause and adapted from a recipe by
David Lebovitz
.
Potato Leek Soup
---
The Ingredients:

Makes 10 to 12 Servings


6 leeks, cut into 1 inch slices
3 lbs golden potatoes, cut into 1 inch cubes
2 quarts vegetable broth
2 tablespoons olive oil
1 bay leaf
1 tablespoons thyme (dried, or 2 tablespoons fresh)
Salt and pepper

The Method:

• Wash the leeks thoroughly (a lot of dirt can hide in the folds).
• Saute leeks in olive oil and thyme until lightly browned.
• Add in potatoes and bay leaf and cover with vegetable broth.
• Bring to a boil and cook until a knife runs through the potatoes easily (about 10 to 20 minutes).
• Puree soup to a smooth consistency. Depending on the size of the potatoes, you might need to add more water to the final soup.
• Taste for seasoning and add salt and pepper till appropriate.
• A good squeeze of lemon juice at the end will brightens the flavor and tie everything together.

The Breakdown:
How did our soup rate in terms of taste, cost, and prep time?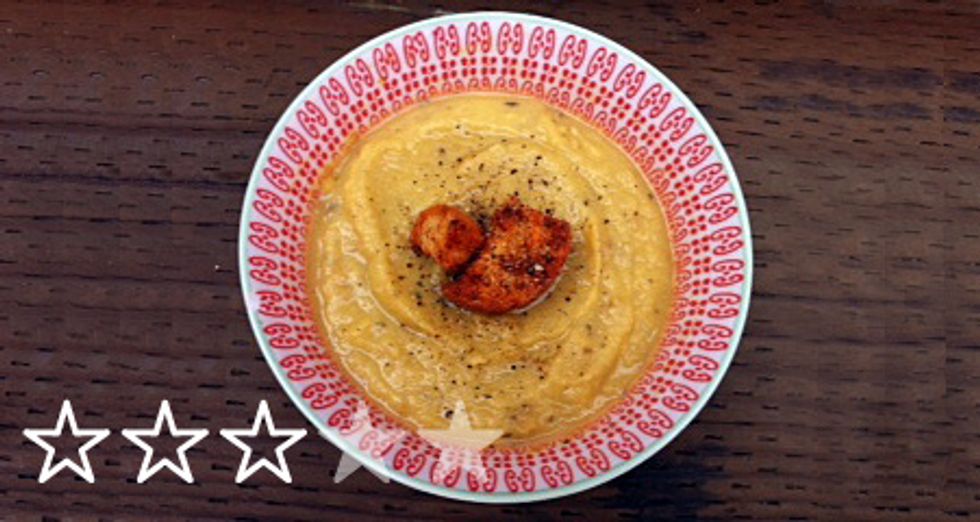 Cost
: $15
Prep Time
: 45 minutes prep
Taste
: 3 stars
This soup is full of healthy and hearty ingredients. The richness of the pureed potatoes is perfect for a cold winter day. A side of flaky french bread or the topping of some croutons gives a nice crunch to the otherwise silky consistency.
Every Tuesday and Thursday for the next year, the GOOD team will cook and share a big bowl of healthy, vegetarian, seasonal soup or salad. This time last week we were enjoying Miso Soup. The GOOD Lunch will explore new recipes that are easy to bring, serve and share in the workplace. We hope this will inspire you to make your office lunch a GOOD Lunch.