Articles
The Raucous Side of Climbing: Bouldering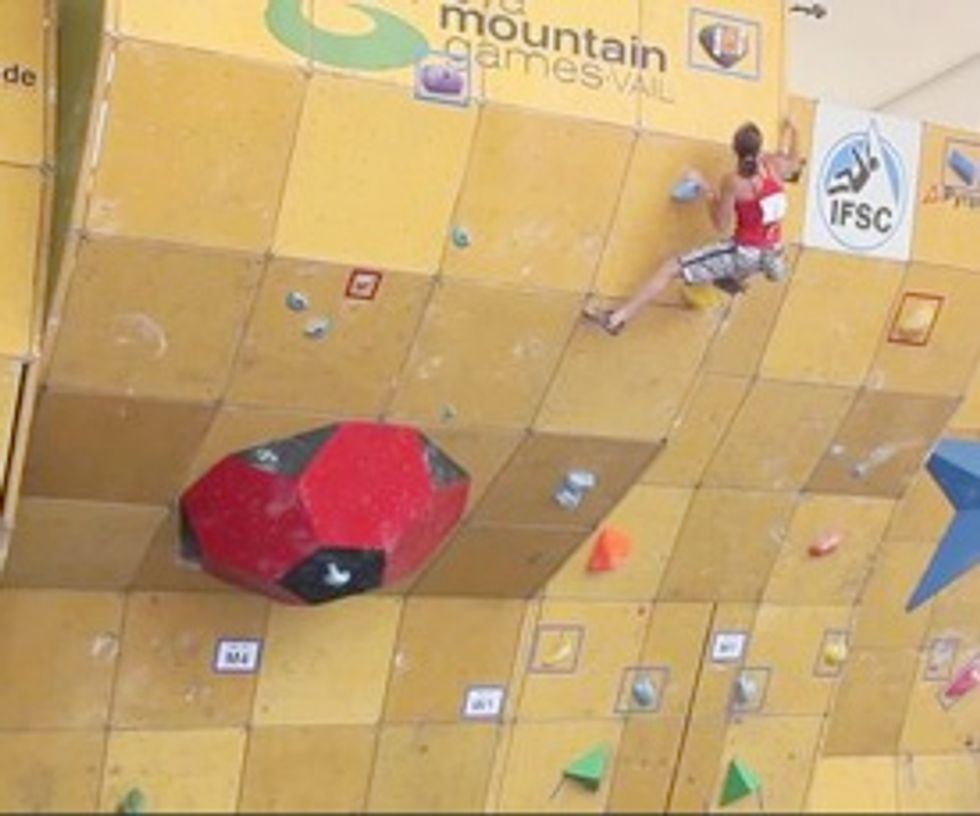 Those of us (ahem) who find ourselves much more comfortable on flat ground or strolling well-marked climbing trails with a promise of a whiskey flask at the end of the hike tend to find competitive mountaineering decidedly intimidating. Voyaging deep into the highlands seems a pursuit for self-styled super-folk who don't mind risking frozen doom in exchange for solitary glory. But while children who scale Everest may get the
media attention
, other forms of the most vertical sport are more fan-friendly, less grandiose, and come with a groovier soundtrack.
Last weekend, the annual Teva Mountain Games in Vail, Colorado, featured the fast-paced final of the Bouldering World Cup. This International Federation of Sport Climbing event took place on a fiendishly complicated artificial wall, in front of a vocal throng of fans. An international contingent of top climbers attempted to decode the looming monstrosity, battling both to reach the top and do so at speed.
---
Shaggy-haired American Daniel Woods—who's no stranger to scaling fearsome natural formations, either—topped the men's field:
[vimeo] [/vimeo]
Meanwhile, 22-year-old Belgian climber Chloe Graftiaux out-spidered the women's field:
Apart from the results, the Bouldering Cup offered enthusiastic audience participation, cool music, and an inspiring example of extreme physical fitness combined with strategic problem solving. This, my friends, is a form of climbing even vertigo-afflicted nerds like myself can endorse. All these qualities should serve bouldering well as it warms up for the ultimate niche-sport achievement: possible inclusion in the 2020 Olympics.