Articles
The Tribeca Film Festival Is a Community Affair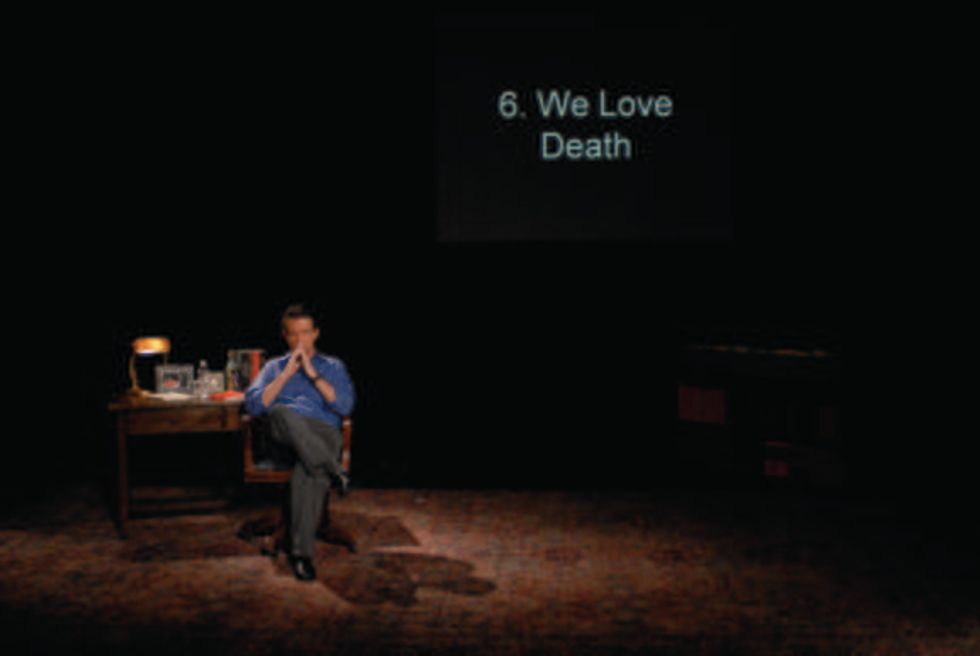 ---
The Lower Manhattan festival founded in the wake of September 11 makes a point of exploring neighborhoods both near and far.
Let me begin with the requisite disclosure: I was an employee of the Tribeca Film Festival in 2007 and early 2008. And at that time, the festival was evolving in response to a wide array of criticisms. It had grown too large too fast, observers said, and it lacked clear focus or a physical center. It didn't have enough entry points for the average New York filmgoer.

There was truth to those claims, but the festival's unruliness sprang from the best of intentions. Unlike the New York Film Festival, its snootier older cousin uptown, Tribeca sought from the get-go to have an "inclusive, populist nature," says director of programming David Kwok, who has been with the festival since its inception. "We're an international city and an international film festival, and we have a range of films that serve the multitude of tastes in New York."

That was true then and it's true of this year's festival, running April 21 through May 2—which explains why Tribeca can include both Shrek Forever After in 3D (its opening night screening) and Earth Made of Glass, a searing documentary about the aftermath of the Rwandan genocide.

But Tribeca's tagline used to be "It's movies. It's New York." Now it's "Here Comes the Neighborhood." The programmers have reined in the chaos, reducing the slate to a relatively manageable 85 features, a little over half the number the festival was showing at its mid-decade peak. At the same time, Tribeca has aggressively broadened access the festival—most notably with new distribution initiatives TFF Virtual and Tribeca Film, which offer select content via streaming video and cable on demand. Those moves are consistent with Tribeca's continuing emphasis on spotlighting communities and, in particular, the Lower Manhattan community the festival was founded to serve. "It's still connected at its heart and core to 9/11 and New York City," says Kwok. "So no matter what we do, it's going to have that vibe."

Undoubtedly, the film in this year's festival that most exemplifes the 9/11-and-New York vibe is My Trip to Al-Qaeda. It's an adaptation of New Yorker writer Lawrence Wright's one-man play of the same title that documents his experience of writing The Looming Tower, his Pulitzer Prize–winning bestseller about the history of Al-Quaeda, and his accompanying struggle not to let private emotions overtake journalistic objectivity. The film is one of three contributions to this year's festival by gadfly documentarian Alex Gibney, who connected the festival's values with September 11th at this year's opening press conference, saying: "The antidote to terror and tyranny is a vital culture." Gibney is also presenting an as-of-yet-untitled work in progress about the downfall of Eliot Spitzer ("No place could be better for that film than this festival," he said) and is one of six A-list doc directors to contribute to this year's closing-night film, Freakonomics, an adaptation of Stephen Dubner and Steven Levitt's book.

Gibney, whose Oscar winner Taxi to the Dark Side had its premiere at the 2007 festival, is one of the more prominent members of a community of filmmakers which Tribeca has consciously sought to cultivate (others include romantic dramedy filmmaker Ed Burns, as well as Ricki Stern and Annie Sundberg, who shocked audiences in 2007 with their Darfur documentary The Devil Came on Horseback and return this year with Joan Rivers—A Piece of Work.)

As always, community is the subject, explicitly or not, of many of the other films in this year's festival—particularly an ample selection of documentaries. "It's just part of the fabric of so many documentaries," says senior programmer Genna Terranova, adding, "I think they draw attention to stories that need to be told, which you won't see on the evening news." She points to films like Budrus, about a small village that is a flashpoint in the Israel-Palestine conflict, and domestic docs like Sons of Perdition, which is a kind of real life Big Love that examines what happens to the sons of a polygamist community. Then there is Buried Land, one of a surprising number of documentary-fiction hybrids in this year's festival, which examines the question of Bosnian identity after the war.

As Tribeca looks ahead to its 10th anniversary next year, its approach appears to be as clear as it's ever been: To bring people to the festival, it needs to be the people's festival. "We're sticking to our core," Terranova says, "while being mindful of where everything is going in the world."