Articles
The United States of GOOD Sandwiches: The Nominations
Nominate the culturally-significant, locally-sourced GOOD sandwich to represent your state!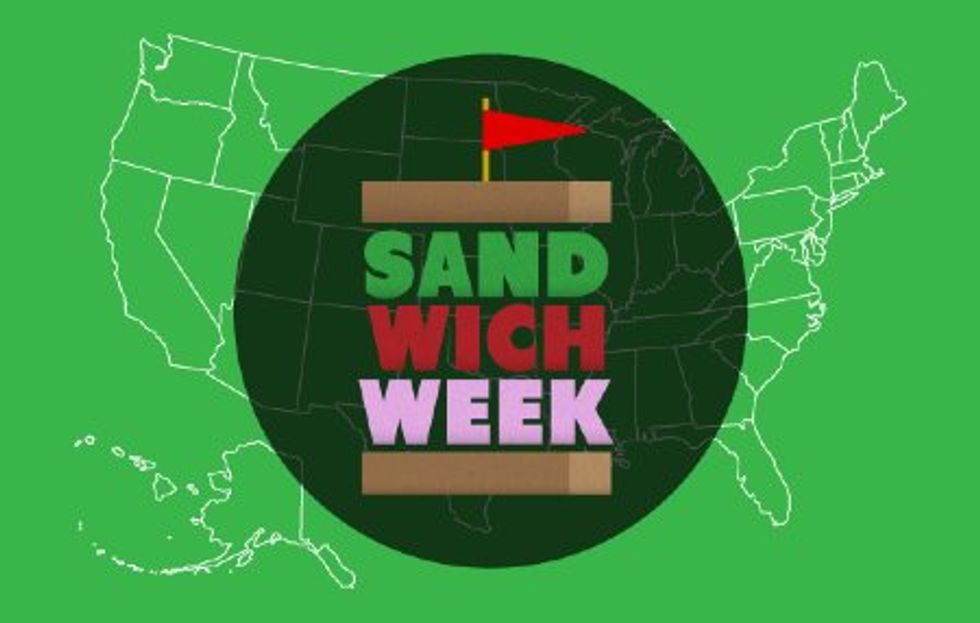 What is the official GOOD sandwich of your home state? Last week, we asked you—along with some of the best food bloggers from Alaska to Florida—to weigh in on the most culturally significant, locally-sourced sammies from each state. Thankfully, GOOD's readers are as invested in convenience-eating as our staff is, and the nominations for iconic bread-based constructions are rolling in!
---
We'll pick the greatest GOOD sammies in the United States later this week, but in the meantime, educate yourself on the sandwiches being consumed all across the nation. What bread-based creations do Alaskans lunch on? Does pizza, folded over, constitute a sandwich by New York standards? How many states can reliably claim Italian subs as their own? Find out below.
Click through to assess the nominations for the state sandwiches for Alaska, Arizona, Arkansas, California, Colorado, Connecticut, Delaware, Washington, D.C. (a GOOD honorary state), Florida, Georgia, Hawaii, Illinois, Indiana, Iowa, Kentucky, Louisiana, Maine, Maryland, Massachusetts, Michigan, Minnesota, Mississippi, Nebraska, North Carolina, North Dakota, New Hampshire, New Jersey, New York, Ohio, Oregon,Pennsylvania, Rhode Island, South Carolina, Texas, Vermont, Virginia, Wisconsin, and Wyoming.
Don't see your state repped yet? Disagree with a neighbor's assessment of your state's iconic lunch food? File your nomination for your GOOD state sammy in the comments, and we'll add it to this list. Then, we'll name winners and compile them all in a handy map of the United States of GOOD sandwiches later this week.
Alaska."Finding a sandwich that defines a state as vast as Alaska (591,000 square miles) is no easy task. Although on the surface Alaska appears as culturally homogenous as its winter terrain—blanketed in white—we have an amazingly rich tapestry of influences from indigenous tribes, with seven major culture and numerous subcultures native to the state. We also have growing minority populations similar to those in the rest of the Lower 48. So how to encapsulate all of that between two pieces of bread, which is how I define the essence of a sandwich?
"I headed 45 minutes out of Anchorage to Girdwood, a small ski resort town where people's genuine love of Alaska, for better or for worse, drives them to seek a calmer existence. The term hippie seems antiquated, but let's call the population free-spirited. Girdwoodians are environmentally conscious, creative, hearty, tolerant to a fault, and with a healthy sense of humor. Those are all qualities that true Alaskans embody, just harder to find in a larger city like Anchorage. A mainstay in Girdwood for nearly 30 years, Chair 5 restaurant is a local hangout where the beer flows freely and food is consistently plentiful and good. This is a town that a restaurant couldn't survive a week in without local support once tourist season dies down, and Chair 5's colorful collection of fleece-and-flannel -cap clad regulars are loyal customers.
"One of the gems on Chair 5's menu is the blackened halibut burger with cheddar, which combines a generous slab of one of Alaska's prized commercial and sports fish, rubbed in blackening spices (a nod to the bevy of southerners who moved to Alaska to work on the pipeline during the '70s), topped with cheddar cheese, house tartar sauce and typical burger fixings. It's a damn good sandwich, not fancy or pretentious, but a flavorful sampling of Alaskan seafood in a familiar format that really stands out and will ruin you for other fish sandwiches from here on out.
"And that's kind of what Alaska does—it changes your perspective and standards on so many things. Could you look at a mountain the same way after seeing a peak in the Alaska Range? Are you going to be as appreciative of your local zoo after seeing abundant caribou, moose, bears, bald eagles and other specimens of Alaskan wildlife roaming freely? A halibut burger at Chair 5 in Girdwood will definitely upstage past and future fish sandwiches, and as with everything here in the 49th state, getting there is half the fun."
—Susy Buchanan, food writer for the Anchorage Press

Arizona. "AZ is the heart of the Southwest and Tex-Mex food is the official food of the desert," one Arizonan GOOD reader writes in. "That said, our state sandwich should be huevos rancheros with flour (whole wheat, preferably) tortilla. Perfect for any meal and has all the food groups, not to mention it's importance in Cormac McCarthy's Border Trilogy."
As an Arizonan myself, I can tell you that the state doesn't really have a sandwich. Still, I must disqualify huevos rancheros on the basis of it not being a sandwich under even the most liberal definition of the term. (Also, McCarthy's trilogy is set mostly in New Mexico and Texas). The fish taco is a good patch for the huevos rancheros problem—though not a sandwich under all definitions of the term, at least you can pick it up with your hands. But while fish tacos are popular throughout the state, Arizona isn't exactly known for its bodies of water. So I hereby nominate the Navajo taco, a delicious wedding of Arizona's Mexican and Native American cultural heritage—just take a traditional taco filling and wrap it in warm flatbread. The sandwich also represents the uncomfortable mainstream appropriation of native cultures that has come to define Arizona in recent years (even the name "Navajo taco" is a pretty crude construction). It might not be GOOD, but at least it's honest.
Arkansas."If you want to hit the nail on the head and are searching out a restaurant that gets the closest, you have to travel to Northwest Arkansas, home of War Eagle Mill (not far from Rogers, Arkansas). On top of the 170-year-old mill, you'll find a working restaurant called The Bean Palace. Now, just about everything you're going to find at The Bean Palace is all natural and organic. (Technically, the ice cream may not qualify, and they do offer condiments that may not have been made right near by)."
"See, they have a number of sandwiches, served up on bread made from grain milled right there, two stories below. Sometimes it's a multi-grain bread and sometimes it's an unbleached white—but you always have the choice of having your sandwich made on cornbread. It's a slightly sweet yellow cornbread, with large morsels and a slightly cakey texture. The corn comes mostly from Arkansas, but some comes from just out of state—War Eagle Mill prides itself on being all-organic, which means sometimes grain has to come from out of state. You have a choice of ham or turkey, both of which are smoked nearby for the mill. Lettuce and tomato are brought in locally year-round (some hot houses offer them in the area during the winter), and it's all served up with iced tea and your condiment of choice."
"The mill itself hasn't been serving them up since its creation in 1832. In fact, the mill hasn't always been there—this is the fourth mill on the location. But there is a real dedication to serving up good local food and organically ground grains."
—Kat Robinson, food blogger, Tie Dye Travels

California.What is a California sandwich? When we posed the question to the Cali natives in GOOD's office, we nearly tore the staff apart. California is a big state with impressive geographical and cultural diversity. It also boasts a mean North-South rivalry, which lies at the center of this debate.
Since filing competing nominations for California's official state sandwich, shit has gotten real between GOOD Community Manager Hillary Newman and Managing Editor Megan Greenwell. A recap: "California is home to fresh produce and hippies, which is why I am nominating the veggie sandwich as California's state sandwich," Newman says. "Between the acres upon acres of farmland, growing bounties of fresh produce (avocado, anyone?) and the inception of the local food movement inspired by chef Alice Waters in Berkeley, California, it's clear that the veggie sandwich belongs here." Greenwell disagrees: "Some will argue that the iconic California sandwich involves 17 grains, plus avocado, germinated sprouts, and tempeh or some other faux-meat of dubious origin," Greenwell says. "They're wrong. Long before the Golden State became the epicenter of veganism, raw foodism, fruitarianism, and dozens of other invented hippie diets, it was home to fast-food hamburgers." Their exchange may seem cordial, but honestly, things are getting pretty scary inside the GOOD offices come lunchtime. We'll settle the California question once and for all later this week.
Colorado. A GOOD father picks the ideal Buffalo Burger to represent the high-altitude state. "A buffalo burger with green chile, on a bun made with high-altitude flour. Pinto beans on the side, wash it down with a Fat Tire, head back to the ski slope."
Connecticut. "I'm from Connecticut and nowhere else have I encountered the delicious Cluckin' Russian: a chicken sandwich topped with provolone, bacon, and Russian dressing,'" writes one reader. Another nominates the chicken parmagiana as Connecticut's iconic sammy. Whatever you choose, just make sure to call it a "grinder."
Delaware. Capriotti's Sandwich Shop, founded in Wilmington, Delaware in 1976, harbors the king sandwich of Delaware for one GOOD reader. "The Bobbie," Capriotti's all-time bestseller, is a Thanksgiving delight, stuffed with turkey, cranberry sauce, stuffing, and a finishing touch of mayo.
Washington, D.C. "Young & Hungry hereby nominates (and readers wholeheartedly endorse) the G-man at Mangialardo and Sons on Capitol Hill as D.C.'s defining sandwich. This souped-up Italian sub, piled with ham, salami, mortadella, pepperoni, provolone, fontina, and hot peppers, meets all the criteria.
"How's this for historically and culturally significant? The sub is sort of emblematic of how federal Washington dictates the way local D.C. does business. The legend of the sandwich goes something like this: Two FBI agents en route to a Redskins game in the 1970s stop into the mom-and-pop shop on Pennsylvania Avenue SE and demand that owner Antonio Mangialardo whip up something special. This heap of meaty deliciousness is what they get. Word later spreads throughout the Justice Department about the tantalizing creation, and soon the tiny deli is crawling with feds requesting that G-man sub.
"The bread is locally made: hard rolls baked in the District by Catania Bakery; soft rolls come from H&S Bakery in neighboring Baltimore. And the still popular subs keep the family-owned deli rolling along into its 58th year in business."
—Chris Shott, Washington City Paper's Young & Hungry food columnist

Florida."I would argue that a Cuban sandwich is the most famous sandwich in South Florida. Although people use 'South Florida' to mean the eastern part of our state, I'm roping Tampa in as well. The omnipresence of the Cuban sandwich on our menus and street corners demonstrates the cultural influence of Cubans throughout South Florida [and] represents the tremendous cultural contributions of all Latin American people on life in South Florida. The Cubans were the first major Latin American population to assert their influence here. But now we're even more diverse—with communities and restaurants populated by Venezuelans, Argentineans, Brazilians, Dominicans, Puerto Ricans, Nicaraguans, and more. This all makes for some good eating.
"In my opinion, a perfect Cuban sandwich depends largely on the bread. The sandwich must be built with good Cuban bread (made with lard) and then flattened in a hot press (plancha). Don't waste time on impostors made with thick French or Italian bread. The bread should be crisp on the outside, with some give, and soft and buttered on the inside. The sandwich should be dense and warm, heavy in the hands. This is a sandwich of substance. Inside, there should be striated layers of Swiss cheese, ham, and roast pork. The layers of meat should be generous. In Tampa, they add salami, perhaps due to the Italian influence. Pickles and mustard add zing. Some purists refuse the mustard, but I always ask for a little."
—Trina Sargalski, food blogger, The Miami Dish

Georgia. "The pulled beef brisket sandwich on a giant fluffy biscuit served up by Breadwinner Cafe in Sandy Springs, Georgia is pure happiness. Sure, the beef is crave-worthy, but piled on top of that split buttery hot biscuit, it makes you want to hug chef David Bressler and tell him he understands your soul. But the smack-in-the-pants pleasure part of the brisket biscuit? Gotta be the two barbecue sauces they let lovingly ooze down over the top of the beef. It's the white BBQ sauce in the duo from Houndstooth Sauce Co., also run by David Bressler, that launches the sandwich into a realm of transcendental joy. Slap on a side of grits with the two BBQ sauces on top, and you can't wait to wake up early on Saturday to get intimate with the GOOD sandwich here in Georgia."
—Chris and Karen Thornton, food bloggers, The Peche

Hawaii. A pretty delicious sandwich must come out of the state once known as the "Sandwich Isles." One GOOD reader nominates the kalua pork sandwich, a delicious Hawaiian invention. Kalua is a traditional Hawaiian cooking method, where a whole pig is cooked in an underground "oven," often a sand or dirt pit lined with rocks and banana leaves. The pig cooks for hours under a layer of wet burlap and soil, until it is finally unearthed, carved up, and sometimes put on a sandwich, served on a taro roll along with pineapple coleslaw and pineapple barbecue sauce.
Illinois. Several readers have nominated the Italian beef sandwichto put Illinois on the GOOD sandwich map. One eater called it the "hands down" favorite. (Here at sandwich week, hands-related references are strongly encouraged).
Indiana. For Indiana's state sandwich, a GOOD reader links food to the passions of diehard Hoosiers fans. "If you go to any good local restaurant in Indiana, the most-often ordered sandwich is probably a common pork tenderloin. But if you're looking for something close to any Hoosier's heart, you're probably need to represent Indiana with a pan-fried catfish sandwich with slaw and a mayo-based dressing. This sandwich pulls the heartstrings of the steel workers of the northwest and the family farmers of the east and the staid academics and government workers of every county seat. Admit it, Hoosiers, it speaks to your soul."
Iowa. To represent the state of Iowa, GOOD executive editor Ann Friedman nominates the pork tenderloin sandwich. "While I briefly considered the Maid Rite (the original loose-meat sandwich), the tenderloin is a much better choice to represent my home state. It's a breaded and deep-fried cut of pork, typically much wider than the bun on which it sits, and can be found in every small-town diner and roadside food stand in the state," Friedman says. "Indiana may also lay claim to this sandwich, but Iowa is the top pork-producing state in the country. Iowans have a lot of pride in their pork. Many families (mine included) have a favorite butcher who tenderizes that loin exactly to their liking."
Kentucky. One GOOD reader nominates the Hot Brown as Kentucky's sandwich. The Hot Brown is "an open-faced sandwich of turkey and bacon, covered in Mornay sauce and baked or broiled until the bread is crisp and the sauce begins to brown."
Louisiana. A GOOD reader picks the classic fried shrimp po-boy as Louisiana's sandwich. "Fried shrimp on a soft baguette, often with lettuce and tomatoes, ketchup and mayo if you want and a lemon squeezed on top," the reader writes. "The best sandwich known to man."
Maine.A GOOD reader picks the Maine Lobster Roll as Maine's representative sandwich. "I live in Maine and work for the Maine Lobstermen's Association. Lobstermen here landed some 93 million pounds of lobster in 2010; we're on track for another record year of landings in 2011. And we do it all sustainably. Our iconic state image is achieving foodie status as the dude food and food truck movement expands across the country, (check out our friends at Luke's Lobster in NYC and DC!), and our product is harvested with care by our 4500 active fishermen in an industry and fishing territories that have been passed down for generations. Let's hear it for the Maine Lobster Roll."
Maryland. The crab cake sandwich is currently the uncontested favorite for the state of Maryland. Any dissenters? File your pick in the comments.
Massachusetts. A GOOD reader nominates the all-American Fluffernutter, claiming it for Massachusetts own. "Massachusetts actually had statehouse debate on an "official" sandwich. The treat in question, the 'fluffernutter' a combination of peanut butter and the Massachusetts invented Marshmallow treat, 'Fluff.' A staple of lunchboxes back in the day, it is now a lovely indulgence with fond memories."
Michigan. "I don't know if Michigan has an official state sandwich, but I would nominate the pasty for the title. What is a pasty? I think the pasty can be described as a pot pie without the pot; or a smaller, more portable meat pie. Introduced to Michigan by Cornish miners who arrived in the Upper Peninsula to work in the copper and iron mines, they brought their favorite work lunch with them.
"A U.P. style pasty is a half moon shaped crust filled with beef, potato, carrot, onion and most notably rutabaga, one of history's forgotten vegetables but key to the true pasty taste. The shape of the pasty made it the ultimate hand-held food for mine workers. There was no need for a fork to eat it—a person can eat it out of hand end to end and held upright to keep the juices in, sort of like how one might eat a burrito today. Winter or summer, it was a constant cold temperature in the mine, and there were no microwaves to reheat your lunch. So the miners would put their pasty on their shovel and heat it over a head lamp candle.
"Today, pasties can be found across the Upper Peninsula at tourists traps along US 2 and north on US 41. Wednesdays are officially Pasty Day in the U.P. Like eating fish on Friday, many 'Yoopers' reserve Wednesday for pasties. A note about pronounciation: pasty rhymes with 'nasty,' not 'tasty,' (though they are tasty indeed). I like to make my own pasties, but my favorite place to get them is the Suomi Bakery in Houghton, Michigan."
—Cynthia Hodges, food blogger, Mother's Kitchen

Another GOOD reader from Michigan is seriously not down with the pasty. "No, no, and no to the pasty for Michigan. ...Most Michiganders are not from the Upper Peninsula. Those of us from down south find pasties hard to swallow without using ALL the ketchup packets that typically accompany the glorified hot pockets. And let's face it: handheld pot pies aren't sandwiches."
Those are harsh words, but the reader nominates the cherry burger in the pasty's place. "The true Michigan state sandwich is the cherry burger. Preferably from Pleva's Meat Market in Cedar, but you can also find this juicy wonder at the Cherry Hut and the Cherry Republic. It's most certainly the juiciest, tastiest, healthiest burger you'll ever eat. Perfect with Cherry Republic cherry mustard. Naturally, Michigan cherry burgers are made with Michigan tart cherries, not the common regular cherry found elsewhere."
Minnesota."While it's difficult to pick just one (I personally lean toward the Juicy Lucy), I think Minnesota's state sandwich has to be the Fried Walleye Sandwich. The walleye is the state fish (it's also South Dakota's, but apparently more walleye is eaten in Minnesota than any other state). I don't think it gets more local than coming out of one of our own 10,000 lakes, plus the fried walleye sandwich is on just about every pub and diner menu in the state. I couldn't find much on the history of the walleye sandwich, but it's such a given here, I imagine it's been around basically forever. The restaurant that's best known for walleye is Tavern on Grand in St. Paul. Its slogan is 'Minnesota's State Restaurant, Serving Minnesota's State Fish.' It serves walleye in every permutation imaginable, from the classic fried sandwich to walleye cakes to the walleye shore lunch."
— Claire Stanford, food blogger, Food Junta

Mississippi.. A GOOD reader writes, "few places other than the state of Mississippi can claim the famous barbecue rib sandwich. Of course, those unfamiliar with this southern staple may ask, 'How do you eat a sandwich with bones in it?' To which us Mississippians respond, 'Honey, them bones just slide right out!'"
Nebraska.. "My first thought was 'What a silly question.' One sandwich for a state this large and diverse? And historically significant to whom? I don't think Native Americans ate sandwiches, and neither did the pioneers, to my knowledge. Besides, the other states really have a leg up on Nebraska in the sandwich department. Who can compete with New Jersey's submarine sandwiches, Pennsylvania's Philly cheese steaks, or New York's pizza? (I eat my pizza folded in half, so that makes it a sandwich). Massachusetts has grinders, the Southern states have their 'po boys,' and on and on.
"Being Cornhuskers, shouldn't we have a corn sandwich of some kind? Perhaps the closest thing is a corndog, but it would be a stretch to call food on a stick a sandwich. So the question remains: What does Nebraska have in the way of a historically significant sandwich?
"I thought of the Runza sandwich, which is certainly unique, and might be considered emblematic of Nebraska, given that their stores are scattered all across the state. But the focus of this exercise seems to be on small, independent businesses rather than chains, so that's out.
"I'm a big fan of Maggie'sAvocado Melt, which is a wrap, and yes, that's also a sandwich, in my book. It's made from fresh local ingredients (except the avocadoes, which are fresh, but not local, I presume), and they do support local independent businesses (the farms they buy from). But is it historically significant? I don't see how, but perhaps I can be enlightened.
"Then I discovered something quite unexpected: there is evidence that the Reuben sandwich may have been invented in Omaha. There's a plausible alternate theory that it was invented in New York, but New Yorker's already lay claim to so many food inventions, I hope they'll humbly concede this sliver of culinary history to Nebraska.
"But I'm not sure that historical significance alone settles the question. How local are the ingredients of a Reuben sandwich likely to be? We could make the necessary corned beef and pastrami here at home, given our many cattle ranches. We could also grow the cabbage to make sauerkraut. But do we make swiss cheese in Nebraska? We have Farmstead First, an artisan cheese maker in Raymond, but I think the odds are much better that swiss cheese would come from Wisconsin or elsewhere. Even so, for lack of a better candidate, let's call the Reuben a plausible choice for the GOOD Nebraska sandwich."
—Dennis Kornbluh, publisher, Star City Blog

New Hampshire. GOOD Business Editor Tim Fernholz nominates Moe's Italian's Moe's Original sandwich to represent the great state of New Hampshire. "New Hampshire is a state that has a lot going for it geographically—mountains, lakes, seaside—but on the culinary front we're rather hemmed in. Maine has dibs on the Lobster Roll, though we do a good one, too; Vermont probably owns anything maple syrup related, and Massachusetts isn't worth speaking of."
"After asking some fellow Granite Staters for their takes, a few possible nominees for the state sandwich arose: The clam strip roll—fried clams, a buttery toasted hotdog roll, and tartar sauce—from Clam Haven is one option. Another rival is the steak tips and cheese sandwich (the steak prepared chunk-style rather than thin-sliced), one of the wicked awesome grinders they make at Nadeau's in Manch-vegas."
"For my money, though, the best New Hampshire sandwich has to be a Moe's Italian. The shop was started in Portsmouth in 1959, selling one kind of sandwich, the Moe's original: Salami, spices, provolone, onions and peppers, pickles and olive oil, tomatoes and olives, all on a sub roll. You can smell them before you can see them, and nothing else makes a day at Rye Beach or Wallis Sands better than eating big, messy Moe's sub in the sand."
New Jersey. The Jersey sandwich nomination race is heating up. One GOOD reader nominates the pork roll and cheese. "It's usually three slices of pork roll, cooked and covered with cheese on a kaiser roll (sometimes an egg). Also called Taylor Ham, it was created in Trenton and is the epitome of New Jersey food. It's sold on the boardwalk at the shore, and I have never found it anywhere but the fine state of New Jersey. Ask most people who live outside of the state (and a few Jerseyans as well), and they've never heard of it. If you've never tried it, you should. It's delicious." But another Jersey reader nominates "the Fat Sandwich from Rutgers University, specifically the original Fat Darrell. More than a sandwich, it's a national institution. Plus, Rutgers is the public institution of New Jersey, so how could you not celebrate a sandwich that was invented there?"
Another GOOD reader is passionate about representing traditional Jersey Italian culture within the state sandwich. "Come on guys! New Jersey's rich Italian history HAS to qualify the chicken parm as our state sandwich!!"
New York. GOOD's own New York contingent is split on the state sandwich. Contributing editor Alex Goldmark nominates the bagel with a schmear and lox, because "if you order it at Russ and Daughters on the Lower East Side you get an education in history, salmon, and gastronomy all at once. And it tastes better if you ask for da schmear wid an acksent." GOOD associate editor Nona Willis Aronowitz disagrees. "A slice of pizza folded over is New York's state sandwich," she says. "I've been all over the state and the bagels (not to mention the lox) can be booty, but the pizza holds strong across the land, and only in New York do we fold it in half to make a greasy, gooey, salty cheese-and-tomato sandwich-like concoction."
"C'mon bagel with a smear and lox along with pizza are not sammiches!" one GOOD reader responds. "Sorry not even close. But Alex Goldmark was very close to the best New York sandwich! The pastrami and swiss on rye with mustard and a pickle on the side at Katz' Deli is totally for those with an Empire State of MIND! It's only a few doors down from Russ & Daughters on East Houston (pronounced "house-ton") Street."
North Carolina. GOOD staffer Ben Calloway represents North Carolina, writing that, "North Carolina, like many states, would be a pulled pork sandwich (with cole slaw). Breakfast sandwiches are also a good choice. A country ham biscuit with egg and tomato could easily rep the state."
"However less pervasive, the pork chop sandwich could also be a good nomination (It's like the tenderloin sammy from Iowa, however this one has much more personality). My hometown of Mt Airy cranks these babies out to busloads of happy fatties. Whatever the sandwich. There is an undeniable common thread of pork here."
North Dakota. "The North Dakota sandwich is the summer sausage sandwich. Circles of summer sausage with the papery sausage casing are as ubiquitous at North Dakota summer picnics as potato salad and coleslaw. It's all because of Cloverdale Foods, a homegrown food business that has evolved into a major pork-processing plant right smack dab in the middle of this agricultural state in Mandan, North Dakota. Their star product is summer sausage, and every North Dakota kid grew up eating summer sausage sandwiches, which was usually just summer sausage and white supermarket bread, maybe some cheese too.

"Grown-ups put mustard on summer sausage sandwiches (my husband swears by grape jelly and summer sausage, but he's an oddball). Summer sausage is a hard, dry sausage served cold, usually cut into rounds and served either in sandwiches or with crackers. It's not spicy (North Dakotans aren't a spicy breed), but it still has some flavor to it. I don't really know why they typically market it as 'tangy,' though. That's an odd description for sausage.


"My father-in-law tells the story of how he took a summer sausage sandwich for lunch while playing golf in Arizona. When he pulled out his sandwich, someone asked 'Are you from North Dakota?' He could tell from his sandwich. Seriously."
— Beth Schatz Kaylor, food blogger, Rhubarb and Venison

Ohio.Is it any surprise that the Midwest nominates a sandwich that is truly all American? A GOOD reader picked the fried bologna sandwich- America's deli-meat answer to the Italian's mortadella- to represent Ohio. "Who can forget this beloved (albeit economical) childhood favorite? My vote for Ohio goes to the fried bologna sandwich. I don't know anyone who didn't grow up on this Midwest staple of pan fried bologna, topped with mayo and sandwiched between two slices of Wonder Bread."
"G&R Tavern in Waldo, Ohio boasts a world-famous grown up version with thick-sliced bologna, browned to perfection and served on a white bun with Monterey jack cheese, sweet pickles and onions."
"The humble sandwich undoubtedly evokes that sense of Ohio summer nostalgia, making the list of concessions sold at the Cincinnati Reds and Cleveland Indians stadiums."
Oregon.A GOOD picks a grilled salmon with roasted vegetables, local greens, homemade aioli on a whole wheat toasted ciabatta bread as the representative sandwich of Oregon. Locally grown, and let us just say de-li-ci-ous.
Pennsylvania. "Pennsylvania's got a tough choice," one GOOD reader writes in. "On one end of the state you've got the cheesesteak. The cheesesteak is as iconic a part of Philadelphia as the Liberty Bell, Ben Franklin, Independence Hall, and throwing batteries at opposing teams. It's also damn good if you've ever had one at one of the many notable shops including Pat's, Geno's, Jim's, Tony Luke's, John's Roast Pork, or one of the dozens and dozens of other local cheesesteak purveyors. As far as I'm concerned, a cheesesteak with sharp provolone cheese and fried onions can't be beat. On the other side of the state you've got the lesser-known Primanti sandwich, a deli sandwich topped with coleslaw and fries. Much like Pittsburgh in general, it's not as popular as it's eastern PA cousin, but it's also not without its merits. My vote would definitely go to the cheesesteak, but the Primanti probably deserves at least a little consideration as well."
As it turns out, another GOOD reader believes that the Primanti sandwich deserves more than just a mere mention, and through what can only be called a rebuttal makes a case for western PA's representation- The Primanti Bros. sandwich. "The comment you chose to quote for Pennsylvania WAY undersells the Primanti Bros. sandwich. It's not simply a "deli sandwich." First of all, freshly-baked Italian bread. Second, vinegar based cole slaw. Third, freshly-cut French fries. Fourth, tomato slices. Fifth, provolone cheese. And sixth, a variety of meat choices. Oh, and you can add a fried egg, too. Perhaps most important, the Primanti Bros. sandwich actually says something about the history and industry of Pennsylvania."
Rhode Island. "I think Rhode Island's GOOD sandwich is a fried clam roll. You can find them at every clam shack along the Rhode Island coast. On the same toasted hot dog bun that's used for lobster rolls, you get a huge pile of fried clams (bellies and strips), served with tartar sauce on the side. Most famous places to buy them: Flo's in Middletown or Evelyn's in Tiverton."
— Lydia Walshin, food blogger, The Perfect Pantry

South Carolina. A GOOD friend George sends up his two-cents on South Carolina's best Sammie. "Because I hail from the Upstate, I'm going to nominate the Hog sandwich from Henry's Smokehouse in Greenville, SC. It's basically just a larger version of the regular pulled pork sandwich, but there's really nothing regular at all about how damn good Henry's barbeque is. The plate comes with hash & rice along with crisp slaw or baked beans. They boast the 'leanest butt in town,' and, in a move that's SC-specific, offer yellow sauce. A mixture of mustard, vinegar and brown sugar, yellow sauce is unique to South Carolina, and could perhaps be traced historically to Bessinger's Barbecue down in Charleston, (my choice for Best Lowcountry Sandwich), or maybe the racially questionable Maurice's BBQ, but the exact origins are murky at best. Ask for yellow sauce, as I have, at any other barbecue place in America, and you will get hard stares and quizzical looks. Henry's is pretty much the last stand for yellow sauce before you hit the North Carolina border. A nice place, NC, but no yellow sauce." Oooo, here in California, we love a north-south throwdown.
Texas. Texas is heating up, y'all. Seven GOOD readers had a Lone Star State debate:
Nicole: Brisket and chopped beef sandwiches are as common in Texas as armadillos, (even though I've never actually seen one in the wild #fail). Served up with a side of mac 'n cheese, cole slaw, and/or potato salad, or BBQ sandwiches will knock yer boots off.
Amina: The Tipsy Texan at Franklin's! It tastes like everything that is holy and good.
Mercedes: Are tacos allowed? If not, then chopped beef on white bread with the Texas accoutrements: sliced pickles, onions, BBQ sauce, and jalapenos (optional). I ate those throughout my youth on the lawn at my second home, First Baptist Church, Bryan.
Lesley: Is it the DQ Dude [a chicken-fried steak sandwich available only at Dairy Queens in Texas]?
Ryan: I'm tempted to just nominate a breakfast taco, but a more sandwich-type-thing that is pretty Texan is a jalapeno, cheese, and sausage Kolache from Czech Stop in West, TX. So good. I also think any piece of chicken fried steak between Texas toast deserves a mention.
Mercedes: HONESTLY, I might back Ryan's Kolache nomination. The Kolache is my favorite Texas food, after breakfast tacos.
Justin: I'm going to also go breakfast taco. Maybe with queso inside. And outside. And on my chest. Wait, sorry...brb y'all.
Amina: Y'all taco IS NOT A SAMMICH! I back the kolache nomination 100 percent.
Lesley: Also y'all need to quit confusing Austin with Texas.
Brittany: THIS IS SO HARD. The Kolache is killer, but Franklin's Chopped Beef Tipsy Texan IS INCREDIBLE.
Vermont. A GOOD reader recommends a locally-sourced sandwich for a true taste of Vermont. It's not a sandwich you can get in any specific place, but it sounds like just the sandwich to be found all across the state. "Vermont's state sandwich = the Vermonter. Ham or turkey (or both!), thinly sliced apples, and cheddar. And all of these ingredients have to come from Vermont farms, of course."
Virginia. A GOOD reader picks, "for the Great Commonwealth of Virginia... the Softshell Crab Sammich! The only state sandwich with legs! Only available from the first full moon in May until fall, the Atlantic Blue Crab sheds its shell and becomes a mouthwatering delectation. Whether deep fired, grilled, broiled or sauteed, these little suckers are the very best thing you can put on a bun!"
West Virginia."I don't know a West Virginian who has been to Tudor's Biscuit World and doesn't dream of returning. Tudor's sandwiches are variations on this theme: meat of your choice, egg, American cheese, hash brown potato patty, and possibly a layer of lard, on a gigantic biscuit. They're all named after West Virginia sports teams, depending on the meat you choose. The Thundering Herd, for instance, has a sausage patty, the Mountaineer has country ham. I choose the Golden Eagle, which I believe has golden eagle meat. It's incredibly salty and wonderful, and the high fat content leaves you feeling like you just put on lip balm. Animal-flavored lip balm."
— Ian Chillag, food blogger, NPR's Sandwich Mondays

Wisconsin. One GOOD reader picks the classic grilled cheese as Wisconsin's sandwich: "I've made so many variants, it's hard to mention just one. My favorite way to make grilled cheese nowaays is to go to the local food coop, pick a fresh bread and a new cheese that sound like they go together, and make a new combination on the spot. My last one was light rye, farmers cheese, and crispy bacon." Another reader favors an alternate approach. "I was originally thinking of the grilled cheese [but] think a butterburger is more fitting. Take some Wisconsin grass-fed beef, Colby cheese (invented in Colby, Wisconsin) and bacon, and you've got Wisconsin in a nutshell (or a kaiser roll, more likely). All you're missing is the Leinenkuegel's."
To settle the question, I went to my dad, who was born and raised in Wisconsin. But he only complicated the issue further: "the brat seems like the quintessential Wisconsin sandwich," he told me. While choosing a sandwich typically served without cheese is a controversial pick, he makes a compelling argument, as a) he's my dad, b) bratwurst has made an appearance at every gathering featuring a plurality of Wisconsinites; c) there are far too many burgers represented in the United States of sammies. The grilled cheese is a close contender, however. Any other cheeseheads want to weigh in on this?
Wyoming. A Wyoming GOOD reader nominates the bison burger. "At the Lotus Cafe in Jackson Hole, Wyoming, this sando offers grass fed Wyo bison with tomato, lettuce, sautéed onion, and roasted garlic aioli, all on whole wheat foccacia freshly baked in house. Super chron." Super chron indeed.