Articles
The United States of GOOD Sandwiches
What's your state sandwich? Nominate your home state's sammy for our United States of GOOD Sandwiches.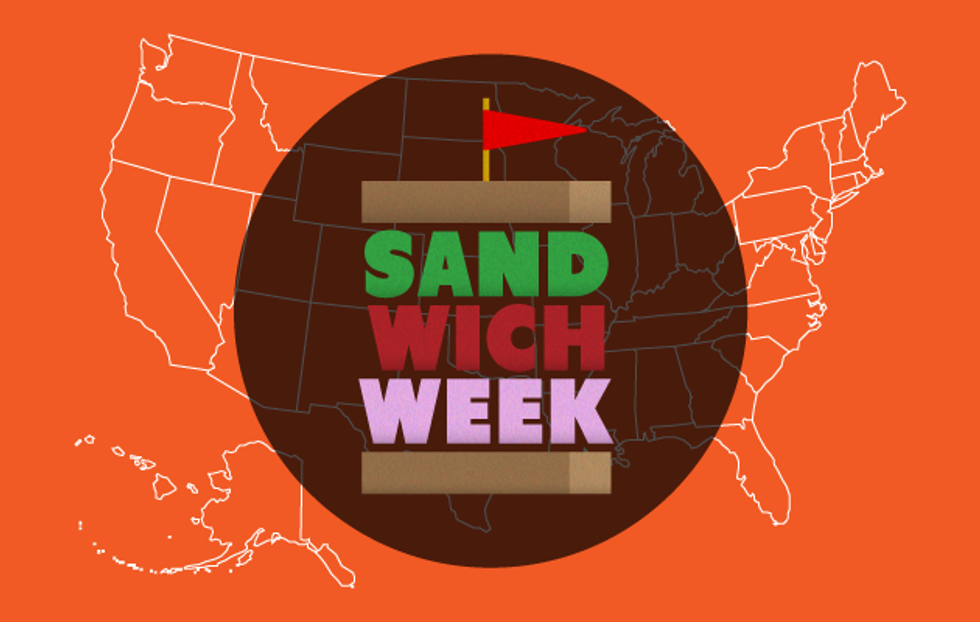 Here at GOOD, we live every week like it's sandwich week. We've weighed the merits of every sandwich within a four-block radius of our office, enviously eyed our coworker's hangover-curing egg sammies, and asked the tough questions about our best-loved lunch food. Is a sandwich anything between two slices of bread? Does it require bread at all? Is a taco a sandwich? The answers to these questions and more are coming soon: Mark your calendars for GOOD's
official
Sandwich Week, coming Sept. 26-30.
As we prepare ourselves for the carbo-load, we want you to weigh in on the sandwich that best represents your state. Later this month, we'll compile your answers in a handy map of the United States of GOOD Sandwiches. We think it'll pair pretty nicely with our United States of GOOD Beer.
---
What is a GOOD sandwich? We're not just looking for the tastiest sammy to originate from your state (although we do accept samples). We're not necessarily seeking the most famous, either (Kentucky may be spared the Double Down). We're on the lookout for GOOD sammies—sandwiches with historical or cultural significance in your home state, ones that can be assembled from local ingredients, and ones that support local independent businesses. The ideal GOOD sandwich will do all three.

To get things rolling, we asked GOOD staffers nominate the quintessential GOOD sandwich from their home states. But we're always ready to try a new sandwich—so Tweet, Facebook, and comment below to nominate your state's GOOD sandwich, justify your choice of sammy, and throw in the local sandwich joint that makes your favorite rendition.

Iowa: A born-and-bred Midwesterner, GOOD executive editor Ann Friedman nominates the pork tenderloin sandwich. "While I briefly considered the Maid Rite (the original loose-meat sandwich), the tenderloin is a much better choice to represent my home state. It's a breaded and deep-fried cut of pork, typically much wider than the bun on which it sits, and can be found in every small-town diner and roadside food stand in the state," Friedman says. "Indiana may also lay claim to this sandwich, but Iowa is the top pork-producing state in the country. So I say it's officially ours." But she's admittedly a vegetarian who hasn't eaten a "pork tendy" since childhood.

New York: Repping the Empire State, contributing editor Alex Goldmark nominates the bagel with a schmear and lox. Here's why: "Because if you order it at Russ and Daughters on the Lower East Side you get an education in history, salmon, and gastronomy all at once. And it tastes better if you ask for da schmear wid an acksent." Fellow New York City resident Nona Willis Aronowitz disagrees. "A slice of pizza folded over is New York's state sandwich," she says. "I've been all over the state and the bagels (not to mention the lox) can be booty, but the pizza holds strong across the land, and only in New York do we fold it in half to make a greasy, gooey, salty cheese-and-tomato sandwich-like concoction."

California: GOOD community manager Hillary Newman and managing editor Megan Greenwell duke it out over the state of California's quintessential sammy. Newman likes the California veggie sandwich. If the name isn't enough to convince you, "California is home to fresh produce and hippies," Newman says. "Between the acres upon acres of farmland growing bounties of fresh produce (avocado, anyone?) and the inception of the local food movement inspired by chef Alice Waters in Berkeley, it's clear that the veggie sandwich belongs here. It's simple and healthy, composed of two slices of multi-grain bread (the grainier the better), hummus, lettuce, tomato, alfalfa sprouts, avocado, and cheese (optional). That's it!"

"Long before the Golden State became the epicenter of veganism, raw foodism, fruitarianism, and dozens of other invented hippie diets, it was home to fast-food hamburgers," Greenwell counters. "The hamburger may not have been invented in California, but it was perfected here. The first McDonald's opened in San Bernadino in 1940. In-N-Out invented the concept of a drive-through restaurant in 1948. Jack in the Box started in San Diego in 1951. Californians may eat a lot healthier now, but we still have a soft spot for that thin little patty, cooked all the way through (medium-rare is for yuppies), topped with iceberg lettuce, a mealy slice of tomato, pickles, and special sauce—eaten, of course, with one hand on the wheel."










As we count down to Sandwich Week and collect nominations from all 50 states, we expect to hear of a heated debate between New Yorkers and Buffalonians, witness a knock-down, drag-out interstate match-up to lay claim to the grilled cheese, and establish a newfound lunch-hour relevance to less sandwich-centric states like Idaho and Arizona. After all, every state deserves a sandwich of its own. So nominate the official GOOD sandwich of your state and defend your choice to the masses!