Articles
What If a Mushroom Designed Your Kitchen?
In the third installment of his radical kitchen redesign, architect Nick Sowers adapts cabinets to become ideal mushroom habitats.
Architect Nick Sowers returns with the third in his series that explores whether, by re-designing the kitchen around food, we could establish a new and closer relationship to it. Don't miss his introduction, "What If Your Food Hired An Architect to Redesign Your Kitchen?" and the second installment, "The Harvest Table."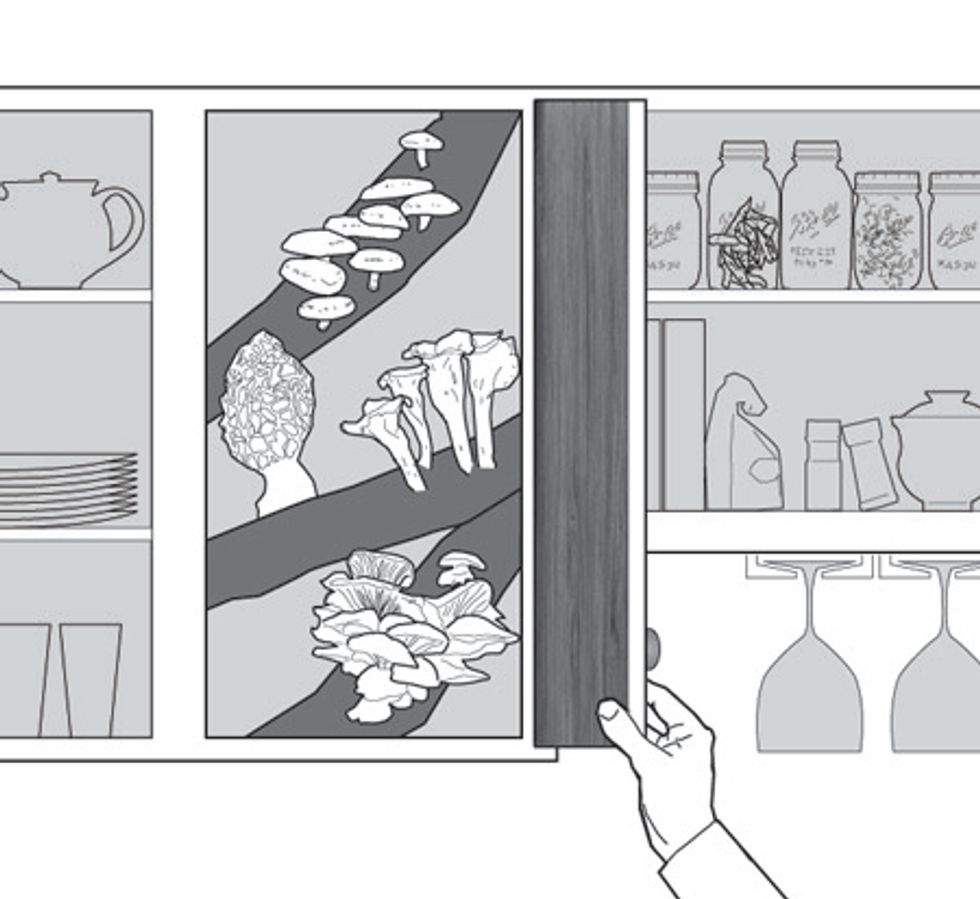 ---
If mushrooms were to design your kitchen, would you need to live in a hollow tree? Not necessarily. The damp, cool, breathing environment many varieties of mushroom love could be reproduced right in your home.
But first: Why might growing edible fungi be desirable in the kitchen?
Well, for one, having things growing in the kitchen is inspiring! Friends of mine brew kombucha and beer. I have sprouted random beans and seeds and it often leads to a pleasurable (if not always successful) experiment in cooking. Everyday items like herbs growing in a window sill or a bread dough starter bubbling in a bowl will brighten up a kitchen space.
We should cultivate an environment of living things in our kitchens, where all too often food shows up frozen, cut up, bagged, dessicated, boiled, pickled, or otherwise DOA. I have selected mushrooms as just one example of designing for live food—a case study of the adaption of normal kitchen spaces into a parallel fungus world of growth and decay.
A mushroom-kitchen is designed in sections. Mushrooms grow on vertical and slanted surfaces. Again, this is a challenge to the tyranny of the horizontal, sleek kitchens which occupy the top echelon of design. However, it is good news for taking advantage of little-used vertical cavities. Perhaps you have some inaccessible voids behind your cabinets? They could be a perfect location for either of the first two proposals I am showing here.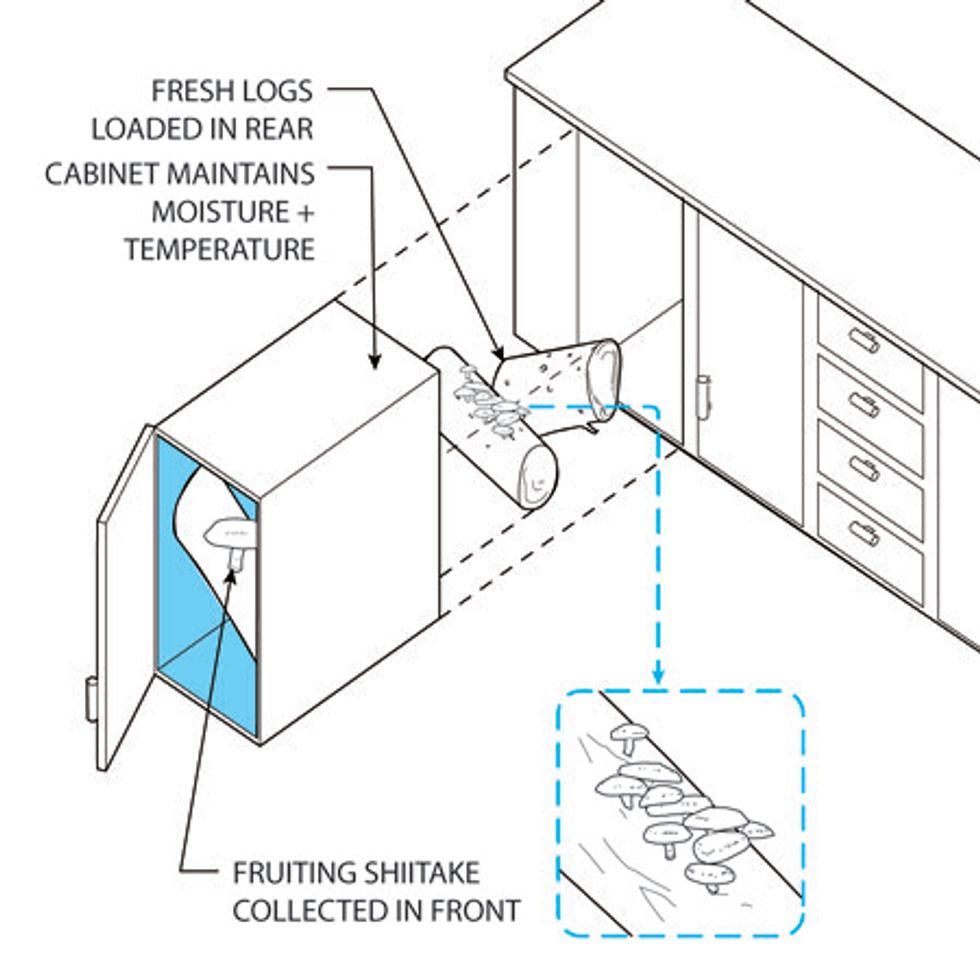 The first proposal is the "Shiitake Cabinet," a temperature- and humidity-controlled container which inserts into a standard array of cabinets and drawers. The entire unit can be pulled out to load shiitake-inoculated hardwood logs in the rear. One must be patient in growing shiitake mushrooms (six to eight months or more to yield fruiting bodies is typical). So the cabinet can hold several logs which might be at varying stages in the fruiting process, guaranteeing a year-round supply of mushrooms.
The second concept is the "Oyster Pocket Slider," which is a special pocket door that can be embedded in any wall. Mushrooms enjoy darkness (although some indirect light is good), so the slider should be hidden most of the time. Oyster mushrooms also like to grow out of a combination of straw and compost (you could add coffee grinds to the substrate), kept moist within a perforated plastic enclosure. The sliding door holds the substrate in place and when pulled out, allows for easy harvesting.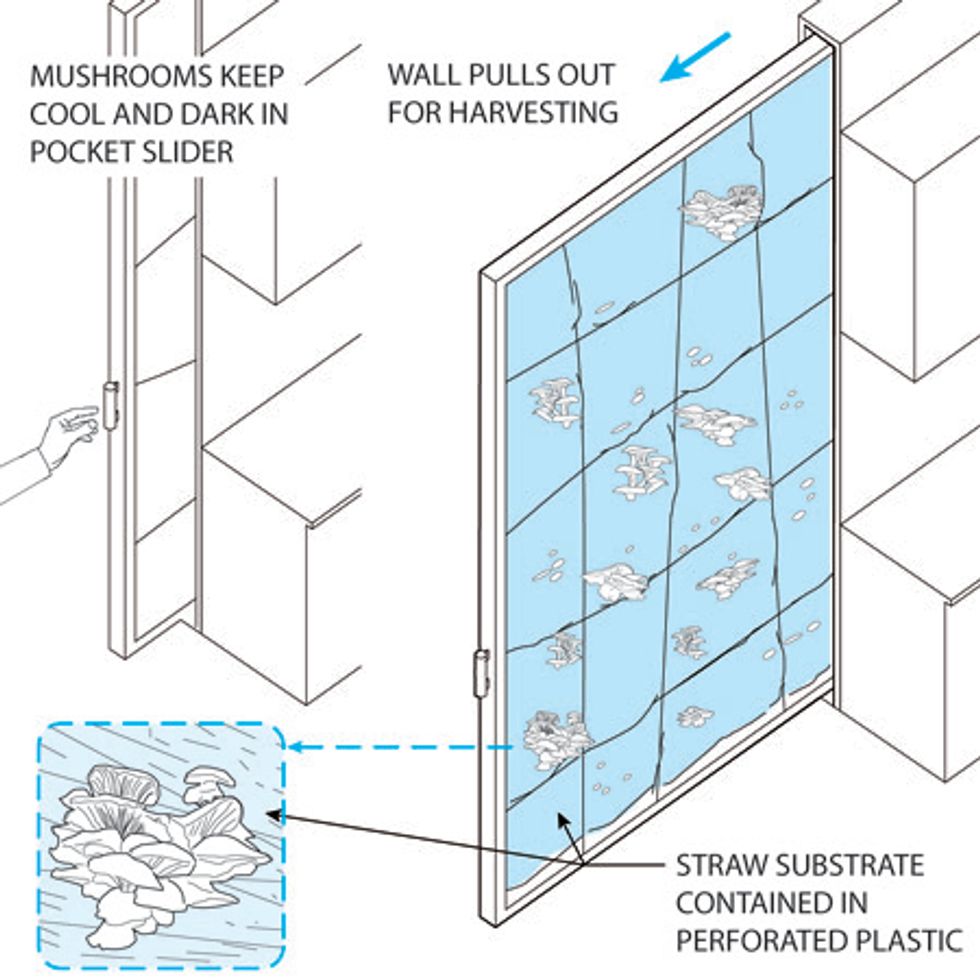 The final mushroom-kitchen adaptation calls for a "Misty Morel Wall," designed for the most serious mycologist and fungi-devourer. Moisture is seeped from "misting gills" at the top and percolates down to the bottom. The irregular-shaped cavities provide mushrooms with spaces that provide their own ideal amounts of shade, moisture, and air circulation—all of which will vary considerably depending on the cavity's depth and position in the wall.
This proposal is not simply a mushroom farm in your kitchen. A number of dehydrating ovens are provided to preserve an abundant harvest. Cabinets and drawers are built in according to what the mushroom needs. The mushroom wall could expand to take over adjacent cabinets. Mushrooms might start growing in unlikely places!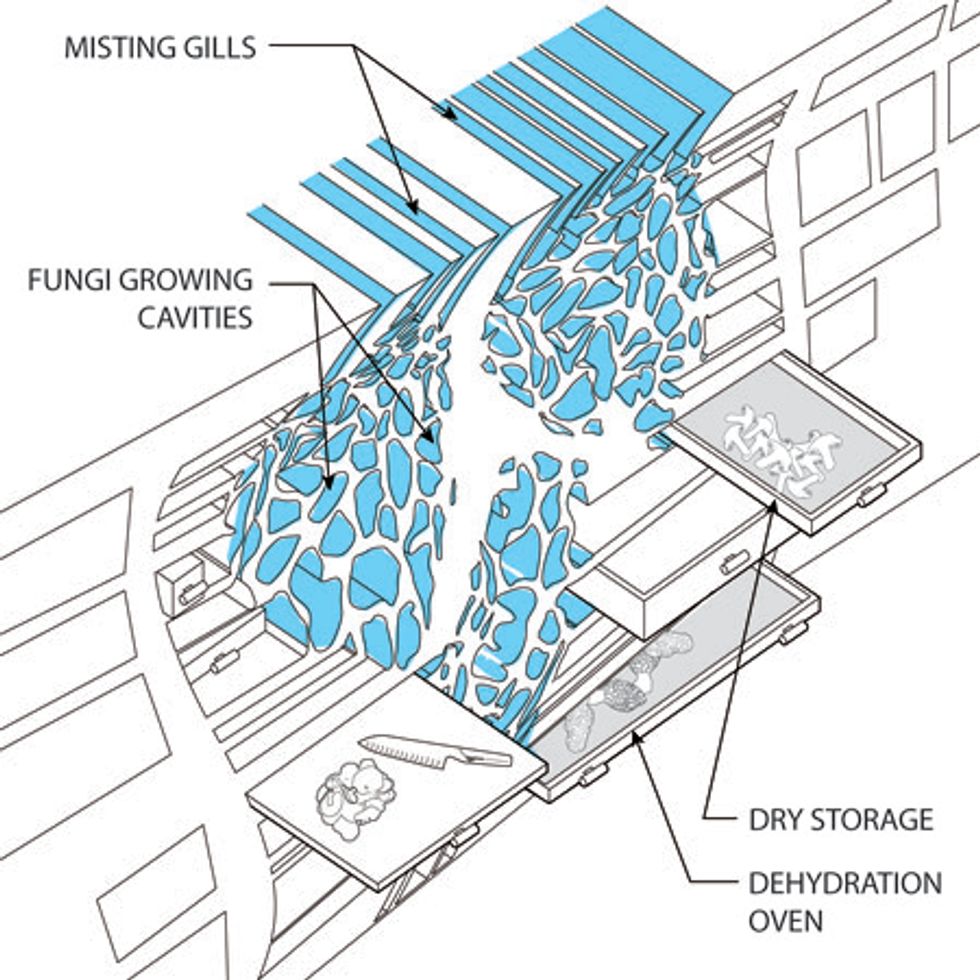 Perhaps the greatest challenge with designing for a living system is allowing that system to expand according to its own rules. That said, the kitchens we are familiar with today are built for the opposite purpose: to contain the unpredictability of organic things and provide us with the technology to arrest their natural processes of growth and decay. The task in designing a kitchen around food is to balance a modicum of human control with the food's desire to adapt to its own micro-ecosystem.
To be continued...
Nick Sowers is a Bay Area-based architect. Read more of his writing at his blog, Soundscrapers, and follow him on Twitter @soundscrapers.
All drawings by Nick Sowers.