Articles
Food for Thinkers: What if Your Food Hired an Architect to Redesign Your Kitchen?
Architect Nick Sowers asks why high-end kitchen design relegates food behind smooth, generic, and glossy surfaces.
The kitchen has been a favored site for architects to implement their theories for modern living for more than a century, as MoMA's current "Counter Space" exhibition makes clear. In the hands of designers, changing ideas about the role of women, new space-age technologies, and the spread of consumer culture have all inspired new kitchen layouts, fittings, and even implements.
The results of these kitchen experiments have been fascinating, occasionally beautiful, and sometimes useful. They have also been widely adopted, shaping our vision of what the kitchen can and should be.
---
So, when I asked architect Nick Sowers (author of the blog Soundscrapers) to write about what was interesting about food from his point of view, perhaps it was not surprising that his mind went immediately to the kitchen and its potential to transform our relationship with the food we eat. Over the coming weeks, Sowers will be sharing his ideas for a twenty-first century kitchen redesign—this time conducted as if food itself was the client, rather than home-owners or public housing developers.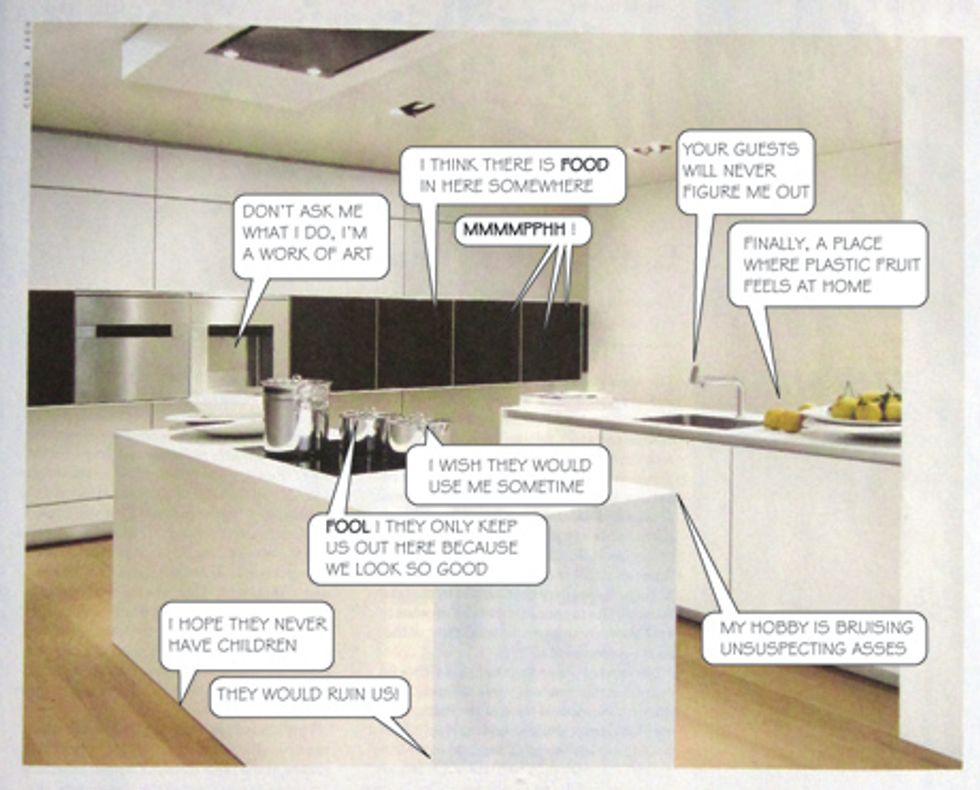 What If Your Food Hired an Architect to Redesign Your Kitchen?
by Nick Sowers

Why is it that the highest form of kitchen design relegates food behind smooth, generic, and glossy surfaces?
These kitchens as works-of-art are upstaging the main act: the food. It sounds like common sense, but it needs to be stated: food deserves its turn as the client in kitchen design.

So, in the spirit of this week's Food for Thinkers blog-festival, this architect wishes to respond to the prompt by asking how we design for food today.


Design is a process of teasing out the relationships between things, and food and space exist in a networked relationship. The spatial history of, for example, a particular head of cabbage is a layered, interdependent experience: from eating and preparation to selection in the produce section at the grocery store, all the way back through its distribution, harvest, cultivation, and planting. As a culture, we are once again becoming conscious of these networked processes, paying attention to where food has come from as well as how it appears on our plate. But, it seems to me, there is a middle ground in between these two extremes of origin (field) and destination (stomach), which deserves its own spatial reconsideration: the kitchen.

After all, the kitchen is also a site of food design. By "food design," I mean the total process of making food in the domestic environment, from the functional storage of ingredients to the social construction of a meal. The dominant visual minimalism of contemporary kitchen design—sleek surfaces, and "negative detail," such as embedded light fixtures and cabinet hardware—subordinates the messy functional and social realities of making food. What does that spatial aesthetic say about our relationship with food? Could our kitchens be redesigned to better express the complex and—let's face it—obsessively decadent relationship that our culture has with food?

In fact, Food for Thinkers has made me consider what is most interesting to me, as an architect, in thinking about and designing for food, and that in turn has inspired me to propose an experimental kitchen. Over the coming weeks, I want to re-think how we store food, how we use things like spices and condiments, and how we construct more elaborate meals which begin to take on architectural properties—like a strata or a lasagna. What would a kitchen-space that embodied the idea of food as a total system, linked through food distribution networks and energy usage to landscapes far beyond the domestic realm, actually look like?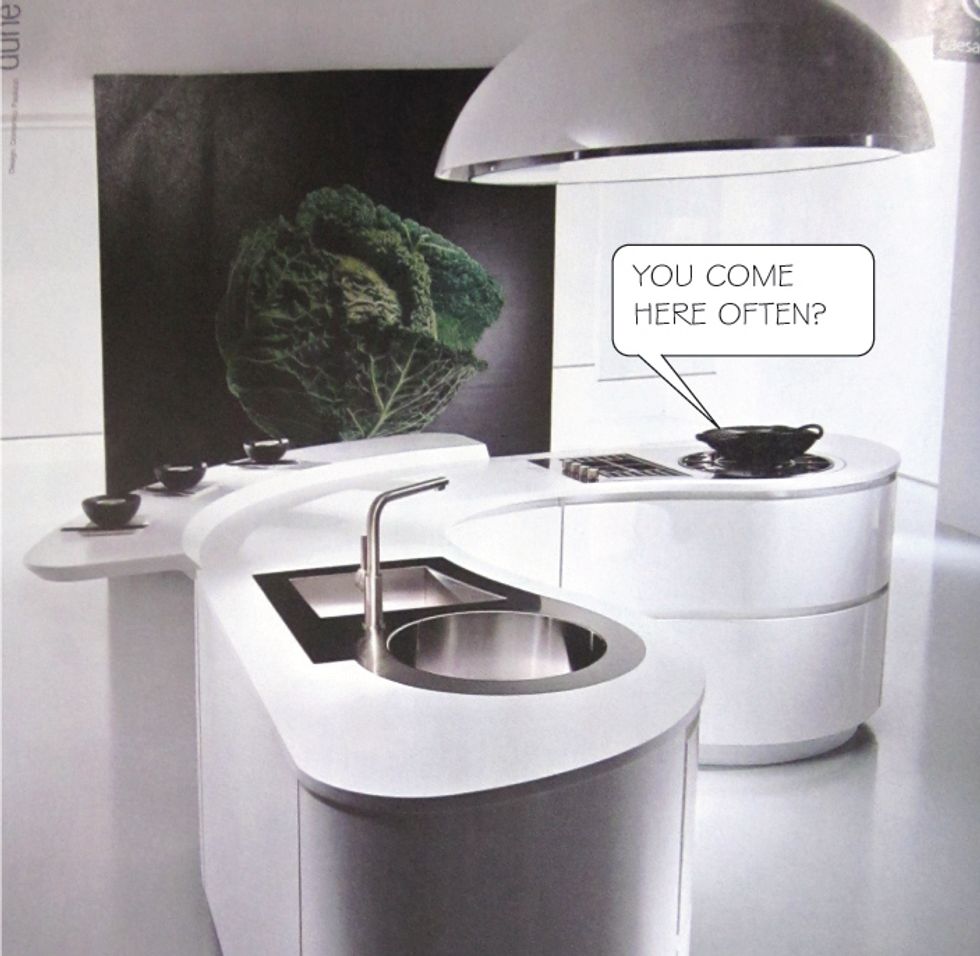 Just looking at a pair of recent advertisements from Pedini and Bulthaup (respectively, Italian and German kitchen design companies) provides an example of the need to re-examine the relationship between food and space. In the Pedini advertisement, the presence of food is mythologized by a giant poster of a cabbage behind a streamlined kitchen island. The Bulthaup ad prioritizes impossibly sharp white counter edges and the absence of handles and protrusions from cabinets and drawers. How can you not keep these counters perfectly clean and clear all the time? These kitchens would use you, rather than the other way around. Kitchens as a designed system are not selling based upon the complex interaction of people and food—they are selling based upon how sexy they look when food is minimally present.
What is the value in these kitchens-as-minimalist-fantasies? In my opinion, we should sacrifice this foodless aesthetic in favor of storing and presenting food in a way that tells a story about its larger connections, but also inspires pleasure and comfort in cooking. That could mean something as simple as redesigning the kitchen's air movements to amplify smells and sounds, making cooking into an even more immersive sensory experience.
So: how does an architect think about food? Obsessively, of course—but also conceptually, in terms of its relationship with space, and practically, by redesigning that space to enhance our relationship with food. And what does my kitchen of the future look like? You'll have to watch this space:
Food for Thinkers
has spawned a whole new design project...

Food for Thinkers
is a week-long, distributed, online conversation looking at food writing from as wide and unusual a variety of perspectives as possible. Between January 18 and January 23, 2011, more than 40 food and non-food writers will respond to a question posed by GOOD's newly-launched Food hub: What does—or could, or even should—it mean to write about food today?
Follow the conversation all week here at GOOD, join in the comments, and use the Twitter hashtag #foodforthinkers to keep up to date.