Articles
What's More Expensive: Farmers' Markets or Grocery Stores?
Two charts that explain why you should consider visiting a farmers' market.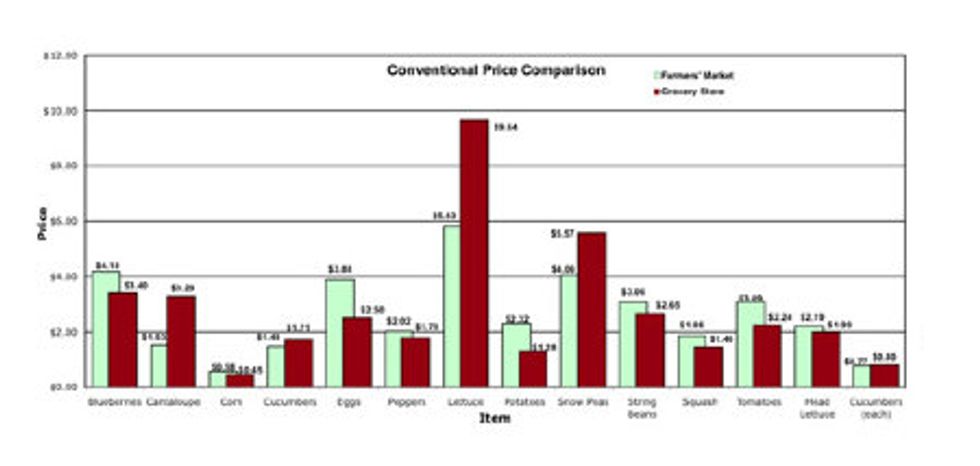 There's a farmers market frenzy these days, and even the White House has jumped in. Still, many people see them as public spaces occupied by an expensive, organic elite.
---
Barry Eastabrook recently unearthed a study conducted by Jake Robert Claro on behalf of the Northeast Organic Farming Association of Vermont. In a survey of nine markets in Vermont from July through September, Claro found that prices for many items (the green bars), especially for organic foods (in the chart below), remained lower at farmers' markets compared to grocery stores (the red bars). Eastabrook sums up the results:
Non-organic farmers' market cantaloupe, cucumbers, lettuce, and peas were better buys than their supermarket counterparts. With the exception of eggs and potatoes, the other items surveyed were between 10 and 20 percent more expensive. Conventional eggs were 43 percent more expensive and potatoes 58 percent more expensive—differences that Claro said were expected, given the economies of scale industrial-sized egg and potato producers enjoy.

\n
The elitist perception probably hurts markets more than the actual cost of food. If produce prescriptions and studies like these can change that, perhaps they can live up to their promise for more widespread social transformation. As New York City's Greenmarket founder Barry Benepe told me, successful markets can truly transform public spaces.