Articles
What's the Effect of Banning Flavored Milk?
Los Angeles schools say no thanks to sweetened milk. You can thank (or blame) Jamie Oliver.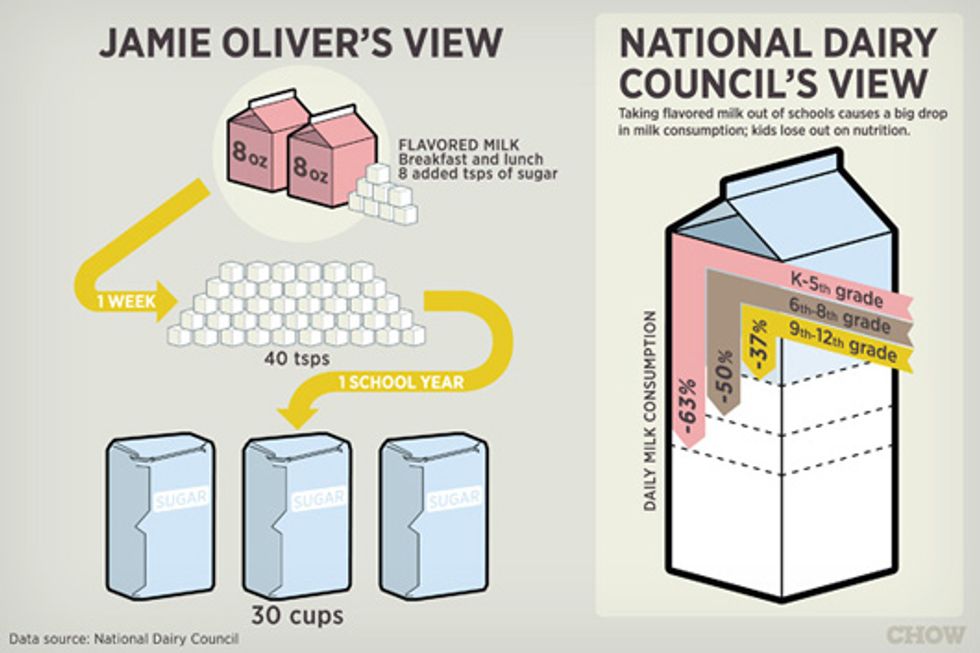 Quite some time ago, the celebrity chef and health advocate Jamie Oliver performed the following stunt: He started filling a school bus with white sand to demonstrate how much added sugar was in the flavored milk consumed in one week in Los Angeles schools. In the end, the gigantic yellow bus was overflowing.
---
The celebrity chef's campaign apparently paid off. In April, the LAUSD's new superintendent announced that the distinct would be banning the sugary stuff in the fall, live on Jimmy Kimmel. On Tuesday, they made it official, Mary MacVean of the L.A. Timesreports, awarding a $5-million dairy contract that doesn't include a single drop of chocolate or strawberry milk.
What's at stake? Well, this infographic from Chow lays out the two sides of the argument. On the one hand, sweetened milk can add up to 30 cups of sugar to a kid's diet. On the other, the National Dairy Council estimates that, without a little added flavor, children drink less milk (at least in districts where they're given a choice between chocolate or plain milk).
Beyond the milk debate, anyone designing products specifically aimed at children should recognize that products like bright pink milk and marshmallow-laden cereal don't just add calories. In school and out, they also teach children what food should taste like—and arguably, it shouldn't all taste like candy.
Inforgraphic: Roxanne Webber and Nicholas Larimer, viaChow