Articles
What to Watch This Earth Day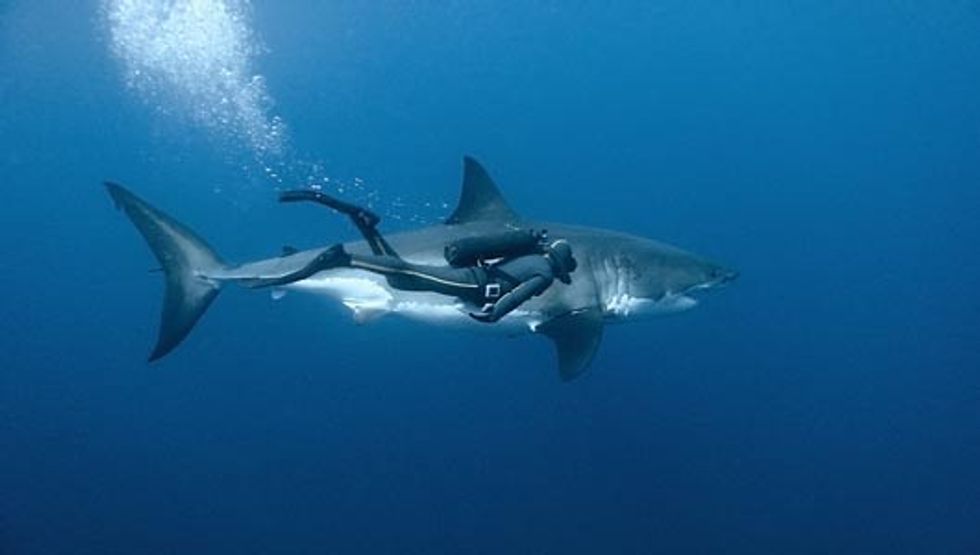 ---
Since water covers three-quarters of the Earth, it's fitting that the
Disneynature documentary Oceans
will hit theaters on
Earth Day
, April 22. While its predecessor,
Earth,
was a spectacular overview,
Oceans
, narrated by actor Pierce Brosnan, devotes itself entirely to the mysteries of the deep. And like
Earth
, it has a giving-back component: Disneynature will donate proceeds from opening week ticket sales to the Nature Conservancy's efforts to protect coral reefs in the Bahamas.
Without 3-D or any extras but with its
planet-saving message
intact, the $2.6 billion blockbuster
Avatar
arrives on DVD and Blu-ray on Earth Day. No doubt James Cameron's eco-friendly allegory will earn lots more green from fans eager to own the top-selling movie of all time.
What better way to mark a milestone anniversary of Earth Day than with
Earth Days
, Robert Stone's documentary that traces the rise of the modern environmental movement and establishment of the first Earth Day in 1970. After its online premiere via Facebook, PBS's
American Experience
will broadcast it on April 19, with a repeat on April 22.
The film that has turned many carnivores into vegetarians, or at the very least raised their consciousness about the source of the food they're eating, comes to PBS on April 21 when PBS's POV will present Robert Kenner's Oscar-nominated documentary
Food, Inc
. It's scarier than any horror film because it's real: The hormone-filled meat, chemically treated produce, and processed food high in sugar, salt and fat in our diets can actually kill us—and might if we don't change the way we eat.
According to Bill Berenson, co-director of
Dirt! The Movie
, "The Earth is alive from the ground up. In a teaspoon of dirt, there are a billion living organisms or perhaps more." And what's in that dirt—or isn't in it—can affect our health and existence. It's all clearly explained, with liberal amounts of humor and animation, in the Sundance documentary favorite narrated by Jamie Lee Curtis, which has its TV premiere on PBS's Independent Lens on April 20.
Also on Independent Lens,
Garbage Dreams
goes inside the world of the Zaballeen—"garbage people" in Arabic—who run a trash-collecting business in Cairo. The teenagers recycle 80 percent of all the garbage they collect, making these young entrepreneurs more resourceful—and eco-friendly—than most major companies. It premieres on April 27 on PBS.\n
Planet Green's new Verge programming block will feature several Earth Day debuts, starting with the premiere of
The Age of Stupid
on April 17. Set in the decimated Earth of 2055, the film stars Pete Postlethwaite as a man who views footage from 2008 and wonders why we didn't stop climate change before it was too late. On April 19,
30 Days: Off the Grid
depicts the journey of a pair of urbanites who move to an eco-village in
Missouri
, followed by
The Suzuki Diaries
, which follows environmentalist David Suzuki and his daughter Sarika as they take a road trip through Europe in search of sustainable innovations. Then on April 21, Annabelle Gurwitch shows homeowners how to go green and save greenbacks in the third season premiere of
Wasted
.
Also back for another season is
The Lazy Environmentalist
, which finds host Josh Dorfman (
an MNN contributor
) educating an athlete, a baker, an exterminator, a funeral director, and other regular folks about easy ways to live and work eco-friendlier. Eight episodes kick off on April 20 on Sundance Channel's The Green with an episode called "Lazy Interior Designer/Lazy Campers." The same day, Sundancechannel.com premieres
Seduce Me
, a new Web series of five vignettes starring Isabella Rossellini in which she acts out the mating rituals of various animals including insects and jellyfish.
For kids\n
And because it's never too early to teach kids about saving the planet, there's plenty of children's Earth Day programming available on PBS and cable.
PBS KIDS Share the Earth Day
will present green episodes of such shows as
Clifford, Sesame Street, Sid the Science Kid
, and a new solar energy-themed episode of
Curious George
on April 22.

Disney Channel

will launch environmentally themed new episodes of its pre-school series
Handy Manny, Special Agent Oso
, and
Imagination Movers
on April 17. They'll repeat on Earth Day, when a block of green-themed encore episodes of older-kid favorites
Phineas and Ferb, Hannah Montana, The Suite Life on Deck
, and
Wizards of Waverly Place
will occupy prime time. Between programs, viewers will see Demi Lovato and Joe Jonas (pictured left) perform the Friends for Change anthem "Make a Wave" and appear in two new PSAs about ocean and waterway conservation.
Nickelodeon's
Nick News with Linda Ellerbee: Your Thirsty World
will focus on kids taking action in the global water crisis on April 18. On Earth Day, the new special
SpongeBob's Last Stand
will follow a two-hour marathon of nature-themed
SpongeBob SquarePants
episodes, part of a day of green programming that will include new episodes of pre-school favorites
Team Umizoomi, The Fresh Brat Band, Go Diego, Go, Ni Halo, Kai-Lan
, and
The Backyardigans
.
Nickelodeon home Entertainment has released
Nick Jr. Favorites: Go Green
, a compilation DVD of eco-themed episodes of
Dora the Explorer
,
Go, Diego, Go!
,
The Wonder Pets!
,
Yo Gabba Gabba!
,
Blue's Clues
, and
Ni Hao,Kai-lan
. Separately,
Dora the Explorer: Explore the Earth,
featuring episodes about the seasons, a lost penguin, a baby condor, and the beach, will be released on DVD April 13.
\n
Photo courtesy of Disney, via Mother Nature Network