Articles
Why Isaac Asimov Would Be Ashamed of Los Angeles' Schools
The brilliant writer and scientist was a champion of libraries. He might have a few choice words for LAUSD's decision to get rid of its librarians.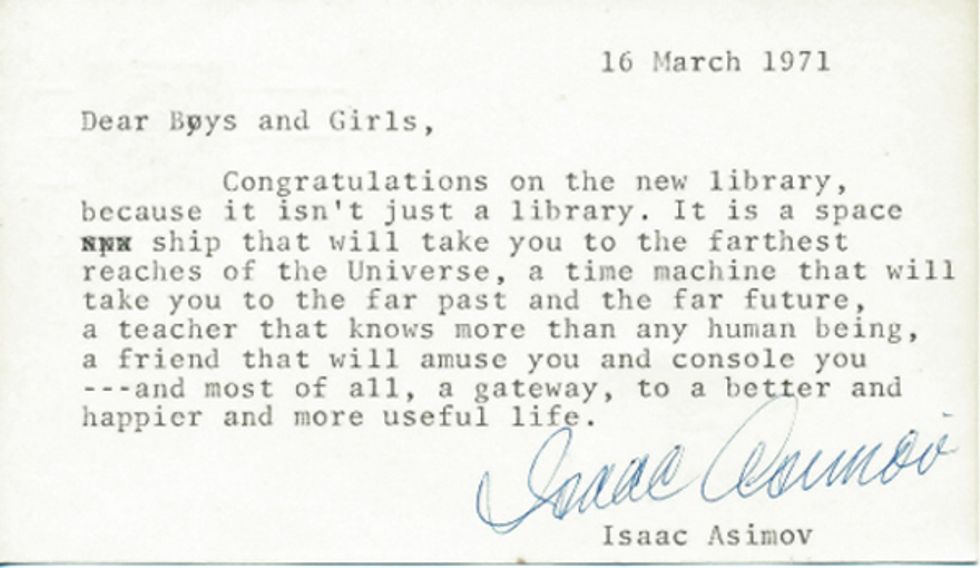 Brilliant science fiction writer and biochemist Isaac Asimov was a firm believer in lifelong learning and self education—and he believed in getting much of that education in libraries. He grew up in a poor family that could not afford to buy many books, so he truly treasured the time he spent in libraries as a youth. He even wrote the note above back in 1971 in honor of a library opening. So, I can't help but wonder what Asimov would say to Los Angeles schools chief Dr. John Deasy over the district's recent decision to lay off teacher librarians at more than 80 schools.
---
In so many low income parts of the city, students who, like Isaac Asimov, are growing up in poor families, don't have easy access to books. Having previously supervised teachers at almost every school in South Los Angeles, I can tell you that in many neighborhoods the only place to buy a book is the 99 Cent Store or the swap meet. There are no book stores. Hours at public library branches have already been cut due to city-wide budget shortfalls, and students often aren't within walking distance of them anyway. If they are, sometimes, given the gang situation, it's simply not safe to make the trek. So school libraries often become the one place where students are able to immerse themselves in the joy of books and learning.
What happens when there's no librarian? My sons used to attend a school without a librarian or even a library aide, and they rarely saw the inside of the room. Teachers tried to take their students, but they usually didn't know the selection of books well enough to help the kids choose a text at the appropriate reading level. Books weren't checked out properly and were either not shelved or were put back in a disorganized manner when they were returned. When materials started coming up missing, the principal began refusing to let classrooms use the library. It was absolutely criminal that a school that was almost 100 percent children of color and 94 percent on reduced or free lunch didn't let kids enter what Asimov called "the open door to wonder and achievement." Test scores at the school dropped that year, but I'm sure no one wondered how the lack of access to books affected the school's performance.
Over the past week, L.A. Unified has held hearings where they're making every librarian stand up in crazy, McCarthy-style interrogations—with armed guards present—and defend the value of their jobs. Sadly, many are being shown the door, and their accumulated expertise about both books and research is being lost. Asimov would be absolutely horrified that a school district is essentially reducing kids' access to books. As he once said of cuts to libraries, "I can only think that the door is closing and that American society has found one more way to destroy itself."
image via First Book