Airport security worker fired after giving traveler 'You Ugly' note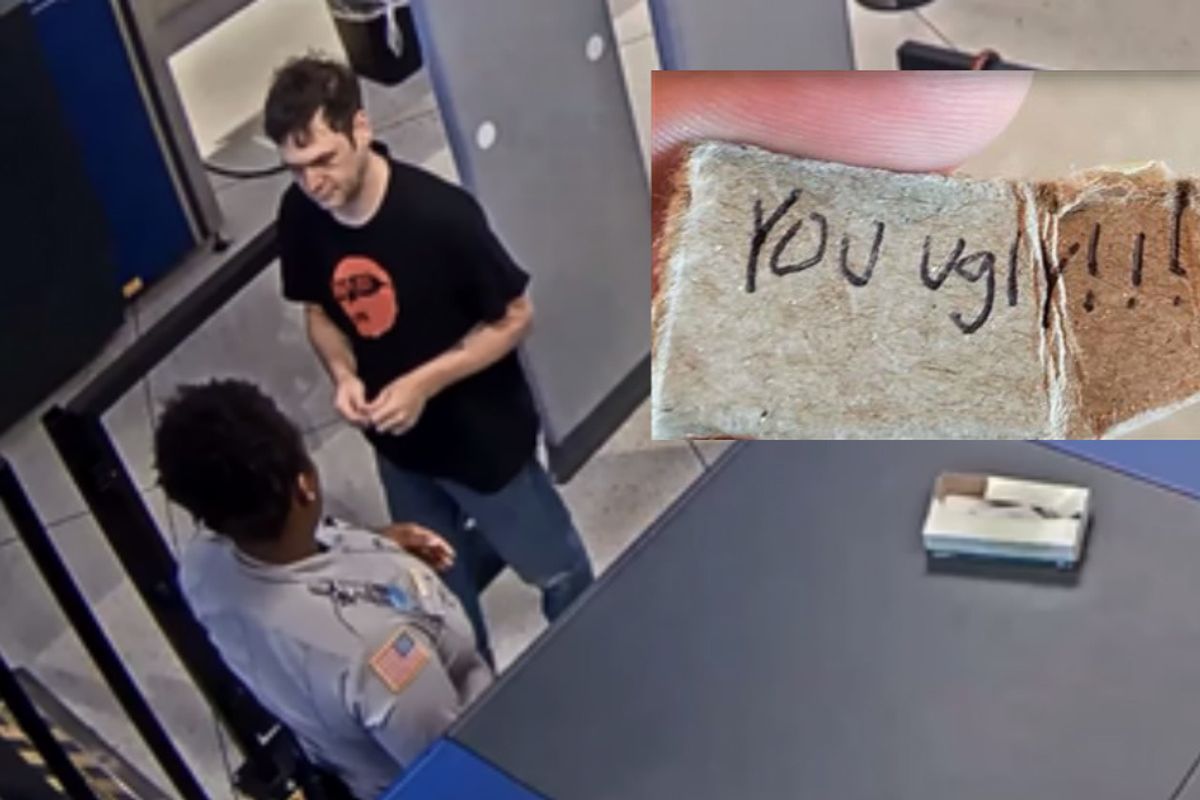 Rochester NY Airport Security passing insulting notes to travelers caught on tapewww.youtube.com
Neil Strassner was just passing through airport security, something he does on a weekly basis as part of his job. That's when a contract airport security employee handed him a small piece of folded cardboard. Strassner, 40, took the paper and continued on his way. He only paused when he heard the security employee shouting back at him, "You going to open the note?"

When he unfolded the small piece of paper, Strassner was greeted with an unprompted insult. "You ugly!!!"
According to Strassner, and in newly released CCTV of the incident, the woman who handed him the note began laughing loudly.
---
"I was more confused than anything," Strassner said in an interview with NBC News.. "I kind of just looked at it and thought, 'That was weird.'"
Strassner said at first he simply found the mild insult to be bewildering. But as he shared the story with friends, a number of them pointed out how a seemingly minor incident could be harmful to someone living with depression or going through a traumatic experience.
"If you were bullied, that could be a big deal to somebody," he told the New York Post. "A smile could bring someone up from the ground and that note could drag them back down."
That sent him on a mission of accountability. First, he called the Greater Rochester International Airport, who told him they couldn't release the video of the incident without permission from the county. After calling the county, he got the same excuse. Eventually, he filed a Freedom of Information Act request with the federal government, who released the video to him. When he shared the video with the contract company who employed the woman who harassed him, they ignored him.
SoStrassner shared the video to Reddit where it immediately went viral. Two hours later, the company contacted him and eventually fired the employee.
After all, this wasn't a one-off "joke." Video of the incident shows the unnamed employee tearing off another piece of cardboard. Though it's unclear if she was preparing to target another unassuming passenger, the implication is clear enough.
"TSA holds contractors to the highest ethical standards and has zero tolerance for this type of behavior," reads a statement from the TSA. "This instance, which involved a contract employee, was investigated immediately upon receiving the complaint by the traveler. The employee has since been terminated by the contractor."
For his part, Strassner said he understands the stress airline security contracters face in their jobs. He's not even opposed to them passing along the occasional grievance note but he just thinks it should be the right message and sent to the right person.
"I don't like throwing negativity around," he said. "What about a note that says, 'Hey, next time bring me tacos'?"