Lifestyle
Bizarre tent-raft looks like a total death trap: 'Why live when you can die?'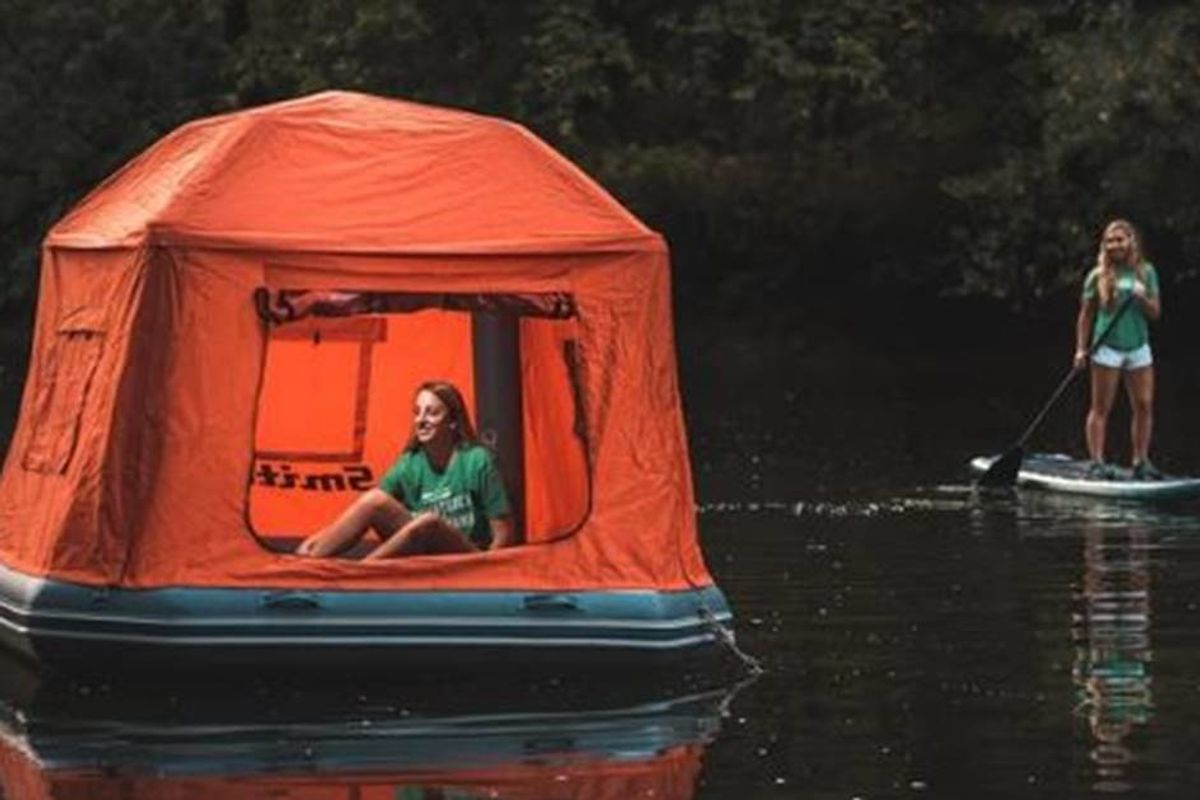 "Seventy percent of the Earth is covered with water, now you camp on it!" proudly declares Smithfly on the website for its new camping boat — the Shoal Tent.
Why have we waited so long for camping equipment that actually lets us sleep on the water? Because it's an awful idea, that's why.
---
"The world is your waterbed," Smithfly says on its site. But the big difference is that no one has ever had to worry about falling asleep and then drowning on their waterbed.
While it is possible that one could wade into the water, unzip the tent, have a pleasant slumber, and wake up in the morning feeling safe and refreshed, there are countless things that could go terribly wrong.
The tent could float down the river and you wake up in the middle of nowhere.
You could have to go to the bathroom in the middle of the night.
This guy.
It could spring a leak and you could drown while wrapped up in eight feet of heavy nylon.

A strong current could tip the tent-boat over.
There isn't any way to steer the darn thing.
This guy.
Mashable shared a charming video of the tent on Twitter and it was greeted with a chorus of people sharing the many ways one could die while staying the night in the Shoal Tent.
Why camp by a river when you can camp on one? pic.twitter.com/XU6IwsTBAK
— Mashable (@mashable) August 17, 2019
why live when you can die?
— Nate Bethea (@inthesedeserts) August 17, 2019
Who decided brown river water was comfortable bedding? Only thing that could make it worse are hippos, alligators, or refuse. Well actually I can list a lot of things! But that's not the point! The point is, people want to sleep on beautiful water! WTF was that person thinking!?!
— Joseph Reneer (@JosephReneer) August 20, 2019
It's intentional that there are no windows.
— Tom Jamrog (@tjamrog) August 20, 2019
Where's that SmithFly floating tent at. 😆 pic.twitter.com/0JE7u0phS8
— Alert Patriot ❌🇺🇸🙏🏻✝️🙋🏻♀️ (@ElaineInMD) August 19, 2019
You wake up and: pic.twitter.com/geRMX2Hqbf
— MSM Is Biased (@animal_lover365) August 19, 2019
How do you steer it, though? If you got caught in a strong current, it could be a problem.
— MSM Is Biased (@animal_lover365) August 19, 2019
pic.twitter.com/uqhqznjwrH
— Wild Wild Westcountry (@BristolComSense) August 19, 2019
Gonna make it a lot harder to run away when the banjos start playing.
— Joe Texian (@TexianJoe) August 19, 2019
Because I don't want to wake up drowning in a big bag of nylon.
— McSantaClaus (@McSantaClaus1) August 17, 2019
*wakes up on the Gulf of Mexico*

What the fuck, wasn't I just in Tennessee?
— Comfortably Numb (@Strangelove8762) August 18, 2019
I don't think the purpose of camping is to have no fucking clue where you are when you wake up. That's what drinking is for.
— Lindsay Tucker (@LindsayTucker8) August 18, 2019
So it's a house boat for people who can't afford a house... or a boat?
— Brandy Bryant (@ComedyBrandyB) August 17, 2019
They should call this the Darwin Tent Raft.
— Empty Mirror (@EmptyMirror) August 18, 2019
Oh yeah, it's expensive, too.
What happens if the air leaks out in the middle of the night? The floor is 6 in thick. That sounds team lift heavy. And it's $1,499. Isn't this just a raft + tent? Can't someone just pitch their tent on a raft? That's a crazy weird idea, but there are cheaper ways to do it.
— Joseph Reneer (@JosephReneer) August 20, 2019
Even though the general public seems to think the Shoal Tent is a terrible idea, according to the Smithfly's website, it's currently sold out due to "popular demand" and it will be "available in 6-8 weeks." Oh, and did we mention it costs $1,999?