Politics
Stephen Colbert couldn't resist the irony.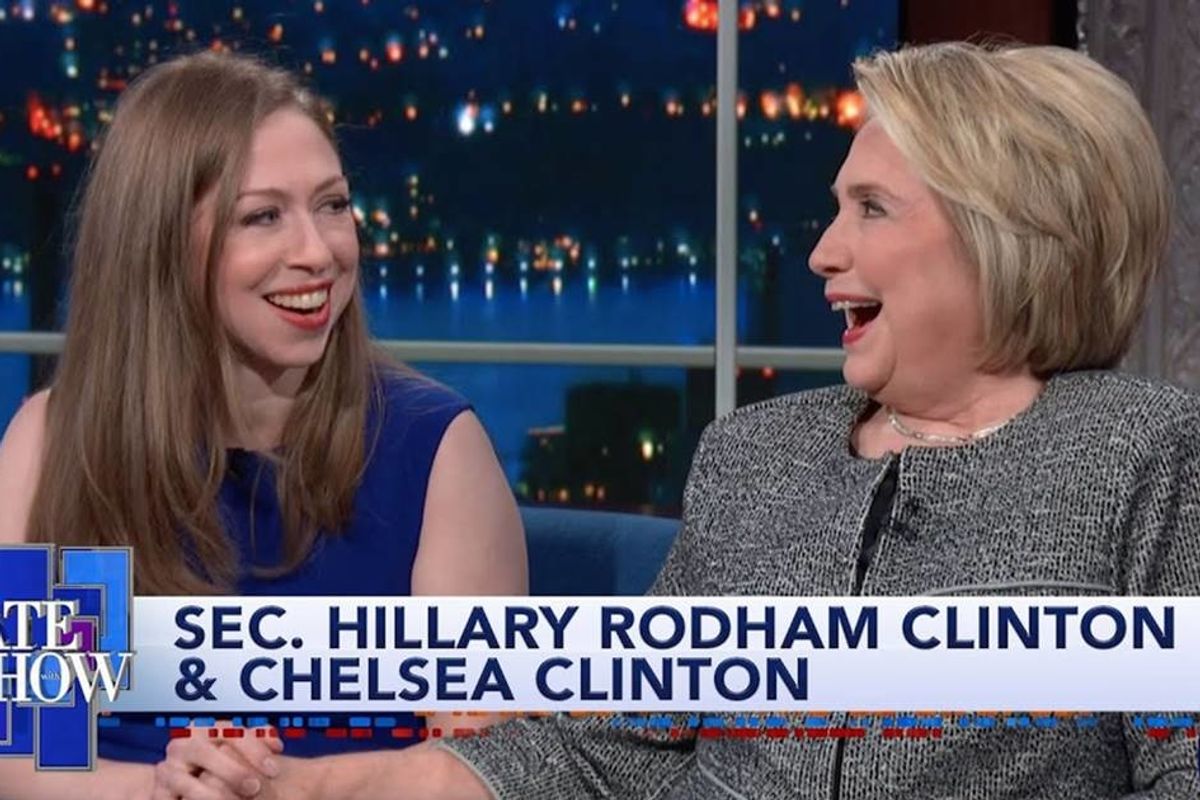 via The Late Show with Stephen Colbert / YouTube
One of the darkest refrains of the Trump presidency have been the crowds at his rallies chanting "Lock her up" at the mention of Hillary Clinton's name.

The idea that an American president would threaten to imprison a political rival smacks of authoritarian tactics that have no place in a democracy.
These days, the chants seem rather ironic being that Donald Trump is facing an impeachment inquiry in the House of Representatives for trying to extort the president of Ukraine. If Trump is removed from office, he may face legal consequences for his actions which could mean jail time.
---
"The Late Show" host Stephen Colbert had fun with the idea of Trump being locked up on his show Monday night when his guests were former Secretary of State Clinton and her daughter, Chelsea.

At the start of the interview, Colbert asked Clinton about the impeachment inquiry saying, "Is it time to — dare I say — lock him up?"

Then the crowd began chanting "Lock him up" to Clinton's chagrin and then she motioned with her hand to tamp down the chanting.
When the crowed quieted, Clinton said that the impeachment inquiry is "exactly what should be done."
"I believe strongly that this particular incident has had such a huge impact because we've known for a long time that he [Trump] was a corrupt businessman who cheated people, and we've known that he and his campaign asked for aid from Russia, we've known that," said Clinton.

"But to see him in the office of the president putting his own personal and political interest ahead of the national security of our country just pierced through whatever confusion or denial people had. And, at that point, Speaker Pelosi rightly said this is something we have to investigate and that's what's going on."
Colbert admits that Trump's dealings with Ukraine have changed his opinion on impeachment.
"I was never a big 'let's impeach him' fan," Colbert said. "I thought we should go to the ballot box. But when someone is clearly using the office that they're in to subvert the ballot box. To use by corrupt means influence fro other countries to maintain their office, what good is that ballot box at that point?"
Clinton knows about impeachment. Her husband was impeached in 1998 and, as a young lawyer, she worked on the case against Richard Nixon. She believes that Trump's actions are exactly what the framers of the Constitution were defending against.
"To undermine the oath that he took to protect and defend the Constitution and the American people that's what falls right into the definition of an impeachable offense," she said.
Colbert also asked Clinton's thoughts on current Secretary of State Mike Pompeo, who was on the call when President Trump attempted to extort the president of Ukraine.
"How many times when you were Secretary of State did you have to say to Barack Obama 'You can't extort foreign countries'?
"Yeah, that never happened," Clinton laughed.