Buy You a Drink: A Highly American Cocktail for Stephen Colbert Buy You a Drink: A Cocktail for Stephen Colbert
GOOD designs a 100-percent U! S! A! cocktail for Stephen Colbert.
01.27.12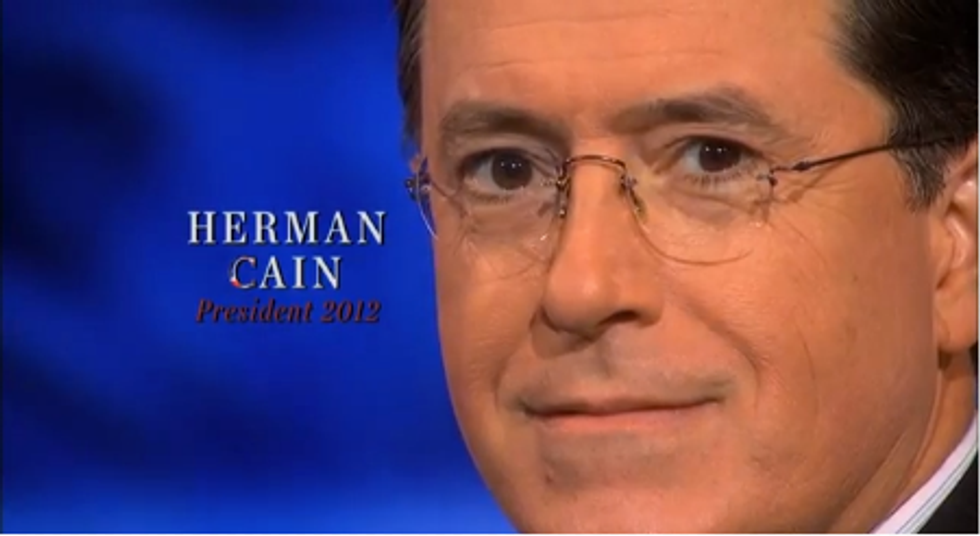 ---
\n
In
Buy You a Drink
, GOOD's resident mixologist concocts tasty beverages for prominent public figures. This week: a drink commemorating
Stephen Colbert
's overwhelming success in South Carolina's Republican primary.
As every citizen of Colbert Nation knows, Stephen Colbert is a humble guy. He doesn't like to boast about his own accomplishments or exaggerate his own importance. In fact, I understand he spends 40 minutes in front of a mirror every day, just checking for signs of hubris and inspecting how much humility agrees with him.
As the country's foremost news-cycle-driven mixologist, I know just how he feels. It's hard to be humble when you're altering the course of human history—say, by shifting the tides of public opinion in the race for the Republican nomination. And make no mistake, Nation: Stephen Colbert did exactly that last weekend. Colbert's game-changing surrogate almost-candidacy produced such a ripple effect on Republican voters that South Carolina gave us the first Republican primary winner not known for wearing sweater vests or magic underwear. (In fact, I understand that Newt Gingrich prefers crotchless underwear. It's like an open marriage for your scrotum.)
On the heels of this victory, I fully expect Stephen to place humility aside, put his feet up, and bask in the adoration of the national media. I imagine he's asked butler Bill Richardson to cancel his regularly scheduled Mirror Time this week, fill his Coffee Mug of Triumph with rich, hot Rick Santorum Roast (you would not believe the discount you can get on those Keurig pods), and pop in his inspirational morning mix, More Songs About Buildings and Reagan.
But soft! What skullduggery is this? Apparently the accursed mainstream media doesn't see this as a major victory for Colbert Nation. Stephen must be spitting hot Santorum after seeing how they've tossed his historic accomplishment into the ol' Liberal Media Spin Cycle, leaving it wrung out, shrunken, and disquietingly pink. Sort of like Ron Paul.
As someone who knows what it's like to be underappreciated in your own time, I'd like to buy Stephen Colbert a drink.
The call: Sweet, Sour, Red, White, and Blue
Folks, this South Carolina primary experience has taught me that you can't trust the media, or roughly 98.9 percent of likely Republican voters. Fortunately, the master list of Things Colbert Nation Still Trusts has three items on it: America, major corporations, and booze.
I humbly propose an All-American cooler built around Jack Daniel's, one of America's best-selling exports (along with Transformers movies, Freedom, and obesity) and a stalwart friend of Colbert Nation. I mixed the Jack with purely American-made ingredients to create the "Ken Walczak Presents the Sweet 'n Sour Stephen Col-Pear, a Cocktail for Stephen Colbert."
Ken Walczak Presents the Sweet 'n Sour Stephen Col-Pear, a Cocktail for Stephen Colbert:

1¾ oz. Jack Daniel's Old Time Old No. 7 Tennessee Whiskey
½ oz. Sutton Cellars vermouth
¾ oz. Aqua Perfecta pear liqueur
½ tsp. superfine sugar
2 drops Fee Bros. peach bitters

Shake with cracked ice; strain into an ice-filled glass. Top with a splash of club soda, or for extra Americanity, a splash of Coca-Cola. U! S! A! U! S! A! Oh, and a squeeze of lime, too.

\n
I understand that Stephen generally drinks his Jack Daniel's straight from the bottle. I assume he does this to cut down on glassware, because he doesn't approve of glass-blowing outside of marriage. But I hope he'll make an exception for a spry little sipper that balances the sour mash whiskey and the tang of the S.C. vermouth with orchard fruits worthy of the Southern primaries—while still delivering enough liquor to burn a Sherman-esque swath through your liver.
If you squint hard enough, the Sweet 'n Sour Stephen Col-Pear also looks a little bit like Champagne, but without all that despicable Frenchiness to tarnish your drinking experience. Most importantly, it pairs beautifully with Colbert's erstwhile sponsor, Spicy Sweet Chili Doritos. I expect that will be a major selling point to a man still crunching his way through a lifetime supply of said Doritos.
Not that Stephen is the only one worthy of a celebratory drink. Colbert Nation provided the inspiration, the heart, the Colbertmentum behind this Colbertmentous accomplishment. All Stephen did was establish a SuperPAC; raise an ungodly amount of money from corporate persons and personate persons; declare his intention to form an exploratory committee to lay the groundwork for his possible candidacy for President of the United States of South Carolina; relinquish control of his Super PAC and all its sweet, filthy lucre to business partner Jon Stewart; organize the last-minute Rock Me Like a Herman Cain: South Cain-olina Primary Rally at the College of Charleston; overcome the vehement opposition of a gaggle of vicious attack moms and, in an unexpected twist, the suddenly treacherous Herman Cain himself; and successfully convince more than 6,000 South Carolina-cans to vote for Stephen Colbert… by punching their ballots for Herman Cain. His loyal viewers did the rest.
Cheers, Nation. Let's raise a glass to a Republican race that's suddenly gone pear-shaped. To you, the heroes who made it happen. And to a true American original: the Ken Walczak Presents the Sweet 'n Sour Stephen Col-Pear, a Cocktail for Stephen Colbert.
Send your suggestions for improving this week's recipe, or your tipsy electoral forecasts, to Ken Walczak at mixologymailbag@gmail.com. Send your comments about the relative quality of Jack Daniel's to the Brown-Forman Corporation at Brown-Forman@b-f.com.
Articles