Articles
Cheap Ways to Get Solar Panels for Your House
Solar panels are a good investment, but the start-up costs can be prohibitive. Here are some ways to get your solar panels for free.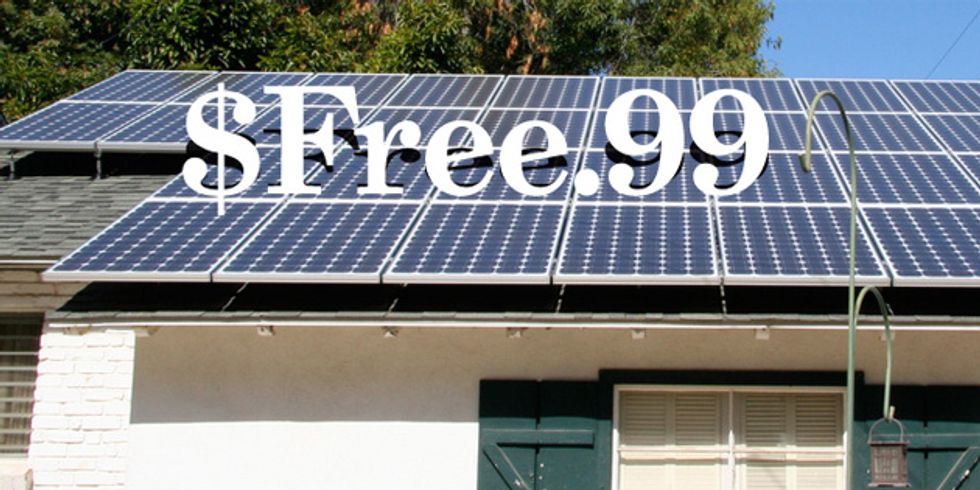 Solar panels are a good investment, but the start-up costs can be prohibitive. Here are some ways to get your solar panels for free.
So you want to supplement—or perhaps even replace—your electrical grid power consumption with rooftop solar panels, but you don't want to pay thousands of dollars for a solar panel kit. There are, fortunately, a number of cheaper solar power options available—if you know where to look.
---
One popular solar purchasing model that has sprung up in recent years is the group purchase, which operates on the idea that everything is cheaper when bought in bulk. San Francisco-based startup One Block Off the Grid offers city-based collective purchasing for solar panels. The startup vets solar installers and negotiates for the lowest prices it can get based on how many people in a city join a particular solar purchasing campaign (each campaign only goes on for a limited amount of time). One Block Off the Grid also helps homeowners navigate city and state solar rebates, making the purchasing process significantly less headache-inducing.
Perhaps the most enticing solar model comes from companies like SunRun, Sungevity, and SolarCity, which lease rooftop solar arrays with a small upfront fee (sometimes) combined with monthly payments. This model is easiest for customers who suffer sticker shock from the high cost of solar panels—and don't want to commit to purchasing an array.
Sungevity's system is simple—customers request an "iQuote," Sungevity's team of solar designers estimates your financing options and potential monthly savings, and you choose whether to buy a system or get a solar lease. Sungevity has no upfront fee, instead relying entirely on small monthly payments. The company claims that the combined cost of the payments plus the cost of a monthly electricity bill augmented by a solar installation is probably lower than your current electricity bill. Sungevity takes care of all maintenance, too.
SunRun (the leading home solar company in the United States) and SolarCity offer equally simple leasing plans. Choosing between the three is easy enough—do a little investigating to find out which offers the best deal for your home.
Don't want to go through a third party for your solar installation? It's still possible to save plenty of cash. The U.S. Department of Energy provides a handy database of state incentives for renewable energy and energy efficiency. The site yields city-specific information—telling us, for example, that Boulder, Colorado, offers a 15 percent rebate on photovoltaic and solar water heating installation, and that the city's ClimateSmart Solar Grant Program gives grants for solar power on affordable housing units.
In a perfect world, rooftop solar panels would be cheap enough that customers wouldn't have to navigate through rebate deals and third-party leasing offers. That might not happen in the near future, but researchers are working on solar cells that could literally be painted onto rooftops using nanoparticle "inks." Once that happens, solar cell costs could be slashed to a tenth of their current price—making the dream of affordable solar power for all a reality. Until then, if you're interested in solar power, you still have options.