Articles
Collaborative Effort Targets STEM Teacher Shortage
100Kin10 needs all hands on deck to bring 100,000 excellent STEM teachers into classrooms over the next decade.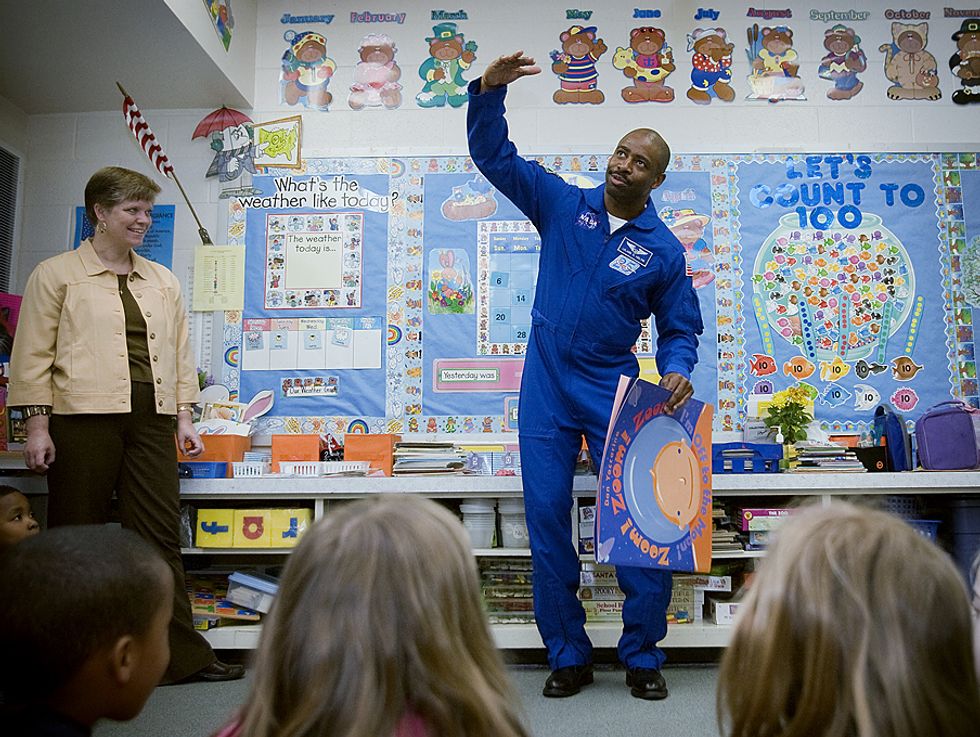 Can a joint effort of educators, private businesses, nonprofits, and government partners solve the teacher shortage in science, technology, engineering and math? That's the goal of
100Kin10
, a movement created specifically to bring 100,000 more STEM teachers into classrooms over the next decade.
100Kin10 kicked off in January, after the Carnegie Corporation of New York and Opportunity Equation gathered a group of partners concerned about the nation's STEM literacy deficiency. Evidence shows that having excellent STEM teachers sets children up for success, so the group brainstormed how to best increase the number of qualified STEM teachers, and keep them from leaving the classroom.
---
Nine months later, the effort has the support of over 80 partners, including STEM heavyweights like NASA and Google, as well as major education players like the New York City Department of Education and Teach For America.
Each partner has committed to specific steps to further 100Kin10's goal. NASA associate administrator for education Leland Melvin says both of his parents were middle school teachers, so he's seen the impact "an enthusiastic, dedicated teacher can have on a student's life," he says. NASA has agreed to "leverage their facilities, missions, data, images, and staff to support training and development of educators by providing access to research opportunities, science and engineering activities, and innovations and technologies applicable to the classroom."
The nation's colleges are also part of the effort. The California State University system, for example, has agreed to prepare 1,500 new math and science teachers a year through 2015. They plan to ensure that half of those teachers head to schools in high-need areas and stay in those schools for at least three years. (Full disclosure: GOOD/Corps, the agency division of GOOD that works with corporate partners, is a 100Kin10 partner.)
In addition to these partnerships, 100Kin10 has secured nearly $20 million in funding and has been applauded by both President Obama and President Bill Clinton. Clinton gave 100Kin10 a boost back in June at his Clinton Global Initiative America Meeting in Chicago when he urged businesses and foundations to get on board. Obama echoed his call for collaboration last week at another CGI event in New York City, noting that America's future "demands that we give every child the skills and education they need to succeed."
Photo via Sean Smith, NASA