Articles
Creating a Better Food System, One Dinner at a Time
The 30 Project launches in San Francisco with a simple mission: have dinner, change the world.
As often happens when one turns 30, Ellen Gustafson hit the major milestone and realized she wanted to do something more meaningful with her life. A co-founder, with Lauren Bush, of the successful FEED Project, which creates projects to help feed the world, she realized that she didn't want to be providing food for hungry children 30 years from now. She wanted to help eliminate hunger altogether by then instead. So Gustafson started The 30 Project which aims "to be the table that brings the best people together to work towards creating a truly healthy and sustainable global food system."
Gustafson introduced the project here on GOOD, and we'll be calling on our readers to host their own dinners as the project develops.
---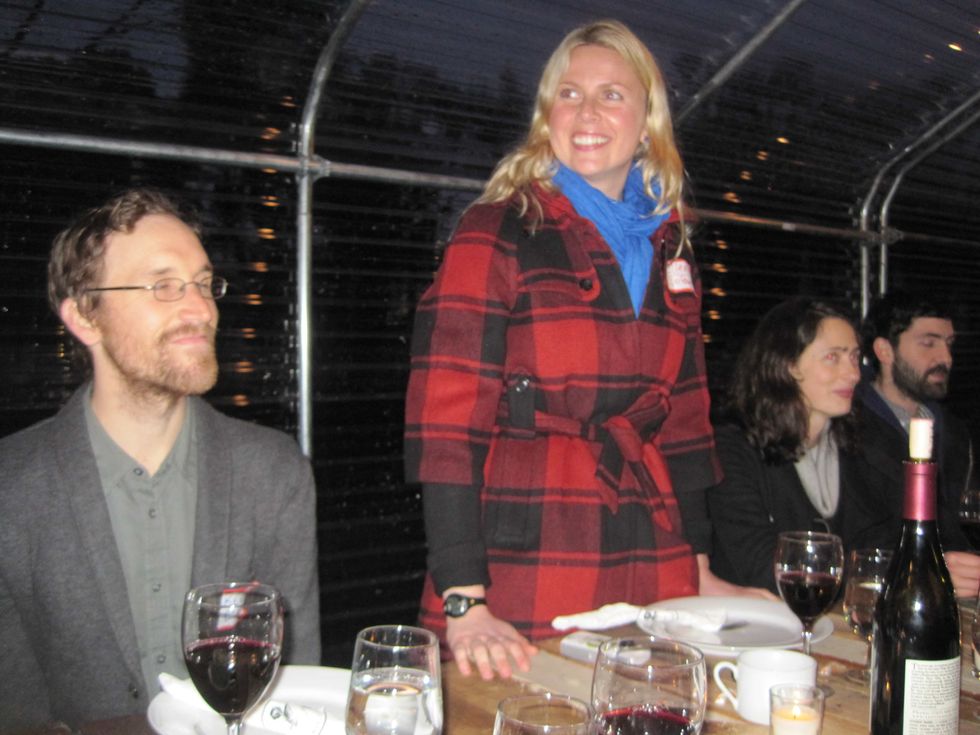 Last week, I attended the first of 30 dinners to be held in 30 cities. Each will bring together key organizations and activists working around the world on addressing hunger, obesity, and agriculture issues to talk about their visions for the food system in the next 30 years.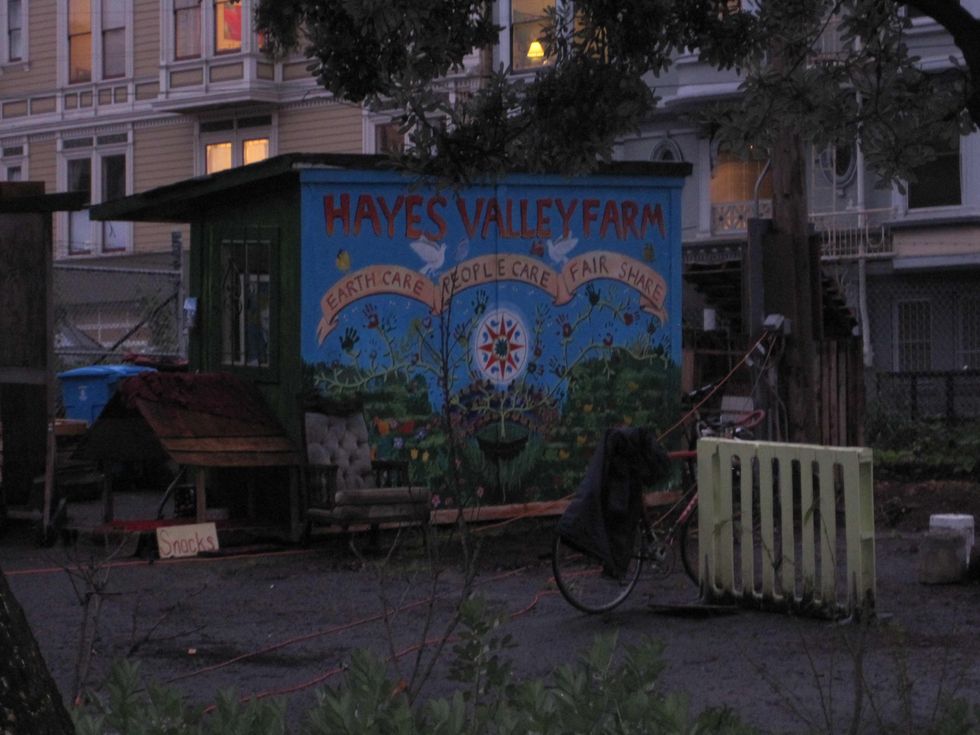 A diverse array of stakeholders in the world of food gathered at San Francisco's wonderful Hayes Valley Farm, 2-1/2 acres of rich, organic soil located where a freeway overpass once stood. Dressed for the wet weather, were undeterred by the rain, chill, and mud and warmed by Maker's Mark and tasty appetizers. On a quick farm tour, we marveled at the site's transformation and especially oohed and aahed at the cool greenhouse/classroom/dining hall built by volunteers from
Architecture for Humanity
(who'd been attaching screws in the afternoon's downpour). We sat down at
C-Lab's
inventive, lightweight, collapsible, and portable dining table (GOOD checked in on the
architect Jeffrey Inaba
last month), and got ready to discuss our personal visions for the future of food.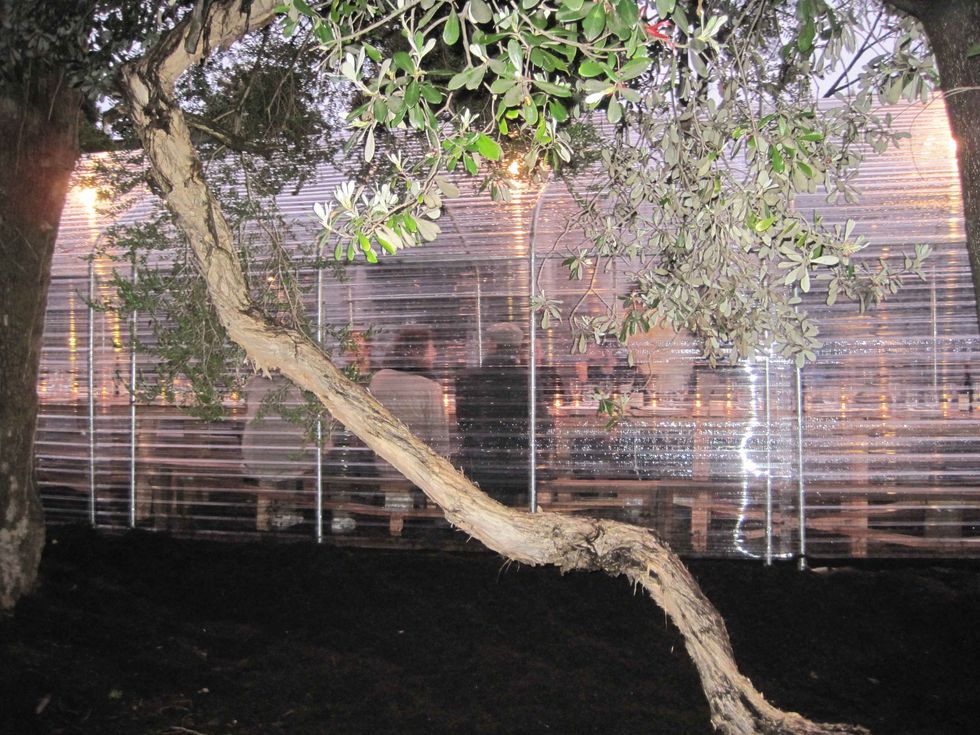 Wine was flowing freely as decadent trays of everything from grilled lamb to dessert of bread pudding with crème Anglaise, were passed down the long table, courtesy of chefs from Chez Panisse,
Dinner Discussion
, and nearby Nopa restaurant, who all bravely performed their culinary craft on makeshift grills protected only by windblown blue tarps.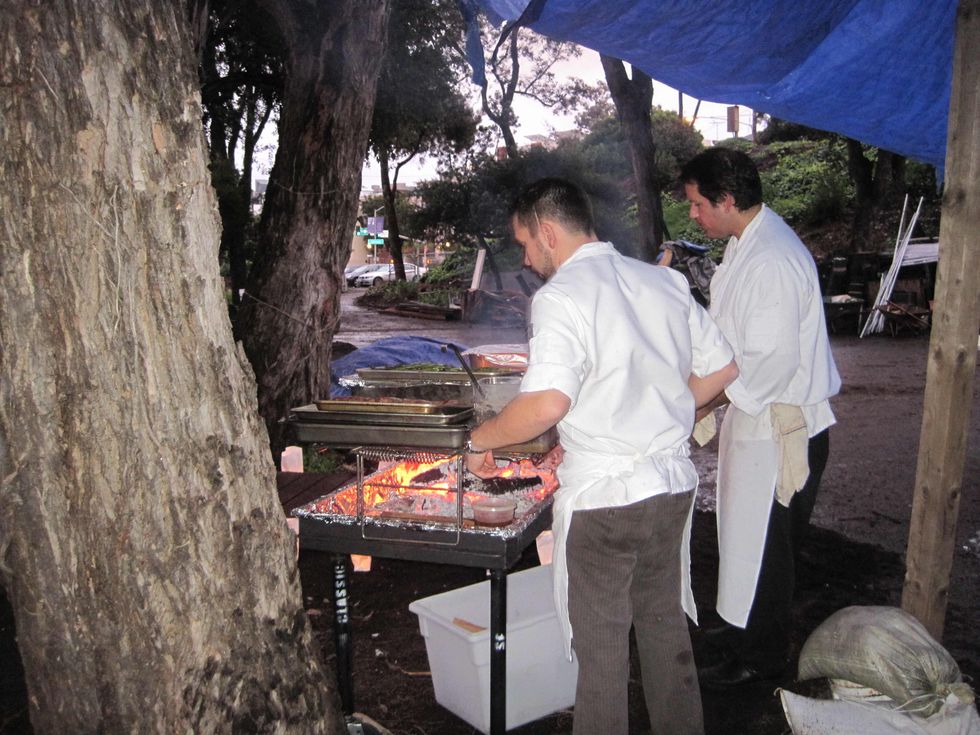 Though the threat of a bigger storm was looming, only the occasional raindrop made its way inside as each of the 30 guests offered their personal visions for the future of food. Nikki Henderson from Oakland's People's Grocery spoke of unequal access to food (and to education), particularly in communities of color, and spoke of her hope that people can be empowered to create the communities they want to see. Temra Costa, author of
Farmer Jane: Women Changing the Way We Eat,
saluted the number women at the forefront of the food movement.
Civil Eats'
food blogger Twilight Greenaway pointed to the tension between food workers: those who grow and gather vs. those who prepare and serve. Others offered prayers of thanks while another toasted to "a sense of place, of pace, and of ritual." One woman called for the need for new ways of measuring wealth beyond GDP while another sought the complete dismantling of corporate control over our food.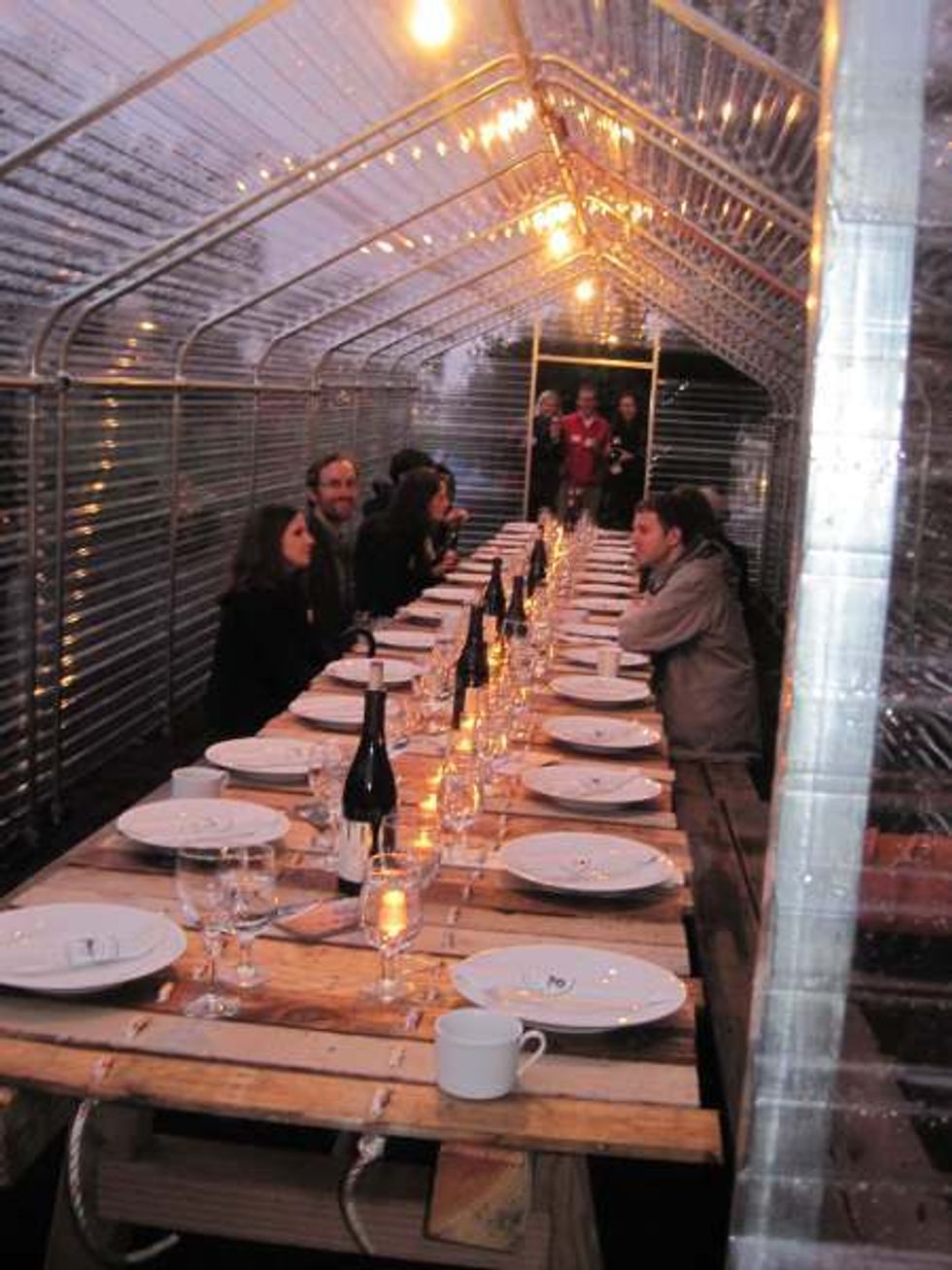 \n
During the course of the evening, I talked apple cultivars with an urban farmer and discussed food strategy with a consultant from Safeway who spoke of the struggles around price, distribution, and consumer expectation. A former marketing executive of a major beverage company and I explored ways to effect change in cooperation with corporate food conglomerates.
San Francisco is an epicenter of local, sustainable food so it's not surprising that there wasn't much in the way of debate at the table on this particular evening. It's hard not to feel like you're preaching to the choir here. But as The 30 Project makes it way across the country, holding dinners in places were composting, biodynamic wine, and 100-mile diets are not de rigeur, it will be interesting to see how the conversation develops, the issues recast, the ways the issues and challenges are reframed.
The next dinner will take place at the site of a veteran's training program for farming San Diego.
GOOD will join The 30 Project
in Los Angeles later this year, and we'll be co-producing the
GOOD Guide
to Hosting Your Own 30 Project Dinner. As the project develops, the idea is for anyone concerned with the future of food to host their own dinner, the more the better, says Gustafson. "Our food system is about 30 years old. Here, and in the 29 cities to follow, we can have a better food system if we talk about long term change. At the very least, if two organizations who didn't know each each other before one of these dinners might end up spending some serious time together working on solutions, then we're headed in the right direction."
Watch this space for future dinners and ways to get involved. You can also sign up for updates and info at
The 30 Project
.