Articles
Energy In Common: It's Like an Environmentally-Conscious Kiva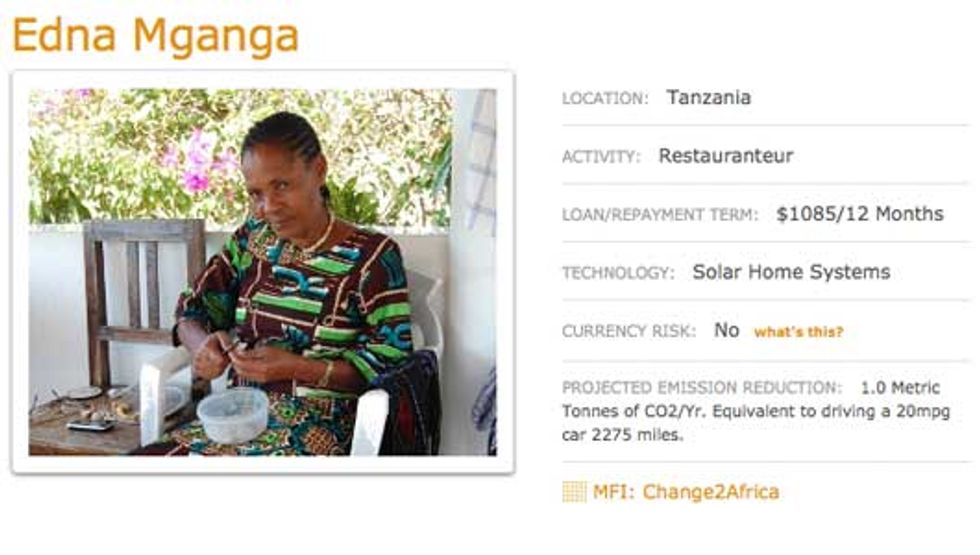 ---
I just invested $25 in a set of solar panels in Tanzania with
Edna Mganga, a restauranteur with spotty power who is raising $1,085 to buy the panels for her business
. Electricity isn't always available in her neighborhood, and her panels will allow her to ride out outages and save money on her power bill.
If everything goes according to plan, my $25 will be repaid by Edna in a year's time.
If you've heard of
Kiva
, the micro-lending agency made especially famous with a Bill Clinton endorsement, my investment might sound familiar. Whereas Kiva lets you lend money to developing world entrepreneurs to invest in their businesses (typically by purchasing merchandise, expanding and upgrading their space, or making large equipment purchases), the newly launched Energy In Common site channels your investment specifically toward buying renewable energy systems like solar panels.
One of the cooler things that Energy In Common does is estimate the emissions reduction created by each investment. In my case, Edna's solar panel will reduce emissions by one metric ton of CO2 each year—the equivalent to driving a 20 mpg car 2,275 miles (stats provided by Energy in Common). My $25 investment gives me dibs on about 50 pounds of CO2 out of that total; considering that my $25 will be paid back to me in time, it's a great deal.
Most people won't invest their money in Energy in Common because they're trying to boost the numbers on their offset portfolio, they'll do it because it's a great thing to do. Those of us lucky enough to be raised to take energy for granted owe something to those in the developing world who are working to catch up. A lot of people don't have regular access to energy, and when they do it's often dirty and expensive.