Articles
Five Lessons From The World's 10 Biggest Employers
If jobs are the big economic problem, the ten organizations that create the most of them must have something to tell us.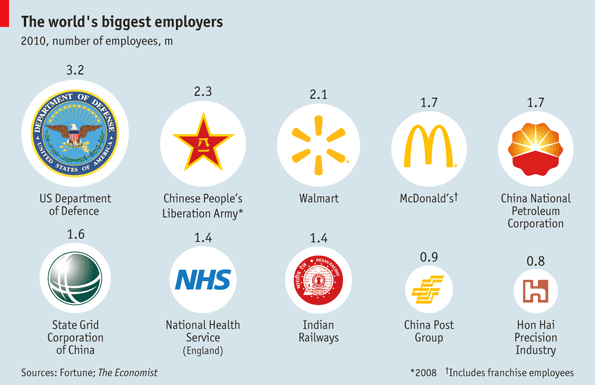 Earlier this week,
The Economist
published this chart
of the world's largest employers. After all, if jobs are the major hurdle to economic growth, and they are, the organizations that create the most of them must have something to tell us.
1. Governments create jobs. Not just socialist governments, either: The world's largest employer is the U.S. Department of Defense, which has hired the equivalent of 1 percent of the U.S. population. But the Chinese armed forces and its state utilities, the United Kingdom's national health service, and India's railway system are all major employers. That's not to say that state-run companies are a good idea in every space, but it's long past time to put to rest the idea that the public sector can't create jobs, and start thinking of the best way for it to do so.
---
2. Global is the way to go. Most of these companies succeeded by going global: The Defense Department has franchises all over the world (some of which are more valuable than others). Walmart and McDonald's have grown because they have outposts around the globe, and Hon Hai Precision Industry (the company that makes everything from iPads to iPods to ... iPhones) succeeds because it manufactures for export around the world.
3. The United States drives the service industry. The two biggest private sector employers are Walmart and McDonalds. The two American companies have succeeded internationally thanks to strong brand recognition, supply chain management and their consumer orientation. No other country has been as successful at creating consumer-facing companies that span the world.
4. But not manufacturing. Hon Hai Precision Industry is the largest production company in the world, and on the list. The company specializes in process innovation, creating some of the most effective and efficient manufacturing in the world. But it's not so good at taking care of its employees, who are underpaid by U.S. standards and face high-stress working conditions. Forecasters expect the U.S to lose its lead as the globe's top manufacturer this year (after 110 years on top), so figuring out how to bring more production home, especially high-value production, should be part of the economic recovery.
5. Emerging markets are in the lead—and that's not necessarily a bad sign. Many of the major employers are Chinese and Indian because those countries have the world's largest populations and, in China's case, one of the most centralized economies. It makes sense that their state-run utilities would be major employers. Economists expect China to focus more on creating a domestic consumer market, which could result in more fragmentation and competition among the big state-run companies.