Articles
GOOD Voter Guide to California: Controller
Who's running for controller in California, and what you need to know about them.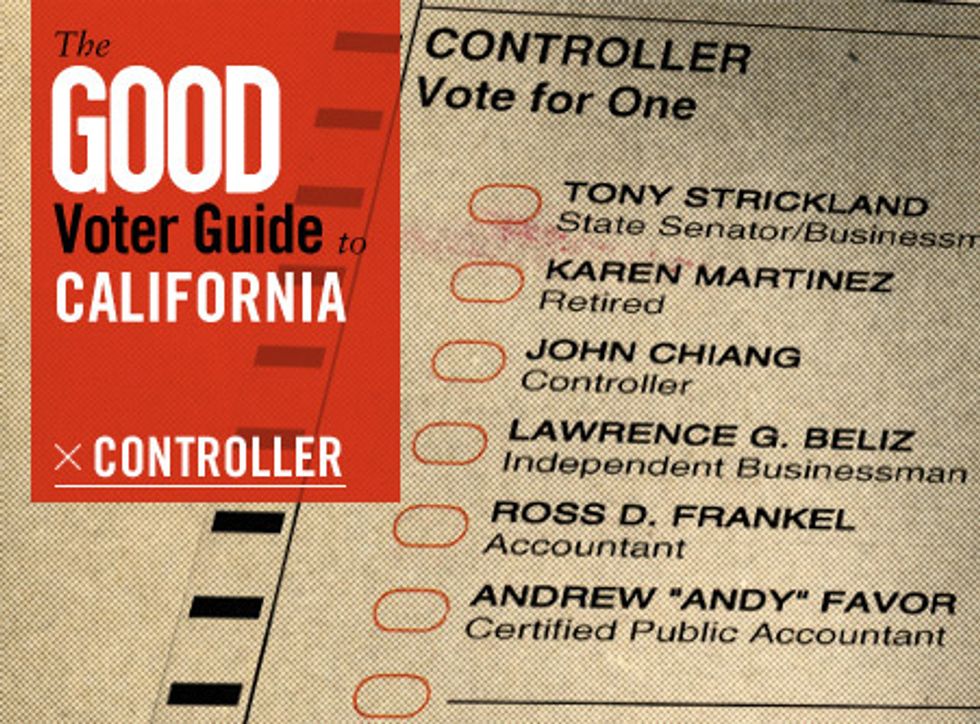 Over the course of the next two weeks, we will be publishing primers about the important items on the ballot in California as part of our GOOD Voter Guide.
Controller is California's CFO, the "state's independent financial watchdog" over government use of tax dollars. Accounts for state government income and spending and guides local government.
---
John Chiang
Political Party: Democrat
Candidate Platform: Chiang wants a process that holds politicians accountable for passing timely budgets, without excessive borrowing, and without "fancy" accounting tricks. As Controller, he has fought to close special-interest tax loopholes and wants to reform the state pension system. He also wants to upgrade the technology in the Controller's office and return unclaimed property to state residents.
Background and History: Chiang was born in New York and went on to receive degrees in finance and a law. He served on the California Board of Equalization from 1997 to 2006 and was elected State Controller in 2006.
Economic Responsibility / Justice: In July 2008, Chiang refused to implement Schwarzenegger's proposal to decrease the pay of 200,000 state employees to minimum wage. A year later, Chiang made the bold move of issuing IOUs instead of checks while the legislature was still hashing out the budget.
Environmental Responsibility: He has joined with institutional investors to call on federal lawmakers to enact a national standard to address global warming. While on the State Land Commission, he opposed new offshore oil leases.
Fun Facts: He is apparently so beloved by state workers that one of them pasted his face on a picture of the body of a saint with the caption "St. John."
Key Donors and Endorsements: California Democratic Party (CDP); California Labor Federation AFL-CIO; California League of Conservation Voters; Lee Baca, Los Angeles County Sheriff; San Francisco Chronicle
Sources:Los Angeles Times; Sacramento Bee; John Chiang campaign Website; SF Gate

Andrew "Andy" Favor


Political Party: Libertarian
Candidate Platform: Favor pledges to put "taxpayers first." He is described as "pro-business, pro-freedom, and frugal," and his top three priorities are to Implement a private account alternative to Social Security; to expand health savings accounts; and to improve education quality through privately owned schools and school-choice vouchers.

Background and History: Favor is a graduate of San Diego State University and has lived with his wife Lisa and their two children for the past 21 years in Laguna Niguel. He is a practicing CPA specializing in small business. He has run three times for state assembly and he was treasurer of the Libertarian Party of Orange County in 2005 and 2006.


Civil Rights: Favor argues for the need to outsource prisons to other countries, conceding that "Yes, it is not ideal to outsource our prisons. But the global competition we face demands that we seek efficiency in all aspects of government."
Economic Responsibility / Justice: Contending that California does not have a revenue problem, Favor instead insists the state has a spending problem. To combat this, he promises to fight "ill-conceived pork giveaways like the high-speed-rail proposal."
Health Care: The solution lies in the private sector, says Favor, as well as health savings accounts. "I think every American, legal or otherwise, should be able to pay their health insurance premiums with pre-tax dollars regardless of who they work for."
Education: Looking to Chicago school economist Milton Friedman, Favor believes California should privatize education. He believes that we "need a system where bad schools go out of business and good schools thrive," and supports the voucher system that gives parents more choice.
Reproductive Freedom: He thinks that the pro-choice argument has "some validity," and thinks California should try to reduce the abortion rate through persuasive measures rather than legislative ones.
Key Donors and Endorsements: James Gray, retired Superior Court Judge and Ms. Holly Clearman, Ron Paul, and several others.
Sources: Andy Favor campaign Website; Vote Smart; California Voter Guide

Ross D. Frankel

Political Party: Green
Candidate Platform: As stated on his campaign website, Frankle aims to "bring fairness and reasonableness to our State's tax structures; reform State government process and reform California's legislature; and bring independence to the Controller's office from the "Titanic political machines."

Background and History: Frankel was born in Los Angeles and has lived there his entire life. He received his bachelor's from Loyola Marymount College has worked in accounting and as a public school teacher.


Economic Responsibility / Justice: He has proposed a new tax rate on all goods and services, supports reforming property tax laws to account for fluctuations in value, and encourages a more progressive property tax.
Environmental Responsibility: As a member of the Green party, he supports environmental protections, though he is not opposed to all offshore drilling. Still, he supports strict environmental protections in the cases where it offshore drilling is sanctioned.
Health Care: Frankel supports affordable health care but does not specify the means to that end.

Fun Facts: In his candidacy, he has decided not to accept any donations personally, asking all potential donors to give to the Green Party instead.

Key Donors and Endorsements: Thhe Green Party, Los Angeles County Council, and
Michael Feinstein.

Sources: Smart Voter; Ross Frankel campaign Website

Tony Strickland









Political Party: Republican
Candidate Platform: Strickland believes in the importance of the government to manage resources efficiently while remaining accountable to tax payers. He prioritizes growing California's economy through job creation, waste reduction, corruption reduction, and a balanced budget. He also strongly opposes raising taxes.
Background and History: Strickland was first elected to the state assembly in 1998 and has served as Chairman of the Assembly Republican Caucus, which is the second-highest ranking position for a Republican in the assembly. In 2004, Strickland had to step down from the assembly seat due to term limits, and his wife, Audra Strickland, got the job. In 2006, he ran for Controller but lost, and in 2008, he was elected to the Senate. During his time in the Senate, he has authored many bills ranging from putting more limits on the rights of sex offenders to declaring Feb. 11 Ronald Reagan Day.
Civil Rights: Strickland strongly opposes gay marriage.
Economic Responsibility / Justice: Strickland believes there has been a huge amount of waste and overspending of taxpayer dollars, citing school-system renovations and the City of Bell administrators' excessive misappropriations of city funds. Strickland is a strong proponent of exposing these issues and being accountable to the taxpayer. He also is very strict on his "no new taxes" stance.
Environmental Responsibility: Strickland is the vice president of GreenWave Energy Solutions LLC, a company that is focused on harnessing ocean wave energy. Throughout his career he has campaigned for a more energy-efficient economy and transitioning California to more renewable energy sources. He is a strong supporter of creating green jobs in California.
Education: Strickland believes schools are appropriately funded, and that the problem is that their funding is mismanaged.
Reproductive Freedom: Strickland is anti-abortion.
Fun Facts: Tony and Audra Strickland are the second husband and wife team to serve concurrently in the California State Legislature.

Key Donors and Endorsements: Mitt Romney, Meg Whitman, the California State Senate and Assembly GOP.

Sources: Tony Strickland campaign Website; Wikipedia; Political Vanguard; Vote Smart; Ventura County Star

Some disclaimers: This guide is a volunteer operation, not produced by GOOD. Due to research fatigue, lame candidate websites, and Murphy's Law, you may spot a mistake or two. Some candidates simply don't provide a lot of info, and our researcher styles varied, so some profiles may differ or seem a bit incomplete.