Articles
How College Students Are Using Privilege to Protest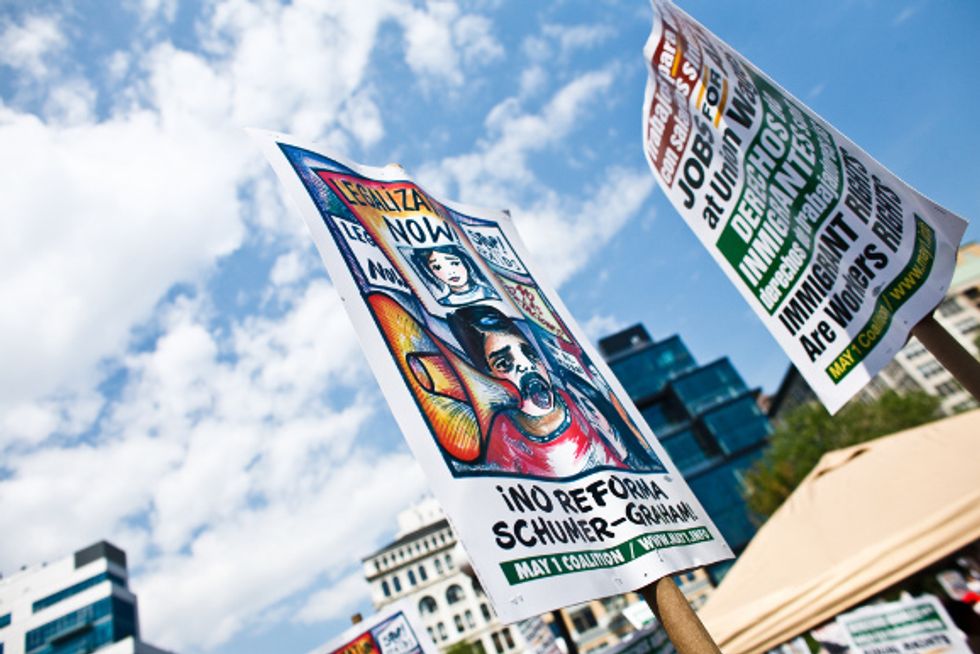 ---
For some students
, spring semester has meant a tad more than cramming for finals and thirsty Thursdays. When many have looked the other way, students groups have mobilized and advocated for those whose voices have gone unheard.
On Yale's campus, as Arizona Senate Bill 1070 became a reality, several students decided to stage a mock raid. During a seemingly normal lunch period, students dressed in uniforms, aggressively arrested students, and asked random witnesses to show their identification. The demonstration sparked awareness, and more organizations joined their initial coalition.
And last week, students organized a teach-in, which was devised in a similar fashion to the mock raid. The students set up the area to resemble the unjust treatment of illegal immigrants; a large canvas tent with mattresses as seats was surrounded by chicken wire. Unlike most student-run demonstrations, a series of high profile professors spoke and passionately emphasized the importance of protesting this bill. Alejandro Gutierrez, a freshman at Yale, and one of the organizers said, "I fear that dehumanizing migrants will become the norm, and I fear for the future of my family. That is why I feel the need to act, and educate others on what is going on in Arizona."
Meanwhile, Tulane students were busy organizing their own protest.
A few weeks ago, Brian Ford and Lauren Elliott, two members of the Tulane University Solidarity Committee,
were quoted in The Louisiana Weekly
. In it they described that Sodexo workers, who oversee the campus' catering facilities, had been intimidated by managers for trying to unionize, and had asked the students to help them advocate.
Tulane, which has poured millions of dollars into creating an Office of Public Service, and requires students to complete two semesters of community service, should have been pleased. Students were getting press for their activism and showing their commitment to advocating for New Orleans citizens.
Instead, Ford and Elliott received letters from the Office of Student Affairs, accusing them of a series of violations: interference with the educational process, interference with freedom of expression of others, abusive or disorderly conduct, and harassment or intimidation. On the same day their letter was addressed, 50 out of 54 Sodexo workers participated in a one-day strike. Many of the Sodexo workers, despite having over 30 years of experience were still making less than $9 an hour.
Back in March, different student groups collaborated to write a letter to the President of Tulane, Scott Cowen. They highlighted Sodexo's mistreatment of their workers, and pointed out how Tulane, which is the largest employer in the city, has an obligation to hold Sodexo to its core values. Cowen once told the student body, "the measure of your life will ultimately be determined by what difference you make for others not just what you do for yourself." Cowen responded, but the letter emphasized Tulane's inability to demand any changes to an outside vendor.
Sodexo, which is the target of a national campaign by SEIU, quickly sent executives to New Orleans to meet with students. Sodexo representatives told students it was a teachable moment, but when students asked why no workers were at the meeting, Sodexo representatives claimed they would not understand these issues. Throughout the letter writing and Sodexo negotiating process, Tulane remained on the sidelines, but when the workers walked out, the lead organizers were disciplined.
For universities who preach teaching their student body how to advocate for others, this is the type of activism that should be rewarded. Students are quickly organizing and building coalitions—ultimately using their privilege for the greater good.
Nathan Rothstein has spent the last four years working in a variety of Katrina-related recovery projects. He blogs about Gen Y leaders for True/Slant.
Photo
(cc) via Flickr user

thomas

.