Articles
How to Rectify Our Military's Culture of Rape?
A new lawsuit alleges Defense Secretaries Robert Gates and Donald Rumsfeld have allowed rape to proliferate in our armed forces.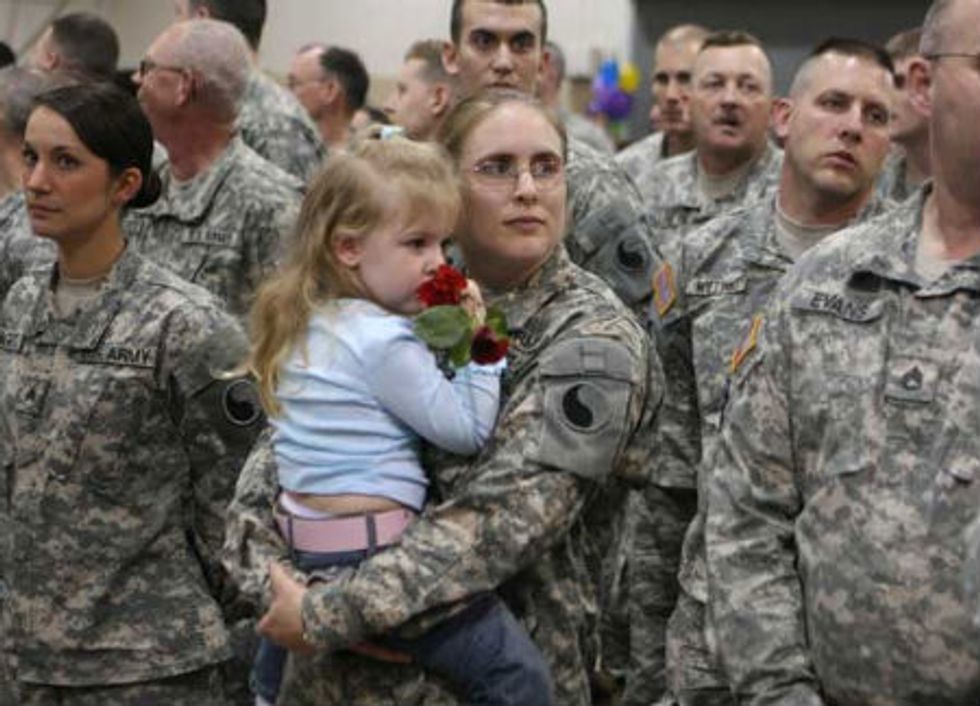 Seventeen litigants on Tuesday filed a lawsuit against Defense Secretary Robert Gates and his predecessor, Donald Rumsfeld, charging that the United States has allowed a dangerous rape culture to persist within our armed forces. As details emerge about the violent assault on CBS News' Lara Logan in Egypt, the fact is that violence against American women overseas is something that often hits rather close to home.
---
The suit—filed by 15 women and two men—details many specific instances of assault in all branches of the military, though two of the most egregious are jaw-dropping:
Kori Cioca, the lead plaintiff, said she was constantly harassed by her Coast Guard supervisor. After she made a mistake during a knot-tying quiz, he called her a "stupid fucking female, who didn't belong in the military" and then spit in her face. After complaining to her superior, the abuse escalated to stalking, sexual harassment, and ultimately rape in December, 2005. Despite an admission from her rapist, commanders told Cioca if she pressed charges she would be court-martialed for lying and later faced retaliation.
Rebekah Havrilla was an Army sergeant serving in Afghanistan in 2006 when she was sexually harassed by a supervisor and later raped by another soldier. She reported it under the military's restricted reporting policy. When she later saw her rapist at a base in Missouri, she went into shock and sought the help of a military chaplain. She said he told her "it must have been God's will for her to be raped" and recommended she attend church more often.
Havrilla also claims that, when sexual assault is addressed in the military, nobody takes the lessons seriously:
Once, during a sexual-assault prevention training, the 28-year-old South Carolina native claims, she watched a fellow soldier—male—strip naked and dance on top of a table as the rest of the team laughed.

\n
Though the suit holds both Gates and Rumsfeld at fault, it takes particular aim at the latter, alleging that, while desperate to fill the ranks at the start of the conflicts in Afghanistan and Iraq, he granted "moral waivers" to recruits convicted of domestic or sexual crimes. With a military freshly full of sexually predatory criminals, sex crimes in the armed forces leapt by 24 percent in 2005, the year before Rumsfeld resigned.
For his part, Gates has refused to create a centralized database of sexual assaults in the military, thus leading to "a steady and dramatic increase" in the violence. Indeed, rapes and sexual assaults in Afghanistan and Iraq jumped 25 percent in 2007, and they've been climbing ever since.
People often point to the horrible treatment of women in Iraq as one of the reasons our war there is righteous and just. The sick irony is that the American women fighting there are frequently treated just as horribly.
photo (cc) via Flickr user The U.S. Army