Articles
L.A. Schools Get Serious About Rehabbing Lunch Menus, But Will the New Food Help Kids Learn?
The debate about cafeteria food shouldn't just focus on health. It also affects whether teachers can do their jobs effectively.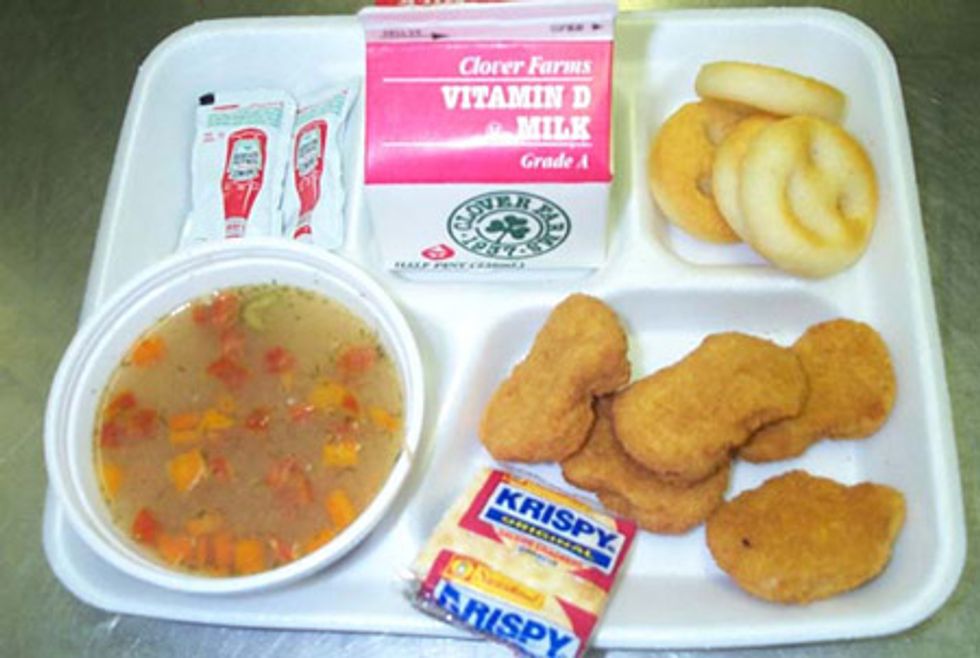 Chocolate and strawberry milk? Gone. Chicken nuggets and corn dogs? They're also being kicked to the curb. Chalk it up to spending months in the hotseat after clashing with chef Jamie Oliver and his Food Revolution reality show, but the Los Angeles Unified School District is putting the kibosh on sugar-filled flavored milk and fast food staples. Great, but are the new options—vegetable pad Thai, California sushi rolls, and spinach tortellini in butternut squash sauce—going to help kids learn? That may seem like an odd question, but here's why I'm asking: If students don't eat, they come back to class after lunch, sit at their desks, and stare into space like zombies. They can't concentrate.
---
As a former teacher who told students they needed to eat to fuel their brains, only to see them chuck the cafeteria frankenfood in the trash because it was so gross, I'm hoping the new menu is going to be accepted by kids. Students aren't learning if they're complaining, "Teacher, my head/stomach hurts." It's equally difficult to tell them, "Jose, you have a headache because you're hungry," or "Your stomach hurts because you're hungry." (And sometimes, eating the food made a student's stomach hurt, too.)
Teachers in every school district that serves large percentages of low-income students have had those kinds of conversations with their students. Think about it: if a student is on reduced or free lunch it's because their family doesn't have the money to pack a sack lunch to compensate for the unappetizing fare served in schools. If the student doesn't eat the lunch the school provides, she goes hungry. That's not uncommon, given the terrible quality of cafeteria food. Would you choke down a bad box of airplane food five days a week for months on end?
Many teachers spend their own money on a stockpile of fresh fruit and granola bars because without it, half the class will completely zone out of that after-lunch math lesson. But, because teachers are scared of lawsuits—if a kid has a litigious parent and nut allergies you don't know about, giving him a granola bar made on equipment that processes nuts could bankrupt you—too many teachers have no choice but to let students sit at their desks all afternoon, unable to focus because they're hungry.
Don't get me wrong, I'm glad LAUSD is trying to make the food healthier (although pad Thai isn't exactly low in fat or calories). But the bottom line is that the new menu options shouldn't just meet Jamie Oliver's nutrition standards. The real test isn't whether spinach tortellini in butternut squash sauce sounds better, but whether it actually facilitates learning. That, after all, is the point of school.
photo via Fill Your Plate