Articles
NASA Image: Tornado Scar Slices Across Massachusetts
Behold the awesome power of nature. Here's the view from space of Massachusetts' 39-mile tornado scar slicing across the state.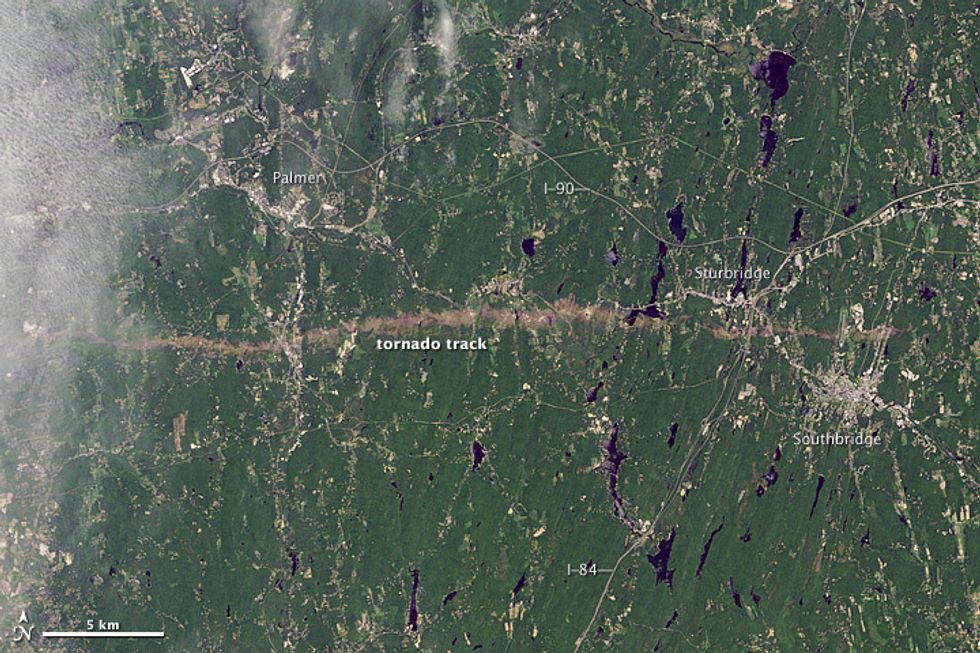 This is the scar of a deadly tornado as seen from space.
On June 1, a "severe" EF3 tornado touched down in Western Massachusetts, then picked up strength as it cut a fatal 39-mile track eastward. As you can see, it started in a more sparsely populated part of the state with damage limited mostly to trees, then crosses several more populated areas as the brown trail of upturned earth widens, before petering out.
---
Look how close the supercell thunderstorm cuts between Southbridge and Sturbridge, where the Boston Globe reported cars were overturned. In all, four people were killed by the storm.
As impressive as this scar on the Bay State may be, this wasn't even close to the most deadly tornadoes; as Ben points out in his fine reporting on the Missouri disasters, don't succumb to tornado fatigue.
Image: NASA Earth Observatory, created by Jesse Allen, using Landsat data provided by Julia Barsi of the Landsat Project Science Office.