Articles
Tell Los Angeles Where You Get Your Food
Download an app that helps The Foodprint Project track L.A. food purchases, then head to a food-focused party with the Levi's Film Workshop at MOCA.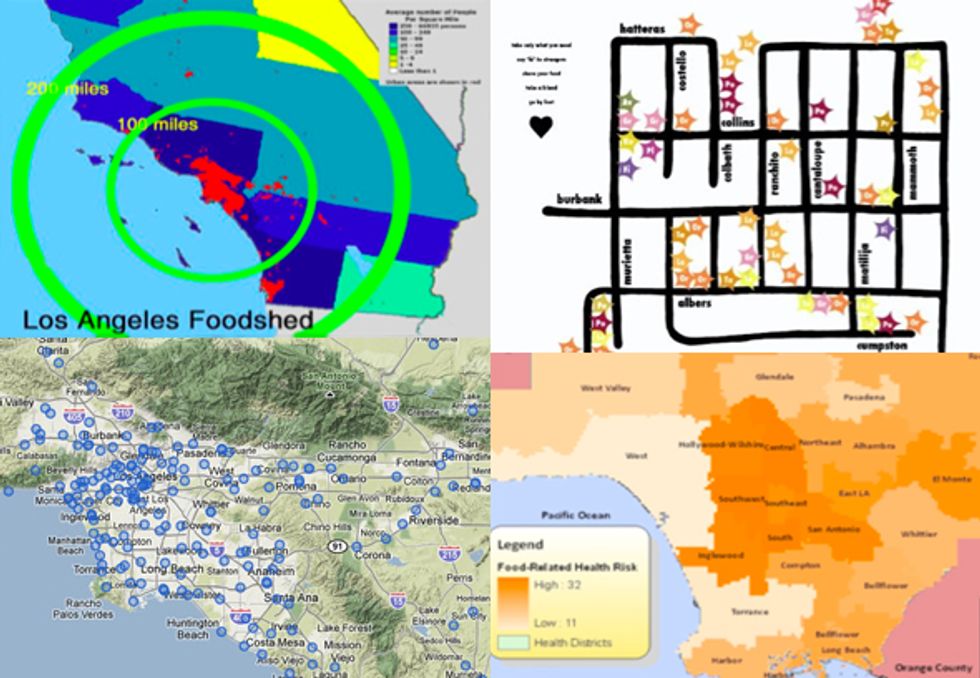 Ideally, the farmers within L.A.'s "foodshed"—the 200 mile radius around the city—could feed the 15 million residents of the Los Angeles. But right now, that's not the case. So where is L.A.'s food coming from? And how can we help L.A. feed itself more effectively?
---
The Foodprint Project, helmed by GOOD's former food editor Nicola Twilley and GOOD contributor Sarah Rich, is working with the Los Angeles Food Policy Council to answer some of these questions with a new app that lets Angelenos track the food they're buying, and where they're buying it. They're asking all L.A. residents to use the app when they shop. By participating, you'll be contributing key data that can improve the urban food system.
Here's how it works: If you live in the Los Angeles area, register for Kullect, then download the Kullect app for your Android or iPhone. Every two weeks, you'll get an email asking you to document a specific food purchase. First up: bananas. So during that period, each time you buy a banana, you'll snap a photo and enter in some basic information about price, location and vendor.
Test drive the Foodprint Project app and give your feedback to the creators at Big Night, the upcoming food-focused Levi's Film Workshop event on Thursday, July 14. This DIY film studio inside MOCA's Art in the Streets exhibition is currently focusing on food, from stop-motion animation with food artist Claire Crespo, to a screening series showing films like The Grapes of Wrath at Cinefamily. Thursday night will feature the screenings of three short films about local food, chefs Ludo Lefebvre and Roy Choi, food by the Kogi BBQ truck, and the harvesting of a "bike garden" planted in the courtyard. Plus, Art in the Streets is free from 6:00 to 8:00 p.m. The Levi's event is also free and starts at 7:00 p.m., RSVP here.
Photo: The Margaret Kilgallen Memorial Bike Farm at MOCA designed by Futurefarmers and tended by Silver Lake Farms
Live in Los Angeles?Join GOOD LA and you'll get one good L.A. story (like this one!) delivered to your inbox every day. As if that's not enough, you can also follow GOOD LA on Facebook and Twitter.