Articles
The GOOD Lunch: Vegetarian Posole
Every Tuesday and Thursday in 2011, the GOOD team has pledged to take turns to cook and share a big bowl of soup or salad.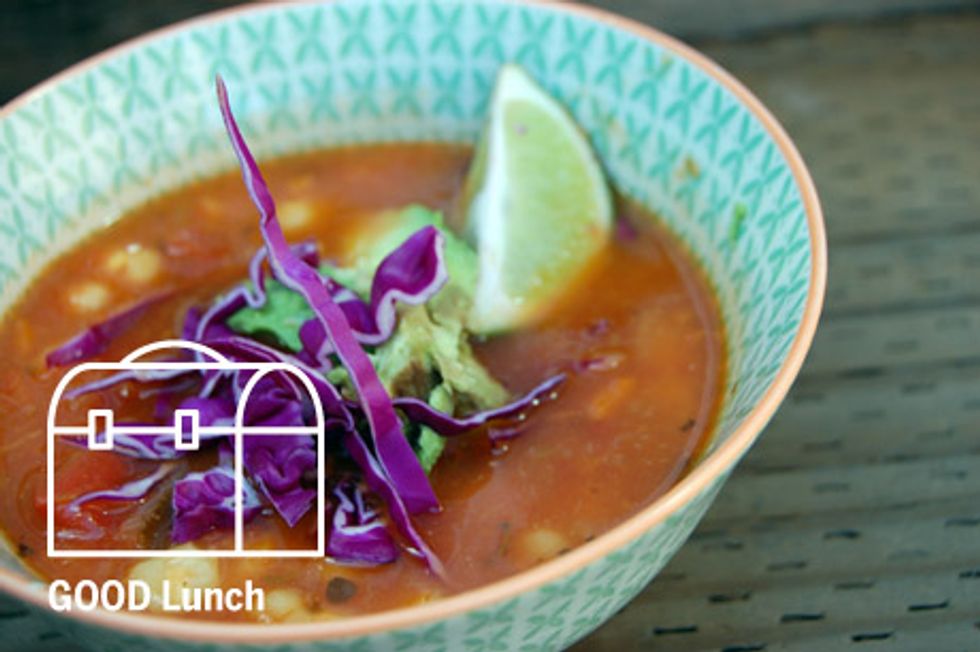 Today's GOOD Lunch soup was prepared by Isis Krause and was adapted from Real Simple's Chicken Posole—without the chicken of course!
---
Vegetarian Posole
Ingredients:
Makes 15-20 servings
5 15-oz cans hominy
2 16-oz cans whole or crushed tomatoes
3 quarts vegetable broth
2 onions, finely shaved
1 bay leaf
1 whole dried chili, or chili flakes to your liking
2 tablespoons olive oil
1 small head purple cabbage, thinly sliced lengthwise
3-6 avocados
8 limes
Corn tortillas
Queso Fresco for garnish











The Method:
• Saute onions in olive oil until tender.
• Add tomatoes and stir to combine.
• Add 1 quart vegetable broth. If using whole tomatoes, blend mixture with stick blender until smooth.
• Add remaining 2 quarts of vegetable broth, 5 cans of hominy, bay leaf, and chili.
• Boil together until hominy is soft and flavors meld.
• Remove bay leaf and whole chili, if using, and add more water if soup is too thick (should be more like a broth than tomato soup)
• Serve this soup with a few tendrils of cabbage, a squeeze of lime juice, some fresh avocados slices, and a fresh corn tortilla for dipping.
• If reheating soup for lunch in your office, top with garnishes after microwaving.







The Breakdown:
How did our soup rate in terms of taste, cost, and prep time?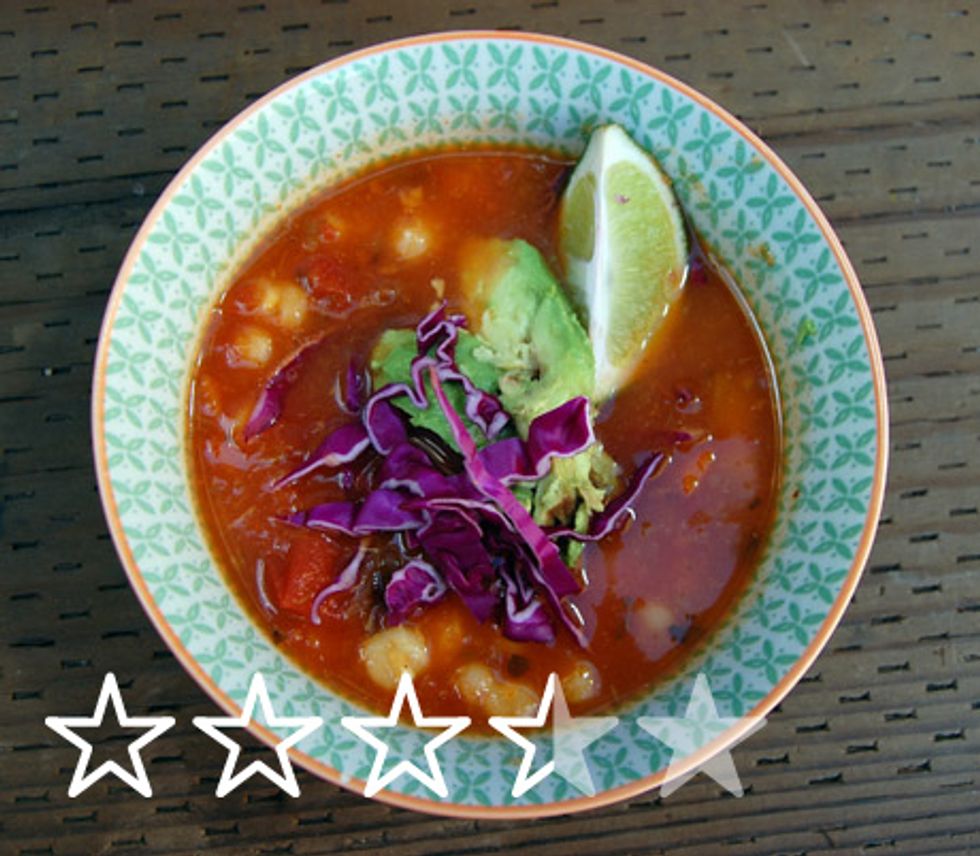 Cost
: $20 ($1.30 per serving)
Prep Time
: 45 minutes
Taste
: 3.5 stars
No one in our team had heard of hominy before trying this soup. Hominy is made through a process of
nixtamalization
, which sounded a bit scary, but in the end our taste buds agreed—it was delicious! One whole chili made this posole a little spicy for some of us, so make sure you go easy on the heat to please everyone.
Every Tuesday and Thursday in 2011, the GOOD team is cooking and sharing a big bowl of healthy, vegetarian, seasonal soup or salad. This time last week we were enjoying Vegetarian Tom Ka Soup.